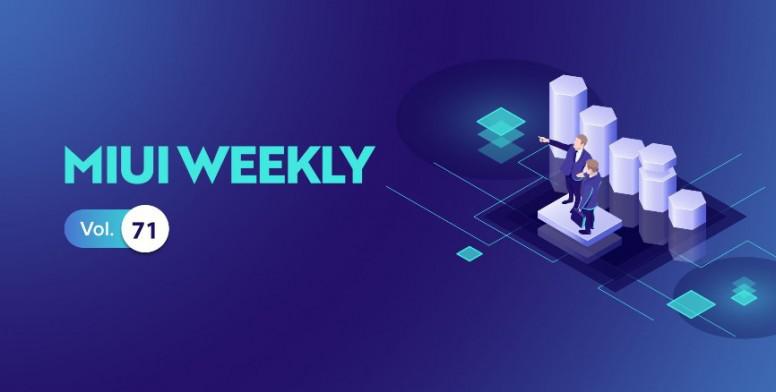 Hello Mi Fans
If you've been busy last week and couldn't keep up with the updates from our MIUI team, then MIUI Weekly is the right place for you. This is indeed where we bring you the best of MIUI threads you might have missed. Keep reading!



[#YouAndMIUI - Vol 11] One-Handed Mode | Cut it short and reach further, ever used this?

by

Deeptesh



Dear MIUIers!

There were times when smartphones generally used to ship with smaller displays and because of a smaller footprint, it was easier for everyone to reach out every corner single-handed. This, however, isn't the same anymore as we now have larger displays with notches, punch holes and wonder whatnot. I would never consider this a bad thing because the technology is simply better and more reliable but there are certain situations where we find a larger screen difficult to operate on until the

"One-Handed Mode"

enters the room.

Read more...
Mi Calculator Vs Citizen Calculator: Choose the best mathematician!
by
Apiyush265



Hi

Mi

Fans,

For good concepts and true innovation, we need some interaction, it's obviously through debate to explore the possibility. Today's debate is gonna be more interesting. Do you ever need to perform some heavy calculations like BMI, Age, Speed, Numeral System, GST, Loan calculations, Etc? Which calculator do you rely upon use? Do you rely upon google for such calculation or Search for results on the web?

Read more...
Play Games without unlocking screenlock!




Hi Mi Fans!

Hope, you are all well this winter season. Today I'm going to discuss a new feature introduced to the latest updated version of "

Mi Wallpaper Carousel

". Every time we want to play our favorite games in our Xiaomi mobile handsets, for that we need to unlock it first and then we can play.Now, in the latest version of the Mi Wallpaper Carousel app, we can play games even without unlocking our device. This can be helpful too if you want to hand over your device to any kid for playing games.

Read more...
[MIUI Weekly Poll] [Vol 20] Wi-Fi AP Bands | 2.4 or 5Ghz? What is your hotspot frequency?
Greetings Mi Fans!
The weekend has been amazing and so were your responses from the previous MIUI Weekly Poll. The last poll has indeed put on some light but the story of Wireless Fidelity isn't over yet as this time, we have another tough decision to make based on our personal preference. There was a time when routers used to be the only way of sharing an existing internet connection wirelessly but in today's world, smartphones equipped with the latest and greatest technology have changed the game completely.Read more...
Save Contact Details on The SIM Card




Hey Folks!

Keeping contacts on the SIM card was the most available option for mobile phone users in the 1990's, when the technology of developing internal phone memory and also Cloud Services was making its first steps.Most of all current SIM Cards support storing over 250 contacts. The only advantage of keeping contacts on your SIM card is that you can remove your SIM card and insert it into a new phone and your contacts will be instantly with you.

Read more

...
MIUI System Launcher | App Drawer | Personalise and Customise | V - 4.15.0
by
Apiyush265






Hi

Mi

Fans,

After the launch of

MIUI 11

, New and stunning customizations have been brought for Xiaomi's very own system launcher. With these, all the System Launcher has been upgraded to an all-new level. It has been re-designed with an easy and user-friendly interface for searching and easily accessing your apps.Revamping the whole launcher by understanding Mi Fans' taste and preference pattern, Presenting the most awaited update of the year, yes your very own and loved MIUI System launcher is here with an

App Drawer

! which is fully customizable according to your needs and preferences.

Read more...
That's a wrap up for this week. I hope to see you all with another new compilation next week. But for now, I would like to thank all my fellow MIUI Mods for contributing their time and efforts to share these amazing threads for our Mi Fans. Don't forget to vote for your favorite threads and share your thoughts about this volume in the comments section below!
About MIUI Weekly:-
MIUI Weekly is an initiative taken by team MIUI to connect with Mi Fan's even better. Through this weekly series, we bring out different features of MIUI and ask your opinion on how things are and how they should be. This helps us gather information about user preferences and make MIUI even better from a user's perspective
Vote for the best thread below and help us improve!