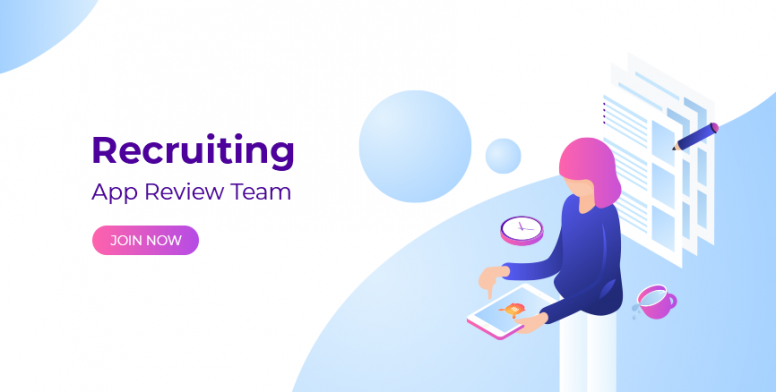 Result Announcement
Hey Mi fans!
Thanks for your overwhelming response and patience. We have finalized the New App Review Team Members. The chosen applicants are as follows!
| | |
| --- | --- |
| Usernames | Profile Link |
| Sharon Anto | |
| Raj!! | |
| Mohammad Ayan | |
| Ravi Walker | |
| Anirban Shee | |
| Monu0507 | |
| Chickeym | |
| SANTANU @ PRAMANIK | |
The selected applicants will get a private message so check your inbox regularly. Also, kindly do create ( if you don't have ) telegram ids to follow up the further procedure.
Hi, Mi fans!
As you know that Mi Community has been evolving by leaps and bound and within a short span of time it has crossed more than 10 million active users in India which has proven that it is one of the leading tech community so far. To pursue this feat to be a part of this giant community, we are looking for some enthusiastic, artistic writers, reviewers for spreading their writing magic on Mi Community. We are calling enthusiastic members to join the squad as an App Review team for writing original and quality app reviews.
Timeline : 22nd March - 6th April 2020 12 PM (IST)



Responsibilities as App Review Team Member
Should post minimum one App Review thread every week & minimum 8 during internship after that 6 quality threads per month, a review should be original and member/s should not copy it from elsewhere. Quality over quantity will always be preferred.

Should follow the Mi Community rules strictly.

Help other users queries politely and guide users in using Mi Community properly.

Being a special team member, follow appropriate behaviour when representing Xiaomi/Mi Community, in any form of communication.



Requirements & Selection Criteria
An active member of Mi Community with user-level ranking 'Advanced Bunny' and above.

Should have good knowledge of Android and Android apps.

Should have good writing capabilities & communication skills in English.

Willingness to contribute at least 2-3 hours per day.

Must be a good team player and cooperative with other teammates & users.

Familiar with MIUI functions & features.



How will this team help users?
There are millions of apps on the play store floating around. The members of App Review Team will search those Android apps (including games) which may help users in their daily life and research those apps by their own and write a detailed review of those apps in Mi Community to enrich other MIUI users.
How to apply for the App Review Team?
Reply to this thread with the below-asked details
Your brief introduction, Number of hours you can contribute in a day, Previous forum experience - if any.

Android device(s) you own, preferably Xiaomi Device/s.

Links for your thread in Mi Community for Review of apps from App Store

Reasons mentioning how you are the eligible one, we are looking for.

Links of sample threads created by you.



Refer to these sample threads.
https://in.c.mi.com/thread-2124184-1-0.html?t=1584864303026
https://in.c.mi.com/thread-2154438-1-0.html?t=1584812968453
Points to keep in mind when making threads for your selection if you haven't written any reviews then no need to worry you can post a review thread until the deadline.
Some helpful tips:
Banner Size 866*438

Google Play Store Download Button. Or HyperLink Using "Download" word.

Unique app which has not been reviewed already. (You Can search with "App Name" in mi Community).

Use screenshots and MIUI gallery markup tools.



Benefits for App Review Team members
A chance to get your review featured on Mi Community every week.

Prizes from Mi Community for completing assessments (Criteria still to be announced).

Higher Read Permission on Mi Community platform.

Talk to the Mi Community Admin team directly.

Priority to join Mi Community Official Events like Mi-POP, entry for Launch events etc.

Promotion to higher management level i.e. Moderator.

Larger attachment size.

Special User Group - App Review Team

App Review Team member medal.



Announcement time:
Selected members will be announced on or before 7th April EOD.
Note:
You can't be in 2 Special Teams at a time. If current special team members wants to apply, they need to leave the current special team once selected, so that you can devote your full time and contributions/efforts for the betterment of the section/team as well as Mi Community.
Apply Now !