Hello MIUIers,
Have A Great day

MIUI 10 developer rom launched at 4 June.
Now every redmi & Mi user wants to install it but the problem is How to?

Today, I am back with dual tricks to flash MIUI 10 with full guide.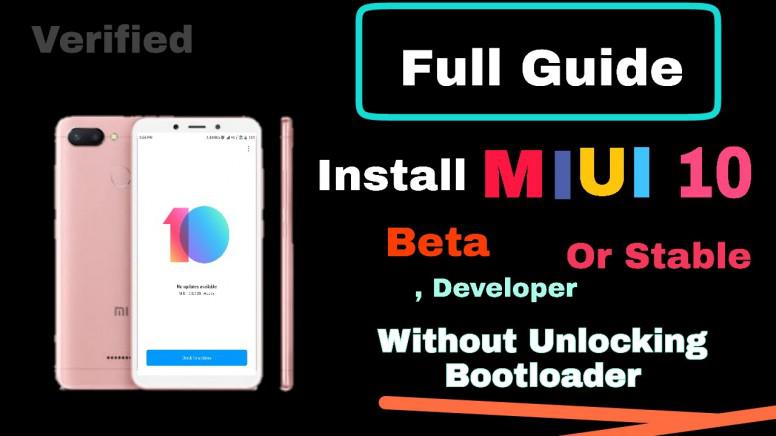 1st is that Moderators & Mi team suggest.
2nd is that I suggest.
So, I will talk about both Tricks.
let's get started

First Guide is By Our Honorable R0user
Note: This is an official guide by Mi team.
Flashing Guide: https://in.c.mi.com/thread-324489-1-0.html
( I will not re-write this because this is awesome enough )

Here's 2nd:
Officially suggested by me because this guide will flash MIUI 10 Developer/Beta Rom without Unlocking Bootloader.

Prepare Your device before flashing :
1. Backup Your all data To External Storage or Cloud.
Read this for Backup only: https://in.c.mi.com/thread-229258-1-0.html
2. Remove Sim Card & Memory card.
3. Remove Google account.
4. Please keep in mind, Mi Cloud password ( Mi Account )
5. Think Twice before Flashing.

Note: Flashing by this guide on your own risk.
ok, just do as guide says.

Must have Things:
1. The original USB cable ( Mi USB cable )
2. PC or laptop that works on Windows 7 or above.
3. Your Device Must Be Charged 60% or Above.
4. Check all is working.
5. High-Speed Internet for Downloading Rom.

Do this Before Flashing:

1. If you don't have USB Drivers than install them first:
https://drive.google.com/file/d/0B-NA6Dj31wfZMzlnRHNRcE9UN28/view?usp=sharing

2. Disable Driver signature Enforcement:
http://en.miui.com/thread-237673-1-1.html

3. Download & Install Miflash. Click
4. Download & Install XioMi Tool. Click to Download
5. Turn on USB Debugging:
Go to Your device: settingsaboutMIUI Version
Tap on it until being the developer.
Go to: AdditionalSettingsDeveloperUSB Debugging
Turn it on.

It's Time To Get Start Process :
Follow Text with Images

1. Open XioMi Tool.
2. Connect Your Phone By USB cable.
3. Permit USB Debugging By Click OK.
(You can also watch video Tutorial for it, Just Scroll Down )

You can check this Live video for Full Guide with proof of possibility ( Step by Step ) :



Note: This video is only for proof purpose.


1. Click On "OK, Understand"




2. Permit your device to Connect PC By USB Debugging, It will Detect Your Device.




3. Click on Your Device Name & Click on "Select".




4. Click On "Yes".




5.XiaoMiTool will automatically detect your device info, bootloader, Recovery etc.




Note: If your Device Works Automatically like Restarts, Fast boot or Recovery mode than Don't worry.
( Don't touch Your Phone Or don't Reboot in the process )

6. It will Check for ROMs that are available to Install on Your Device.




Note: You should be Connected to High-Speed Internet.

7. As shown, the ROMs available to Install.
Let's Choose which you want to Install.



Note: Available Rom may be different.
Note: Hey, Friends are you worried about, what if the download fails?
Don't worry I have a solution, scroll down at last ( Solution 99).
8. Click on "Confirm" to Install it.


9. It will Download Chosen Rom.





10. It will start flashing Rom.





11. Installation Done.

Note: Your Device will be starting soon.
Don't worry it will take some couple of minutes.


12. XioMi tool will ask you To Give donation.




Note: You Can Choose option as you like.

13. Click on "Exit".




Setup Your Initial Settings ( For Device )

Solution 99 :
follow steps :
1st Step :
follow steps 1 to 8 given above ! ( Now stop here & disconnect your device if you wish! )

2nd Step :
Download that recovery rom from here that you wish to install: https://in.c.mi.com/in/download.php ( download same one as you chosen above )
You can also download this ROM later Or in the fastest browser.

3rd Step :
for downloaded rom :
keep the name of the rom same with the n same folder where , xiaomiTool tried to download that rom .
( it's important step )

4th Step :
Re-connect your device to pc ! Follow Steps 1 to 8 .
Now disconnect your pc from the wifi network .
After some time downloading will fail & tool will give you a new option to choose rom from your pc storage .

5th Step :
Now choose that Downloaded rom & flash it .

whola , you are done .

Credits : Franztesca ( XDA Developer ) , Mods & Mohammed Faisal

Be Supportive
Thanks for read this thread
All is Done Now
Stay tuned for Great Threads.

Inform If not working
Comment below for any questions


Rate