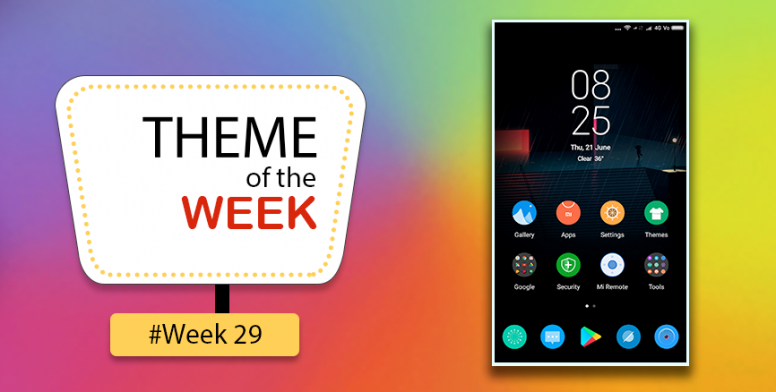 Hello Everyone!
"Themes" the word itself has explained a much about it, they're used to have a customised look on your favourite things. Similarly MIUI supports changing themes of personal choices, it has a dedicated Theme Store Application which comes packed with MIUI in Xiaomi Phones. Through themes you can have the User Interface you always wanted to be using. There are lots of Theme Designers from all over the world who design these themes so that MIUI Fans can enjoy it on their Mi phones that too without any cost.
Do you love to change themes and have a different experience everytime? Can't find good themes? Don't worry I'll be posting such Theme reviews every week so that you can try out different themes whenever you feel to.

Welcome the rain with this "Monsoon Theme" on your Xiaomi Smartphones. Did you enjoy the first rain of the season? Not Yet? Don't worry this theme will make you feel the rain! It has live wallpaper, various other things to enjoy. Here's the theme you might love to use this Monsoon:



Rainy night999

Designed by : Wheat

Size : 30.0 MB


Rainy night999 is designed by "Wheat", featuring Rain as a basic concept of the theme. I would recommend this theme to the Dark Theme lovers, as this is the right theme you might get this Monsoon. The live wallpaper on lockscreen acts as the icing on a cake. Default Messaging and Dialer has a new background image and a new look. Icons are totally redesigned according to the topic and suit the theme, some icons might not be updated by the designer.

What's Different?

Live Wallpaper on Lockscreen
New System Icons.
Rain Wallpapers.
Monsoon Effects.
Dark Theme.
Redesigned Settings.


Have a Look at the Screenshots for a wise choice:



Lockscreen and Homescreen



Messaging and Dialer App
Icons
Settings App and Notification Panel

Reply to get the download link!



If you want to see the hidden content, please reply




Loved It?

Let us know!






Rate