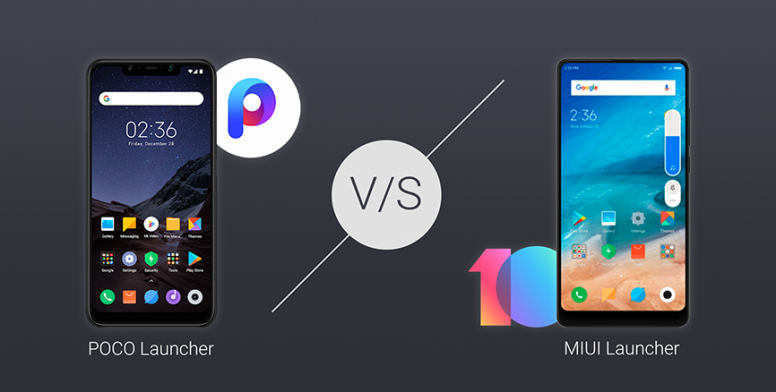 Hi Mi Fans,

Every Thursday we come up with a debate topic for our Mi Community users. This week's thread is very interesting as we are going to discuss about a very cool topic. With the launch of POCO F1, a new app was launched too. Haha, I gave you all a major hint, I hope you were able to decode "launch".



Can you guess the topic?


Yes, the POCO launcher is introduced by the MIUI developer team and there is some difference between MIUI Launcher and POCO Launcher. It contains many features which are the most demanded feature/settings requested by Mi fans, "App Drawer and App shortcut function". So without wasting more such time lets quickly compare both the launchers and know more about them in details.



Which Launcher do you use and what features do you love in them?

Have some points to debate? Great we would like to hear them all!


Features of MIUI Launcher:

Simple & Neat.
Easily Customisable.
Hide App Icons.
Transition Effects.
Set Default Screen
Widgets.


This was all about the basic MIUI launcher, POCO Launcher is an addition of = MIUI Launcher + App Drawer and App Shortcut feature.
App Launcher & Sort by colour is an additional feature. One can easily search by app name or sort the apps with their colour. Personally even i wished for this feature as it looks very cool and its very convenient to search among bunch of apps.



App Shortcut Function, this is an additional feature. Unlike in MIUI launcher on long press you only had the option of uninstall, in this you get more functions such as checking app info and certain apps have special function. "E.g.: On long pressing Gmail, Compose mail option shows up."
"Only certain apps support this feature"


So without any further delay, Let's start with debate!
MIUI Launcher Vs POCO Launcher.
Please Note:




This launcher is still in beta phase and may not work as expected. Performance and stability will be provided once the app is available for all the users. It has also been noted that app vault is not working as of now and navigation buttons responds slowly.

To download the POCO Launcher:Click here.

Related threads: