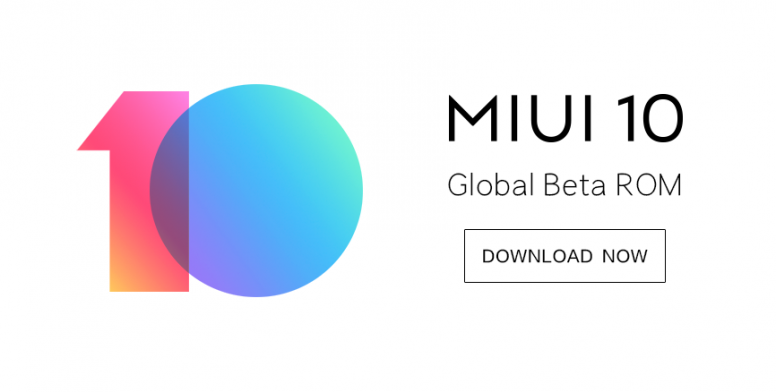 Hello, Mi Fans!
MIUI, the commingling formula of Android meets customization, is designed to elevate the user experience with imperative and whizz-bang features. Mi Community is glad to announce the full changelog and download links for MIUI Global Beta ROM 8.9.6
To serve the best to most users, MIUI comes with two different categories of iterations: MIUI Stable ROM and MIUI Global Beta ROM. Global Beta ROM, the weekly released version with cutting-edge features, serves best to the tech-savvy users. While MIUI Stable ROM focuses more on the stability of available features by holding the introduction of new features for a specific time frame. By default, the device ships with MIUI Stable ROM, you may learn more about MIUI
here
.
New Features
MIUI 10 Global Public Beta ROM Supported Devices:
The first batch: Early July
Mi 6, Mi MIX 2, Mi MIX 2S, Redmi Y2, Redmi Note 5 Pro/Redmi Note 5, Mi 5, Mi Note 2, Mi MIX
The second batch: Late July
Redmi Note 4X/Redmi Note 4 Qualcomm, Mi 5s, Mi 5s Plus, Mi Max, Mi Max Prime, Mi Max 2, Redmi 4X, Redmi Note 5A, Redmi Note 5A Prime, Redmi 5, Redmi 4A, Redmi 5A, Redmi 5 Plus
The third batch: Early August
Mi 3/Mi 4, Redmi Note 3 Qualcomm, Redmi 3S/3X
How to upgrade to MIUI Developer ROM
1. Back up your data and apps before upgrading to MIUI, know more
here
.
2. Stable ROM users of MIUI, please upgrade to MIUI Dev ROM via fastboot method (download fastboot ROM
here
).
3. MIUI Global Beta ROM users, If your device is bootloader locked, please unlock it before fast boot flashing, know more
here
Full changelog
Localization
- Call record time was not translated (Redmi 4)
- Texts translation error in First aid in security app
Notification
- Notification cannot be cleared (all devices)
System
- Can't change the screen resolution to 720P (Mi 8 - Global)
- Double press power to turn ON torch doesn't work and the torch automatically turns off after 4-5 seconds (Mi 8)
- Space manager services keeps stopping (Redmi 4A)
Camera
- Camera was getting stopped (Redmi Note 5)
- Panorama mode does not work (Redmi Note 5)
Notification
- Some app icons are not showing in notification panel (all devices)
- WhatsApp and Telegram showing double notifications for Single Message (all devices)
Others
- Alipay doesn't work in Hongkong (Mi 8 - Global)
- Camera watermark display blurred (Mi A2)
- Translation error in Russian (Mi A1)
Download Links
Redmi 3S/Prime 8.9.6
Recovery ROM 1286M e348f451e212c78e5654e87fe6e222b2
Fastboot ROM 1500M f1a12f075ab3b922e28d075c2cfc32a1
Redmi Note 3 Pro 8.9.6
Recovery ROM 1274M 7ac801b978d5b1ef3d6a4f142441067f
Fastboot ROM 1491M a78786ae249b5f030e9f84fd6677f4eb
Redmi 4 8.9.6
Recovery ROM 1319M 680ff4ed0abc92ef5ec1cf8a4da50e23
Fastboot ROM 1792M 1b248b8d89d546cf31710a5483ac4dda
Mi Max 32G 8.9.6
Recovery ROM 1497M 951cad098dc897f59cafccfc3b59bf0c
Fastboot ROM 1711M 20e1c1bd8d874a0f4823a27e655e31cd
Mi Max 64G/128G 8.9.6
Recovery ROM 1498M 2c8924e085091983889b9de9fd58b611
Fastboot ROM 1712M ae9607b99241ffe91b39da56dcf55aa5
Redmi 4A 8.9.6
Recovery ROM 1324M aed636602326fb764f1eb48a30f1746e
Fastboot ROM 1807M aa08dc748c6bfa47f8635f11aefac700
Redmi 5A 8.9.6
Recovery ROM 1290M 8a73ece16c697a0c11158c6b8020fc28
Fastboot ROM 1980M bd25bc1383e73f69270798566f339e7b
Redmi Note 4 8.9.6
Recovery ROM 1518M 0e17502d71fd5dbe3eb9828e87c285fe
Fastboot ROM 2002M 4df47861d2f119fade8430b8c13ca65c
Mi Max 2 8.9.6
Recovery ROM 1639M a3ffb15bb862a94e428fff778b508717
Fastboot ROM 2150M 1894c0f6ca56309a6c60a3fcf7c7a2e0
Redmi Y1 LITE 8.9.6
Recovery ROM 1271M ef1599f58a7e25b6673b88554dd42573
Fastboot ROM 1844M d368d2c9e277ef9198045516b580be8f
Redmi Y1 8.9.6
Recovery ROM 1277M 7ebd9f32cd74c1faf7019b8b621e59e1
Fastboot ROM 1892M 2846e6547e09c8a43e4be694bb83ddc9
Redmi 5 8.9.6
Recovery ROM 1431M a71a6592ec900a58f38001506f378b3e
Fastboot ROM 2098M 46f085c724970ebe797f5a2e67847eef
Redmi Note 5 8.9.6
Recovery ROM 1320M e0d3a5e7cd13126ae28a4c0a80d8e3bb
Fastboot ROM 2115M 6a35af38ec1e14a25651ed736fe137d5
Mi Mix 2 8.9.6
Recovery ROM 1647M 5ee84dc2bf79d0900ef57407db5b445f
Fastboot ROM 2095M 1002010080aaeb7f296339fa793efd81
Redmi Y2 8.9.6
Recovery ROM 1337M e412d7d55a5fb38a73c72b346b05350a
Fastboot ROM 2111M 3c588e4ea2930cc76bc09f4c97999cc3
Redmi Note 5 Pro 8.9.6
Recovery ROM
NA
Fastboot ROM 2543M 3259ed34da3dd13f47a6b8400dc7b384
Follow us
Mi Community is Xiaomi Community's official Android app and a home for Mi fans in India. It helps you share your ideas and interact with other Mi fans on-the-move. It offers a fast and intuitive interface to post threads, reply, read the news and interact with others.
Mi Community App on Google Play Store:
What do you think about this update, let us know in the comments below?