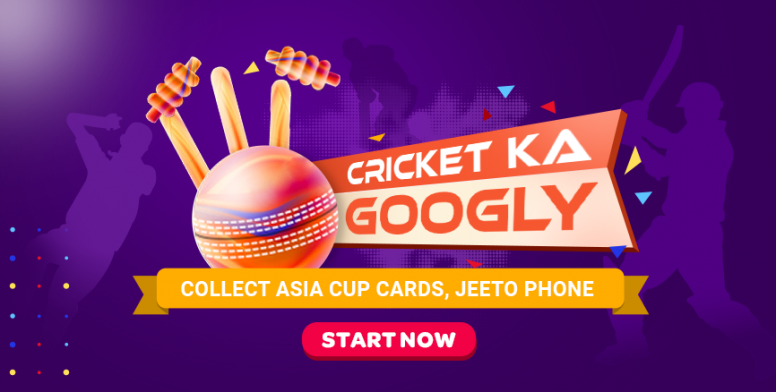 Mi Fans!
We are cheering for Team India at the Asia Cup all the way! Are you with us? Come to celebrate the gentlemen's game with Cricket ka Googly – a lucky draw contest where you can win Redmi Note smartphones, Mi Earphones, and Mi Coupons.
Timeline
The contest will run from 13 September 2018 (00:00 hours) to 17 September 2018 (23:59 hours) on Mi Apps Store.
Prizes to be won:
Redmi Note 5 (4GB+64GB) (x1)
Redmi 5A (x2)
Mi Earphones (x50)
₹200 Mi Coupon (x100)
₹50 Mi Coupon (x3000)

Click the below link to participate
How to win
To participate in the Contest and stand a chance to win the prizes mentioned above, you are required to collect 6 different cricket cards and you can then take a lucky draw to get prizes.

How to collect cards and win prizes
Please make sure you are using Mi Apps, log in to your Mi account when prompted on the App store.
Click the above link to go to the contest event page (you can also enter "Cricket ka Googly" from carousel on the homepage in the Mi Apps store)
By clicking on download for a card, you will be downloading and trying an app and you will collect 1 (one) cricket card, which can be of any team. You can collect only 1 (one) card per download and try.
You can try your luck and play the game several times but you will only win one prize in the contest.
If you collect all the requisite cards, you stand a chance to win the lucky draw prize.

How to claim your prize
In the event that you win a prize, please follow the given instructions on the relevant page and submit the requisite information:
You can go to the "Redemption" page to check your prize information.
To deliver the prizes, Xiaomi will need each winner to submit his/her name and mobile number. This information must be submitted before 17 September 2018 (23:59 hours) on the relevant page before the event ends. In the event a winner fails to submit such information within the given timeline or where a winner submits inaccurate information, he/she will be disqualified and will no longer be eligible to receive the prize.
The event is will be live from 13 September 2018 to 17 September 2018; any redemption after 17 September 2018 is not valid. Please fill in your details in the Redemption area timely, where you can check for your prize history as well.
The redemption coupon will be sent to your Mi ID before 1 October 2018. Redemption coupons sent to your Mi ID will be valid for 30 days.
Winners can use the allotted coupon to place the order and get the device delivered to them within all serviceable pin-codes of India.
For any questions, please contact miapps-feedback@xiaomi.com for support.
The final interpretation right of the contest belongs to Mi Apps.

Best of luck!!!
Rate