Hello, Mi Fans,
The Internet has changed a lot since past couple of years and browsers just help you get that precious information from the internet to you. There are a lot of Browser apps in App Store some help you surf safely on the internet, some help you save some money and some help you load them faster to save your time. We, Mi App Review Team, help you choose the right app for you, in a more detailed review of it.

EDGE
Edge is a browser from Microsoft, the successor of the Internet Explorer in the PC World for your device. It has a simple interface as Google Chrome but with more features, and specially in-built Ad-blocker.

SCREENSHOTS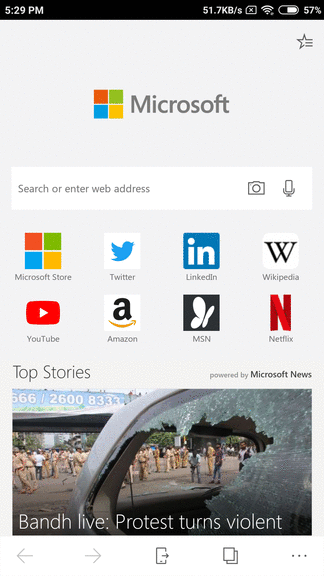 FEATURES
Hub View: Everything you need is in one UI. Favourites, reading list, history, frequently visited websites and news feed.
Dark Mode: The dark mode is everywhere, not just a mode of battery saver for AMOLED screens but it helps the night zombies to keep surfing the internet without hurting their eyes.
Continue on PC: If you use Edge on PC, you can continue reading the same article from the place you left on your device.
QR Code Reader: Now, you can scan QR Code in newspaper or magazines and get details about that in an instance, you won't need another QR scanner app to do the same.
Ad-Blocker: This is something which is found very less in browsers, Edge have Ad-block Plus in-built to keep you away from the annoying ads and protect you from trackers.
Sync With Microsoft Account: If you owe a Microsoft Account, you can keep everything in sync with other platforms.
Translate: Edge offers translate to your known language if you visited a foreign website.
InPrivate Browsing, Voice Search and many more.

PROS AND CONS

Pros:
Change Appearance: Dark Mode/Light Mode
In-built Adblocker
Simple UI, everything on one screen.
Google and other search engines are present.

Cons:
Translate doesn't work efficiently sometimes but can be fixed in future updates.
Has slightly more RAM usage compared to Chrome (having the same webpage opened)

MY OPINION

Edge and Chrome has a lot of interface in common but it has a dark mode and an in-built blocker in addition which does help a lot of users in terms of saving battery, to calm their eyes at night or to keep you away from ads. Also here, you can completely opt out from news feed if you want the homescreen clean.
DOWNLOAD


Note: Download link only works in Mi Comm App/Mobile Website