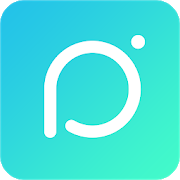 PICNIC! - Weather Genie Photo Filter & Camera
Nowadays people can easily capture moments with the smartphone. A lot good camera and editing app also available on App Store. Honestly, we have installed hundreds of editing apps which we personally have known for our phone such as Snapseed, VSCO, Afterlight, Canva, Lens Distortion, PICNIC! and many more. Here I want to share one is the great app to edit the cloud and sky! Did you curious about this app? Let's check!!
FEATURES
CAMERA


First of all, PICNIC! isn't only editing a photo app, but also a camera app. With PICNIC! you can directly apply the filter colour before capturing the photo, or just leave it. You can edit it later.




PICNIC! the has great filters. Surprisingly, you can add something nice effects such as rainbow, cloud, stars and many more. But a limited number of filters have available in the free version.




The gives great effects on the photos those were captured. When comes to image resolution it is great. It's about 3000x4000 pixel are available in the application.




PICNIC! is very simple applications. Let's check on the setting section! You can change the "save location data" from setting. You can also set the PICNIC! Mark. This one just like the watermark.




FREE to download
No advertisement
Simple and easy to use
Great image resolution

A limited no of filters are available, Need more filters

CONCLUSION
Coming to final words, PICNIC! is one of the unique camera app nowadays. Not only can capture the beautiful sky but also can edit your sky photo to be a better one. You can edit all your photo with the PICNIC! but I really recommend that you use this app. PICNIC! is free to download on Play Store, without any advertisement.

Download
Note: Download link only works in Mi community app or Mi Community Mobile website

My Previous Threads:
Related Threads:
That's all for today, see you again with another interesting app. Hope you all liked this review thread. If you have any queries, you can ask me in the comment section!!