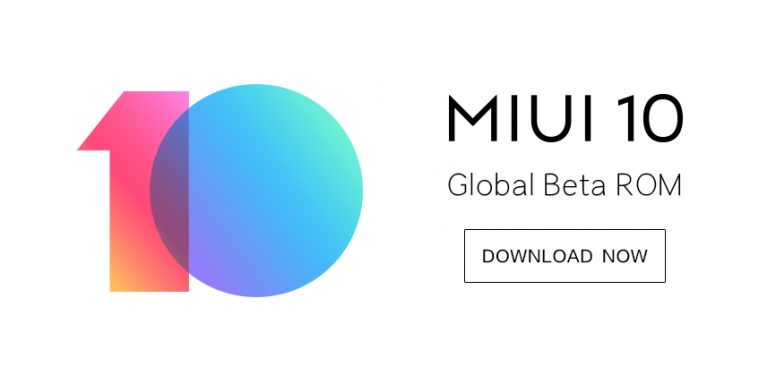 Hello, Mi Fans!
MIUI, the commingling formula of Android meets customization, is designed to elevate the user experience with imperative and whizz-bang features. Mi Community is glad to announce the full changelog and download links for MIUI Global Beta ROM 8.9.20
To serve the best to most users, MIUI comes with two different categories of iterations: MIUI Stable ROM and MIUI Global Beta ROM. Global Beta ROM, the weekly released version with cutting-edge features, serves best to the tech-savvy users. While MIUI Stable ROM focuses more on the stability of available features by holding the introduction of new features for a specific time frame. By default, the device ships with MIUI Stable ROM, you may learn more about MIUI
here
.
New Features
MIUI 10 Global Public Beta ROM Supported Devices:
Redmi 3S/Prime, Redmi Note 4, Redmi Note 3, Redmi 4, MI MAX/Prime, Redmi 4A, Redmi 5A, Redmi Note 4X, MI MAX 2, Redmi Y1 / Lite, Redmi Note 5, MI MIX 2, MI 5, Redmi Y2, Redmi Note 5 Pro, POCO F1 (Under testing)
How to upgrade to MIUI Developer ROM
1. Back up your data and apps before upgrading to MIUI, know more
here
.
2. Stable ROM users of MIUI, please upgrade to MIUI Dev ROM via fastboot method (download fastboot ROM
here
).
3. MIUI Global Beta ROM users, If your device is bootloader locked, please unlock it before fast boot flashing, know more
here
Full changelog
Face Unlock
Fix - Face unlock option disappear when changing region to Thailand (POCO F1)

Statusbar & Notification
Fix - The percentage of battery has changed the location and It has become close with network type indicator (All devices)
Fix - In the rotation of screen notification panel shows PM/AM first then time (All devices)
FIX - Footer in WhatsApp Notification overlapped with new message information (All devices)
Fix - Some app icons are not showing in notification panel (Redmi Note 5 Pro (India) )

Camera
Fix - Rear camera error in hardware test (All devices)

Settings
Fix - Texts in volume bar do not translate to Russian (All devices)
Fix - Some characters in the volume panel are not translated in Russia (All devices)
Fix - Volume panel displays abnormally (All devices)

Messaging
Fix - "Private Messaging Settings" text gets cropped even with the lowest size XS (All devices)

Others
Fix - Leaks application is installed automatically (All devices)
Fix - Mi store does not work (All devices)

Download Links
Redmi 3S/Prime 8.9.20
Recovery ROM 1281M b66b5e74f4985e6ff9b7a864b2166f12
Fastboot ROM 1496M edcf7edb24b5d0e200b0a886c1549fcd
Redmi Note 3 8.9.20
Recovery ROM 1270M eaa5b9412d1bcfe7fbc05ab1815a5e8e
Fastboot ROM 1487M 7e83ad3278481d5c3cf1736c270e693a
Redmi 4 8.9.20
Recovery ROM 1314M 3219de02e5b3729a8fa0044e39bb7066
Fastboot ROM 1787M 19d2aceef260c4a25f2c664c3a45eb6e
Mi Max 32G 8.9.20
Recovery ROM 1499M 645f3098ad49193d2221f560f856e71b
Fastboot ROM 1713M ff24c68328d6dd15652605360694df62
Mi Max 64G/128G 8.9.20
Recovery ROM 1500M 635ae4f2c8c79288e73d6946cdbea6d5
Fastboot ROM 1714M 66b30c37931d16e288008cec4dcbb30f
Redmi 4A 8.9.20
Recovery ROM 1319M b521573e7238726ac65ff65352c96611
Fastboot ROM 1802M 387d48b9e316a4e4c85c9e0ba6abb05e
Redmi Note 4 8.9.20
Recovery ROM 1513M 42393f30333b2974ce4f181a43881103
Fastboot ROM 1997M 7588b18bf6f69a3c86db0192e44585a7
Mi Max 2 8.9.20
Recovery ROM 1637M 91d2e02c2f617d8fd6a31e354c521d68
Fastboot ROM 2148M 63cd86b8aa86953710da8a8c5b25b5ff
Redmi Y1 LITE 8.9.20
Recovery ROM 1266M 87c99ea2020f7497971239d21b4f7e68
Fastboot ROM 1839M c9d98eccc7b99bda866251795467d2ac
Redmi Y1 8.9.20
Recovery ROM 1272M b04b341461bfb96ad36c5c583b891f98
Fastboot ROM 1887M 76fa62c0b44331bcce7715685e67f770
Redmi 5 8.9.20
Recovery ROM 1417M 0024d092577f1e79b36aba4d21b82a60
Fastboot ROM 2091M 4eb6e097437b2fec16d19363ad4e55ef
Redmi Note 5 8.9.20
Recovery ROM 1422M da8465e6ae2657781f70b0adb1d924df
Fastboot ROM 2241M 7ab7b5d820ea4792b027f28cc9a2b7e5
Mi MIX 2 8.9.20
Recovery ROM 1652M 33fea793c0ff3a01f754cd6e84a2f7e9
Fastboot ROM 2100M f2ee1d4186d4c65d1fa2746c6ebc2352
Redmi Y2 8.9.20
Recovery ROM 1326M 192d8b1e667dd2d575c271d9eb143881
Fastboot ROM 2048M 0a890284e6d864b3baebf6cbffadd26b
Redmi Note 5 Pro 8.9.20
Recovery ROM
http://bigota.d.miui.com/8.9.20/miui_HMNote5HMNote5ProGlobal_8.9.20_e7cffad65c_8.1.zip
Fastboot ROM 2548M d25099867c75a2e07375389bed52cade
Mi 5 8.9.20
Recovery ROM 1437M 743b9307636e6898bb686c3e32773d5b
Fastboot ROM 1655M 5c9d94a79dd03751574bf70743af72e2
POCO F1 8.9.20
Fastboot ROM 2601M fd5f606354084a89bf0b0533538d3b96
Redmi 6 Pro 8.9.20
Recovery ROM
Fastboot ROM 2301M 6506957eb0535563d22fa30c6a1f38de
Follow us
Mi Community is Xiaomi Community's official Android app and a home for Mi fans in India. It helps you share your ideas and interact with other Mi fans on-the-move. It odeclaredast and intuitive interface to post threads, reply, read the news and interact with others.
Mi Community App on Google Play Store:
What do you think about this update, let us know in the comments below?