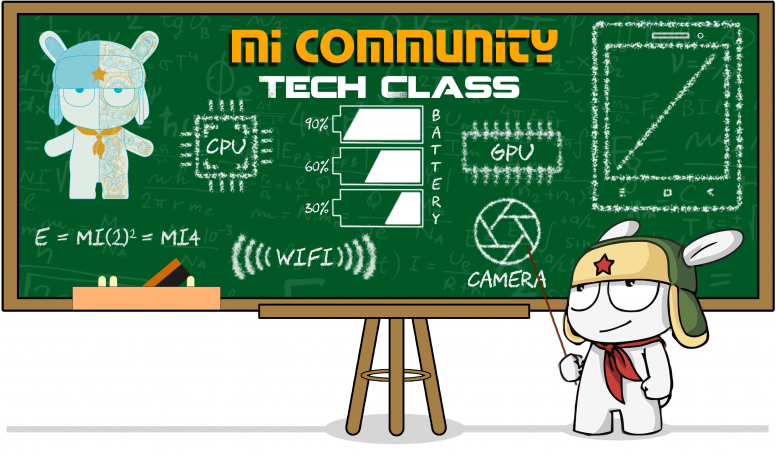 Hello Mi Fans,
Welcome back to Tech Class, In the previous tech class you learn about eSIM, in this tech class, you will learn about Li-Fi.
What is Li-Fi?
Li-Fi stands for Light Fidelity and is a Visible Light Communications (VLC) system which runs wireless communications that travel at very high speeds. LiFi is a wireless optical networking technology that uses light-emitting diodes (LEDs) for data transmission.
LiFi is designed to use LED light bulbs similar to those currently in use in many energy-conscious homes and offices. However, LiFi bulbs are outfitted with a chip that modulates the light imperceptibly for optical data transmission. LiFi data is transmitted by the LED bulbs and received by photoreceptors.
LiFi's early developmental models were capable of 150 megabits-per-second (Mbps). Some commercial kits enabling that speed have been released. In the lab, with stronger LEDs and different technology, researchers have enabled 10 gigabits-per-second (Gbps), which is faster than 802.11ad.
How does it work?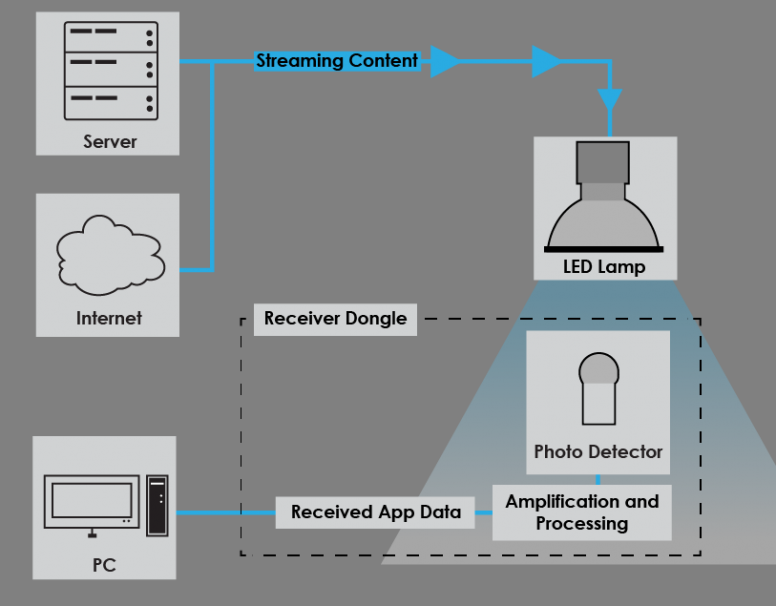 Li-Fi and Wi-Fi are quite similar as both transmit data electromagnetically. However, Wi-Fi uses radio waves, while Li-Fi runs on visible light waves.
As we now know, Li-Fi is a Visible Light Communications (VLC) system. This means that it accommodates a photo-detector to receive light signals and a signal processing element to convert the data into 'streamable' content.
An LED light bulb is a semiconductor light source meaning that the constant current of electricity supplied to an LED light bulb can be dipped and dimmed, up and down at extremely high speeds, without being visible to the human eye.
For example, data is fed into an LED light bulb (with signal processing technology), it then sends data (embedded in its beam) at rapid speeds to the photo-detector (photodiode).
The tiny changes in the rapid dimming of LED bulbs are then converted by the 'receiver' into an electrical signal.
Li-Fi vs Wi-Fi



While some may think that Li-Fi with its 224 gigabits per second leaves Wi-Fi in the dust, Li-Fi's exclusive use of visible light could halt a mass uptake.

Li-Fi signals cannot pass through walls, so in order to enjoy full connectivity, capable LED bulbs will need to be placed throughout the home. Not to mention, Li-Fi requires the light bulb is on at all times to provide connectivity, meaning that the lights will need to be on during the day.

Additionally, where there is a lack of light bulbs, there is a lack of Li-Fi internet so Li-Fi does take a hit when it comes to public Wi-Fi networks.

However, using Li-Fi instead of Wi-Fi, you'll negate lots of security problems associated with shared and often overloaded broadband networks.

It will also be advantageous in areas where radio frequency waves do not reach.

It was announced in 2016 that an extension of standard Wi-Fi was to be launched called Wi-Fi HaLow.

This new project claims to double the range of connectivity while using less power. Due to this, Wi-Fi HaLow is reportedly perfect for battery-powered devices such as smartwatches and smartphones, and also lends itself to the internet of things devices such as sensors and smart applications.

Due to its impressive speeds, Li-Fi could make a huge impact on the internet of things too, with data transferred at much higher levels with even more devices able to connect to one another.

What's more, due to its shorter range, Li-Fi is more secure than Wi-Fi and it's reported that embedded light beams reflected off a surface could still achieve 70 megabits per second.


Applications of Li-Fi
Li-Fi applications are varied as a result of its key features, such as directional lighting, energy efficiency, intrinsic security, high data rate capability, signal blocking by walls and integrated networking capability.
Following are the applications of Li-Fi:
Security: In a meeting room environment, the access area of each channel is the width of the light pool, and can be accessed by multiple users. Each user can receive higher data rates than would be the case for an equivalent Wi-Fi channel. In the Wi-Fi case, each user or group of users directly compete for access to bandwidth. The net result is that the more connections there are, the slower the download speeds are for all. By contrast, in the case of Li-Fi, with its greater number of available access points, each pool of light provides full channel data rates with fewer simultaneous users. The overall net benefit to each user is up to 1000 times greater speeds. In addition, and in contrast to radio waves, the light does not pass through the walls. Therefore, with minimal precautions to avoid leakage from windows, etc., security is fundamentally enhanced as compared to Wi-Fi.
Dense urban environments: Dense urban environments by their nature tend to have complete artificial lighting coverage. This lighting infrastructure can provide always available high data rate access for users as they move through that environment. For example, along with a hotel corridor or reception hall, a number of users can receive high data rate downloads at any point. Moreover, high-speed wireless communication would be available in every room since the light waves do not propagate through walls. This results in interference-free wireless communication, and the spectrum does not have to be shared among a large number of users in the rooms.
Cellular communication: In external urban environments, the use of Li-Fi enabled street lamps would provide a network of internet access points. In cellular communication, the distance between radio base stations has come down to about 200-500 meters. So, instead of deploying new radio base stations in our cities, street lamps could provide both, illumination during the night, and high-speed data communication 24/7. Surprisingly, even when the lights are off as perceived by the eye, full data communication rates are still possible. There is also an additional cost benefit as installing new radio base stations usually comes with the large cost – for installation and site lease.
EMI sensitive environments: On aircraft, Li-Fi enabled lighting will allow high data rate connectivity for each passenger. It will allow connectivity at all times, without creating electromagnetic interference (EMI) with sensitive radio equipment on the flight deck. The reduction in cabling requirement also means a lighter aircraft.
Augmented reality: Exhibits in museums and galleries are illuminated with specific lighting. Li-Fi enabled lighting can provide localized information within that light. This means that a visitor's camera or mobile phone can be used to download further information regarding the object being viewed from the light that illuminates the exhibit.
Localised advertising: By using shop display lighting as a Li-Fi broadcast channel, it is possible to transmit advertising information on the goods being viewed, as well as say special offers and coupons. This will allow the merging of the high street and online shopping experience, and provide novel retail business models to emerge. Catalog information, discount coupons, and advertising videos could all be provided to shoppers.
Underwater communication: Radio waves are quickly absorbed in water, preventing underwater radio communications, but light can penetrate for large distances. Therefore, Li-Fi can enable communication from diver to diver, diver to mini-sub, diver to drilling rig, etc.
Safety environments: In explosion hazard environments, the use of electrical equipment, including mobile phones, is generally greatly restricted. The use of Li-Fi to pass data will simplify the configuration of data networks in such environments and can enable new systems to enhance security in these environments.
Intelligent transportation system: Car headlights and tail lights are steadily being replaced with LED versions. This offers the prospect of car-to-car communication over Li-Fi, allowing development of anti-collision systems and exchange of information on driving conditions between vehicles. Traffic lights already use LED lighting, so that there is also the prospect offered of citywide traffic management systems. This would enable car systems to download information from the network and have real-time information on optimal routes to take and update the network regarding conditions recently experienced by individual vehicles.
Connectivity: Our homes already have lighting widely installed. The use of Li-Fi enabled lighting will transform the applications that can be envisaged, not only the interconnection of devices, such as televisions, computers, and Hi-Fi but also connecting ordinary domestic appliances, such as fridges, washing machines, microwaves, and vacuums. The "internet of everything".
Sensitive data: Hospitals are a specific case of an environment where both EMI sensitivity and security of data are issues. Li-Fi can enable the better deployment of secure networked medical instruments, patient records, etc.
Indoor navigation: By identifying each light (for example, through the use of the widely used MAC codes used by data routers and computers) it is possible to provide a smart means of navigating through urban environments. The identification of each code would be linked to a specific location. For example, light received from the closest fixture can indicate to a mobile user in their exact position as they travel along a corridor.


Security
LiFi is significantly more secure than other wireless technologies because light can be contained in a physical space. Our doors and windows can be shut, and physical barriers and adjustments can be implemented to contain and protect the light. We can create the conditions that allow us to shut the door on our wireless data.
It should be understood that the existing security protocols for encryption and authentication can be leveraged in LiFi systems to provide even more secure wireless systems.

Advantages and Disadvantages
Following are the advantages of Li-Fi:

The data transfer rate for internet application is higher.
It provides a high amount of security as data communication is a line of sight (LOS). Moreover Li-Fi signal covers the low region does not pass through the walls. This will avoid unwanted access of Li-Fi signal by unauthorized persons.
The Li-Fi devices consume low power for operation and hence used in IoT applications.
It uses optical spectrum and hence avoids already crowded RF spectrum.
As it operates on optical bands which are not harmful like RF spectrum. Hence there are no health concerns in LiFi based system.
There is a great amount of energy reduction in the lighting industry which uses LiFi based devices.
It is easy to install.


Following are the disadvantages of Li-Fi:

The Internet can be used only where the light of the source device is available. Moreover light cannot penetrate from walls and it works only in the line of sight path. This limits access to the internet wherever one requires. Moreover, its range is limited.
It can not be used in an outdoor environment like RF signal. This is because of interference caused by sunlight and other optical sources present nearby. Moreover, it can be intercepted by the unwanted people if used outdoors.
Though the installation is simple, a Li-fi system requires whole new infrastructure. This will add cost to the companies/people wanting to take LiFi Internet service.
Though it draws low power, in order to avail Li-Fi internet services, lights need to be kept ON throughout day and night. As the internet is need of the hour, this will waste energy more than any other internet system.
One can not watch games and videos on the internet in the dark during the night before sleeping on the bed.

More Benefits of Li-Fi
Higher speeds than Wi-Fi.
10000 times the frequency spectrum of radio.
More secure because data cannot be intercepted without a clear line of sight.
Prevents piggybacking.
Eliminates neighboring network interference.
Unimpeded by radio interference.
Does not create interference in sensitive electronics, making it better for use in environments like hospitals and aircraft.


By using LiFi in all the lights in and around a building, the technology could enable greater area of coverage than a single WiFi router. Drawbacks to the technology include the need for a clear line of sight, difficulties with mobility and the requirement that lights stay on for operation.

Source: 1, 2, 3, 4

In Case You Missed Previous Threads:
Chapter 53: All About eSIM
Chapter 52: All About Miracast
Chapter 51: All About Power Banks
Chapter 50: All About USB
Chapter 49: All About Airplane Mode
Chapter 48: All About Wireless Charging
Chapter 47: All About LED TVs
Chapter 46: All about Palm ID
Chapter 45: All About GLONASS
Chapter 44: All About Equalizer
Chapter 43: All About NFC
Chapter 42: All about Mobile Camera - In detail
Chapter 41: All about Mobile Earphones
Chapter 40: Android Source code - What we need to know
Chapter 39: All about Retina Display & Pixel Density
Chapter 38: Mobile Touch panel - An Android Input
Chapter 37: Android Voice Recognition - In Detail
Chapter 36: More about on Internet Protocol (IP)
Chapter 35: All about Factory reset
Chapter 34: All you need to know about ADB
Chapter 33: All About Gi-Fi
Chapter 32: All About Fast Charging
Chapter 31: MIMO Technology Explained
Chapter 30: All about USB Debugging
Chapter 29: All About Smartphone's Heat Up And How To Stop it.
Chapter 28: All About IP (Ingress Protection) Ratings
Chapter 27: All You Need To Know About APN
Chapter 26: All You Need To Know About Virtual Reality (VR)
Chapter 25: All About QR Codes.
Chapter 24: All About Barcodes
Chapter 23: All About Display
Chapter 22: All About Sensors
Chapter 21: All about Speakers
Chapter-20: All About Batteries
Chapter 19: All About Data Cables
Chapter 18: All about Memory Cards
Chapter 17: All About RAM
Chapter 16: All About TWRP
Chapter 15: All about CPU Cores
Chapter 14: All you need to know about Wi-Fi
Chapter 13: All About Kernel
Chapter 12: All About Rooting
Chapter 11: All about Network Bands
Chapter 10: PDAF and its difference with CDAF
Chapter 9: Megapixels and Photo Quality
Chapter 8: CPU Architecture, CPU, GPU
Chapter 7: (IR) Infrared Blaster
Chapter 6: Internet of Things & Mi Home
Chapter 5: All About Activity Tracker & Fitness Band
Chapter 4: All You Need To Know About Charging Cycle
Chapter 3: All You Need To Know About Augmented Reality
Chapter 2: All About Processor and Multi-Core Processing
Chapter 1: Introduction to Smartphone Specifications