Grasshopper
Learn to Code for Free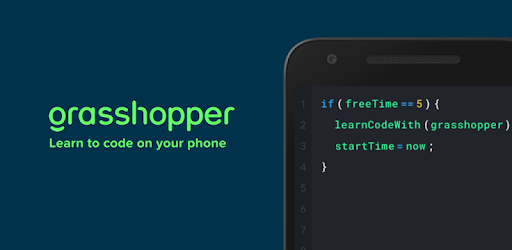 Now in this world of technology, and we all are just getting enthusiastic to know, how these technologies are just getting evolved. Evolution of anything takes place from the base of its Software. The software is the code or computer language. Grasshopper is the best way to start your coding adventure with fun, quick games on your phone that teach you to write real JavaScript. Move through progressively challenging levels as you develop your abilities, then graduate with fundamental programming skills for your next step as a coder.
FEATURES
There are three types of courses are available in the application. They are 1. Fundamental, 2. Animation, 3. Animation II. The courses are running through Visual puzzles, which develop our problem-solving skills and It also includes Practice sections which you want to solidify coding concepts.




It also gives a code playground. After completing all the three courses, you can start coding in this code playground and can test yourself. This feature is the most important feature because practice makes a human perfect.




Forum Support & Profile Section


In the app, there we get supporting forum which helps us to connect with developers and experts in this field. So if you have any question the team is always in your touch !!. OK!! moving towards the Profile section, we get few options, Such as Change Practice Schedule, Notifications etc. Those pieces of information can be changed at any time!



PROS & CONS

▲ Easy Simple Interface
▲ Learn to code for free
▲ Attractive User-friendly courses
▲ No Advertisements!

▼ Cannot use any other account for signing up.



CONCLUSION

The App has a clean minimalist layout If you used it once, you will fall in love with coding. You will, again and again, use this app for learning coding and one day you will become a good coder. I recommend using this app if you are interested in coding



Download
Note: Download link only works in Mi community app or Mi Community Mobile website

My Previous Threads:
Related Threads:
That's all for today, see you again with another interesting app. Hope you all liked this review thread. If you have any queries, you can ask me in the comment section!!