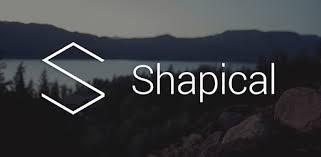 Shapical

Geometrical Photo Editor

HI MI FANS!!
Today I want to share a photo editor application which can make your photos look more elegant with sharp geometric shapes. The application is Shapical. Our app is very simple to use: you can turn your shots into artworks in just a few taps. Intuitive interface and clean design make the editing process incredible fun. Shapical is compatible with Android 4.1 and up and absolutely free to download. Let's explore about Shapical!



APP FEATURES
Integration with Unsplash, rich collection


If you want to create the nice picture with sharp geometric shapes, but have no idea? Hey, Shapical on your help, you can go to this feature and look for super cool ideas. You can check it directly on this application, or you can explore more to Shapical's Instagram(#Shapical)



300+ unique shapes (252 of which are available for free)


Yes, as the heading says the App have 300+ unique shape to download. Some of them are in Pro version and Others are absolutely free!!



Color, width, and opacity & blur effects


I think all of you know about these features, You can change Colour, Size of the image, Opacity of Layers, And everyone's favourite Blur effect.



PROS & CONS

▲ Simple and nice UI
▲ Easy to use
▲ Has about 300+ shapes
▼ No eraser tool on Free version



MY OPINION

Shapical has a simple and nice UI. It gives us to offer to use about 300+ shapes to make our photo look elegant and professional. For Shapical, I give rate 4 of 5. Install Shapical now and show your creativity under #Shapical Hashtag!!



Download
Note: Download link only works in Mi community app or Mi Community Mobile website

My Previous Threads:
Related Threads:
That's all for today, see you again with another interesting app. Hope you all liked this review thread. If you have any queries, you can ask me in the comment section!!