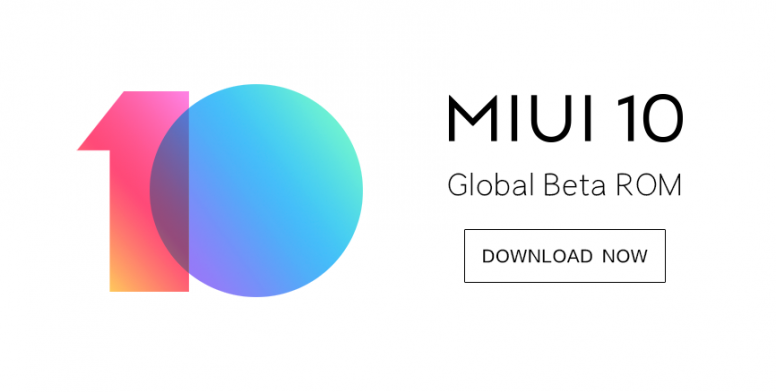 Hello, Mi Fans!
MIUI, the commingling formula of Android meets customization, is designed to elevate the user experience with imperative and whizz-bang features. Mi Community is glad to announce the full changelog and download links for MIUI Global Beta ROM 8.10.11
To serve the best to most users, MIUI comes with two different categories of iterations: MIUI Stable ROM and MIUI Global Beta ROM. Global Beta ROM, the weekly released version with cutting-edge features, serves best to the tech-savvy users. While MIUI Stable ROM focuses more on the stability of available features by holding the introduction of new features for a specific time frame. By default, the device ships with MIUI Stable ROM, you may learn more about MIUI
here
.
New Features
MIUI 10 Global Public Beta ROM Supported Devices:
Redmi 3S/Prime, Redmi Note 4, Redmi Note 3, Redmi 4, MI MAX/Prime, Redmi 4A, Redmi 5A, Redmi Note 4X, MI MAX 2, Redmi Y1 / Lite, Redmi Note 5, MI MIX 2, MI 5, Redmi Y2, Redmi Note 5 Pro, POCO F1 (Under testing)
How to upgrade to MIUI Developer ROM
1. Back up your data and apps before upgrading to MIUI, know more
here
.
2. Stable ROM users of MIUI, please upgrade to MIUI Dev ROM via fastboot method (download fastboot ROM
here
).
3. MIUI Global Beta ROM users, If your device is bootloader locked, please unlock it before fast boot flashing, know more
here
Full Changelog

Important bug fixes
Reboot randomly - (Mi 8)
Phone reboot randomly (Mi MIX)
android.process.media has stopped (Redmi Note 5)
Display
Touchscreen responds slowly - (POCO F1)
Homescreen
Mi apps icon is not showing in notification panel
Settings
Tap "more "in settings the phone crashes when language is set to Macedonian (Mi 6)
Digital messages showed on system apps updater but there are not apps need to be updated
View sim card space shows blank names for sim when opened directly from settings.
Mi Cloud
Mi Cloud has stopped.
Translation
Wrong Date Format in German Version.
Download Links
Mi Max 32G 8.10.11
Recovery ROM 1500M cf0a36e53e59cb0c2f32cc0c52246e04
Fastboot ROM 1714M 50c18fd55ce2fd4125493fc99025839f
Mi Max 64G/128G 8.10.11
Recovery ROM 1501M 751a54fa0f1c71c3388f3e2fb17bf222
Fastboot ROM 1715M 470fce7ccbf865c140a8a379ba64c903
Mi Max 2 8.10.11
Recovery ROM 1639M a533ac58ccc5fde2e841db4e3c91f563
Fastboot ROM 1893M 03534649c7269e3c48a789f5e55f6268
Mi Mix 2 8.10.11
Recovery ROM 1648M edb9db17adf789096694adeb34efaaab
Fastboot ROM 2096M 7b95e6e5029d5056d0a4d8b9b58f1e52
Recovery ROM
NA
Fastboot ROM 2355M a2f94febfe241c97b897d9e95e6600ec
Redmi 3S/Prime 8.10.11
Recovery ROM 1284M 5485ca01e907b7d9a49c950fa4867753
Fastboot ROM 1498M 548b1575ef582d867291ec9463b36af0
Redmi Note 3 8.10.11
Recovery ROM 1285M 9c30b4df6a42190b8509c50143fc12b9
Fastboot ROM 1502M eb7b7bca4eb0eb3e94e6f9da7bb8008d
Redmi 4 8.10.11
Recovery ROM 1316M 2b16aa40e728014b171f5f20577f9968
Fastboot ROM 1531M c0e06bee7cb74caeab4caa423a2fbc1b
Redmi 4A 8.10.11
Recovery ROM 1321M d0ec558d8652db8e4116dfc1da947fe6
Fastboot ROM 1547M be6c6db8be5813e37f7c684678cdd657
Redmi 5A 8.10.11
Recovery ROM 1286M 37fec21fbef4c48efb13e74dc3664380
Fastboot ROM 1721M 31e710f38ab7a8d3fe7f7f7d7d0c11e7
Redmi Note 4 8.10.11
Recovery ROM 1525M dc479885ac328e0d58fb7e305dabb47d
Fastboot ROM 1752M 6b89e3402a8e7dfc056431cc85f4050b
Redmi Y1 LITE 8.10.11
Recovery ROM 1267M 88ebbd21c7afa90580c21f405effb96e
Fastboot ROM 1583M b72b64d5569e4350132be966816d8197
Redmi Y1 8.10.11
Recovery ROM 1274M a45fddd90b1271b7a509ee56af69ba89
Fastboot ROM 1631M 9d6d648003430bbd726ec2d7fbf74a97
Redmi 5 8.10.11
Recovery ROM 1411M ab0bee100f9a2619c371d0d5894dab66
Fastboot ROM 1827M c0e1d60d2cbddb592306e16e3f21cc89
Redmi Note 5 8.10.11
Recovery ROM 1424M 026f9d6eede8e9eb1dc352002795eb43
Fastboot ROM 1997M b15a853f45c3340b567759365fb7f85d
Redmi Y2 8.10.11
Recovery ROM 1329M 5bd71eba575013b3046271827974ce58
Fastboot ROM 1805M 2b41de2fd3552418c659efa8af649941
Redmi Note 5 Pro 8.10.11
Recovery ROM
NA
Fastboot ROM 2301M f874ad8409e2108ea25e98014ea035c1
Redmi 6 Pro 8.10.11
Fastboot ROM 2046M 77b1139e9bce60c0e8d9e163c0f9b0a5
Follow us
Mi Community is Xiaomi Community's official Android app and a home for Mi fans in India. It helps you share your ideas and interact with other Mi fans on-the-move. It odeclaredast and intuitive interface to post threads, reply, read the news and interact with others.
Mi Community App on Google Play Store:
What do you think about this update, let us know in the comments below?