The Mi MIX 3 launch was one of the biggest events last week. The phone can be termed one of Xiaomi's best and its specs and features are proof. Xiaomi has released unboxing photos of all the color variants and they are worth looking at.The Mi MIX 3 comes in three colors – Sapphire Blue, Jade Green, and Onyx Black. All three have a black front bezel. As seen in the images, the Mi MIX 3 comes in a black box. It is apparent, Xiaomi has no plans of changing the design of the retail box for its flagships.
Inside the box is the phone, a black TPU case, a USB-C cable, a travel adapter and….. a white wireless charger! Yes, the Mi MIX 3 comes with a wireless charger included in the box irrespective of the version you buy. This is unusual but a move that will score Xiaomi points. I don't think there is any manufacturer that bundles its phone with a wireless charger. Do correct me if I'm wrong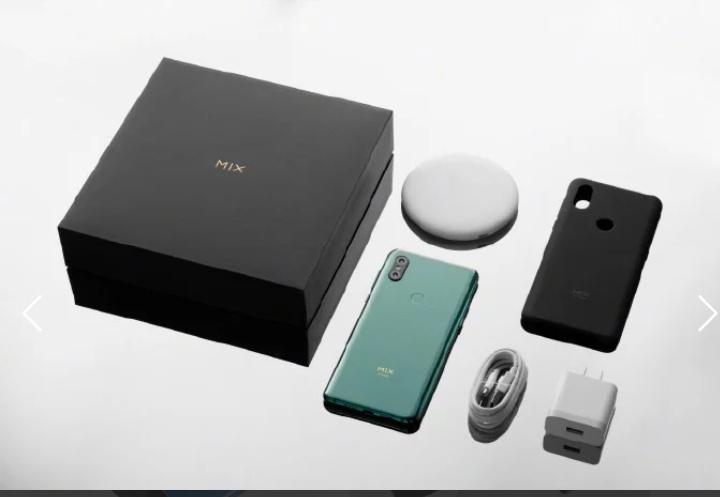 In a Weibo post yesterday, Xiaomi's CEO said the reason behind the decision to ship the Mi MIX 3 with a 10W wireless charger is to increase the adoption rate of the technology. This actually makes sense.Surely, there are people who own phones that support wireless charging but do not own a wireless charger. So, if there is a wireless charger bundled with the phone when you purchase it, there is a high chance you'll use it which is what Xiaomi plans to achieve.The Mi MIX 3 is Xiaomi's second Mi MIX phone this year. It has a 6.39-inch Super AMOLED screen with a Full HD resolution. Slide the phone and it reveals a 24MP 2MP dual front-facing camera combo in front for selfies and on the back is a 12MP 12MP dual camera combination. There are a bunch of camera features including 960fps slow-motion recording.The Mi MIX 3 is powered by a Snapdragon 845 processor with up to 10GB of RAM and 256GB of storage. It has a 3200mAh battery with support for Quick Charge 4 . The Mi MIX 3 runs MIUI 10 based on Android 9 Pie out of the box. The phone also supports frequency bands used in about 226 countries which makes it a great choice for frequent travelers.