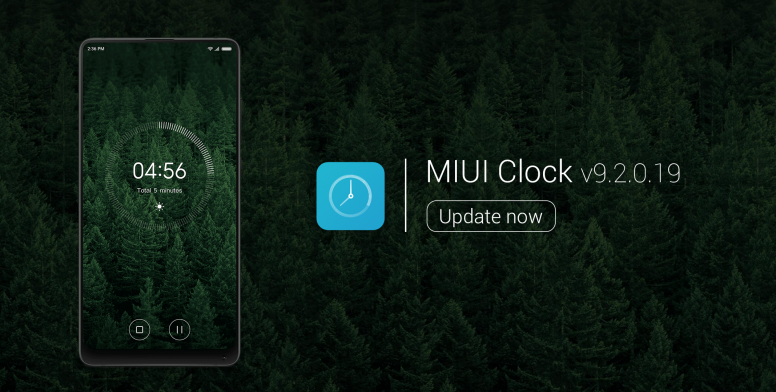 Hello MIUI Fans!
MIUI globally accepted ROM with its interesting features is just like a cherry in a cake inside our device. Improvising and giving priority to today's requirement of MIUI is of course one of the basic objective, where it has set the benchmark for being a best Custom ROM. With this note MIUI clock is pretty much optimized now with important bugs fixed along with nifty add-on features.


Please note: MIUI Clock is only available for MIUI users.
✒ What's new:
The status of the ambient noise timer can be changed manually now.
Expanded the database of cities and countries for the world clock.
Fixed the issue which made items overlap after you long press them.
Clock is optimized for tables.
Fixed the bugs which didn't allow to change the alarm sound.


✒ Update it:
Process 1
1. Go to "Settings".
2. Go to "System App Updater" and Update it.

Process 2
Update MIUI Clock v9.2.0.19 from Mi App Store.



Process 3
Direct download APK file from here.


Clock_9.2.0.19.apk
(5.24 MB, Downloads: 3834)




Have any question or feedback, do let us know in the comments below


✒ Follow us:


✒ About Mi Community:
Mi Community is Xiaomi Community's official Android app and a home for Mi fans in India. It helps you share your ideas and interact with other Mi fans on-the-move. It offers a fast and intuitive interface to post threads, reply, read the news and interact with others.

✒ Mi Community App on Google Play Store:


Related threads:
What's hot on Mi Community:
Rate