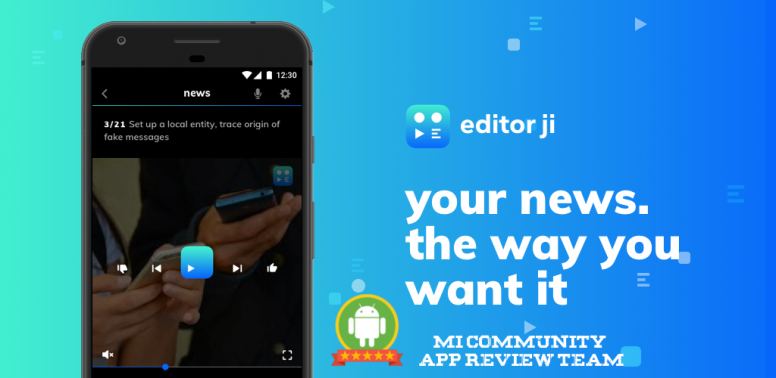 Editorji

Video News Which You Want!!

Hi MI Fans!

Today we are going to check out an app which gives news you want in the language of your choice, whether in English or Hindi in a unique way. The new way to view news, which is Editorji. The app will help to get the latest news from the world of politics, business, sports, entertainment, food, fashion, travel, technology and health in completely personalized to your tastes & preferences.

Here you can Create your personalized video news list and share your opinions with your friends, family and other users of Editorji. Watch the latest news in India and breaking news from around the world on the go anytime you want and in the language of your choice: English or Hindi News. You always Stay up to date with the India Cricket series 2018 schedule, India Cricket match results & much more. Let's Check it!



PREVIEW




Top Features Of Editorji
Tap and Swipe- Its quite easy to access, If you're not interested in watching a story, you simply need to swipe left and you move on to the next video story.
Personalised Newscast- Choose the topics that you like, and how much national, international and local news you want. Create your own news list by reordering or deleting videos.
Local News- We curate localised news stories based on your current location so that you are up-to-date with the latest in your vicinity.
AI Powered App- The App has advanced AI technology builds a video news list for you with the latest news stories and the latest updates from the topics that you choose. Just tap on the play button and watch.
Multilingual Platform- Get breaking news on-the-go in the language of your choice. View videos in English and Hindi. Regional languages to be added soon.
Offline Download- Don't have internet? Don't worry. Watch the daily news in offline mode by downloading your newscast and view it whenever you want.
Choose Your Time- Watch short or long newscasts depending on your preference. Each newscast lets you watch multiple video news across different genres.
High-Quality Video Streams- New videos uploaded every day with the highest quality of graphics and visuals. Easy to understand and easy to use news.
Record Your Opinions- Record your own opinions and share your personal newscasts with your friends and family.




Pros & Cons

↟ AI-based news app
↟ Multilingual video news platform
↟ Personalized newscasts
↟ Editorji will be a free service
↡ Open to advertising, such that Ads in App.



MY OPINION

The platform provides a one-tap access to a personalized newscast that is created by the Editorji algorithm which considers a variety of parameters including location, news categories, preferred style of news and so on. Users can skip stories that they do not want to see by simply swiping. This enables you to create your own news channel

DOWNLOAD




That's all for today, see you again with another interesting app. Hope you all liked this review thread. If you have any queries, you can ask me in the comment section!!