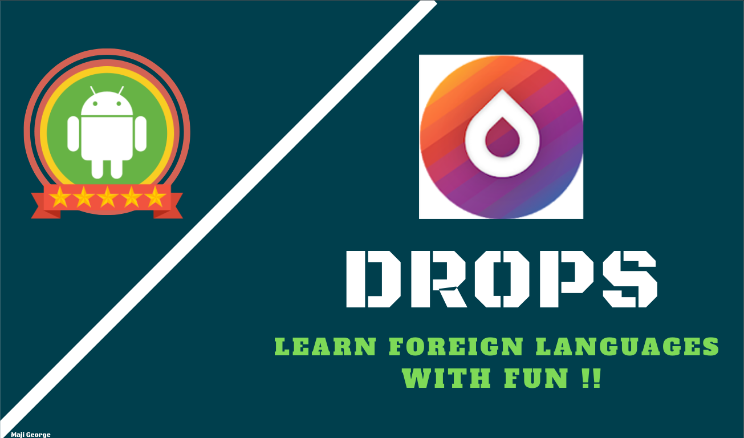 Hey MI Fans!!
Drops take "boring" out of language learning: useful vocabulary is beamed into your memory via gorgeous minimalist illustrations and fast-paced micro-games. The App will Help you to Learn English, Spanish, French, German, Italian, Portuguese, Dutch, Irish, Danish, Swedish, Russian, Ukrainian, Esperanto, Polish and Turkish and many more — It's fast, fun and free.
The app works in such a way that, Practice speaking, reading, listening and writing. Play a game, answer questions and complete lessons to improve your vocabulary and grammar. Start with basic verbs, phrases, and sentences, and learn new words daily. Let's Check out the Cornerstones of Drops at first.
Drops are 100% visual: We use pictures to directly connect the meaning to - not to your native language! No middleman. Quicker, better and more fun!
5-minute session limit: limiting learning time may sound counterintuitive but it makes Drops incredibly addictive which is not a bad thing when we talk about language learning. The barrier of entry is nonexistent. No excuses: you ALWAYS have 5 minutes!
Effortless practice: We took a good look at why games are so fun and addictive and injected the essence into Drops to create an app that is freakishly immersive but in this case, you don't waste your time playing instead you build a valuable asset: knowledge of a new language.
Rapid pace: We believe in a quick pace and typing on your phone's keyboard is nothing but fast. Say hello to rapid swipes and taps! You'll need those extra seconds to get the most out of your 5 minutes ;)
Vocabulary focus: No grammar, only curated words with high practical value. Drops focus on one thing and it does it extremely well. Drops also teach "alphabet" courses for beginners in Korean, Japanese, Chinese, Hebrew, Arabic, Russian and Hindi.
Forge learning habit: Drops wants to convert you into a language learning addict. No matter how effective your learning tool is, if you don't use it on a daily basis, it doesn't really matter. Drops trick your mind and you'll be better for it!

Pros & Cons
Simple and easy to use
Covers most of the important areas in Language (Exactly 13)
Fun Learning through games
Good UI and Regular tracking of progress

The offline access is only available in Premium features.
Around 98 topics Available only in Premium Version
Ads in the free Play store version

My Opinion
The really smart way to learn a new Language vocabulary. The interface is really clean and flows well. Makes it fun to learn and the good thing is that it really drills it in without feeling overly mind-numbing like most vocab drilling apps. Give it a try and see if it's for you
DOWNLOAD




That's all for today, see you again with another interesting app. Hope you all liked this review thread. If you have any queries, you can ask me in the comment section!!