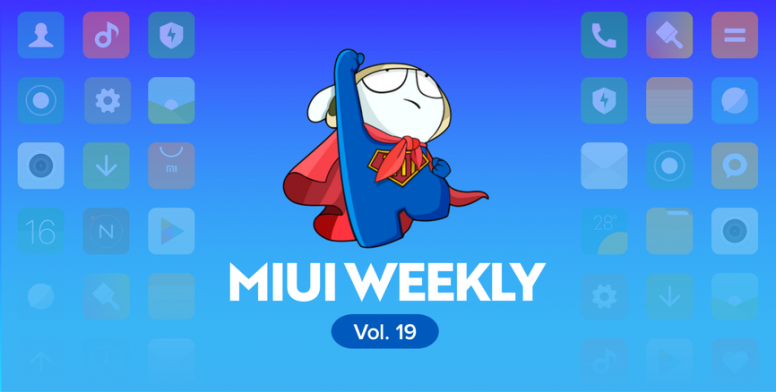 Hi Mi Fans,
Welcome back to another new volume of our weekly MIUI roundup, MIUI Weekly. Over the course of past 8 years, our developers implemented countless features and optimizations into MIUI that enhance the way you use your phone. From portrait mode to country-specific features, it's packed with all necessary features you're looking for. This is the reason why millions of users worldwide love our user interface. We are also equally responsible to inform these changes to our Mi Fans and that's why we created this series. If you've been busy last week and couldn't keep up with the updates from our incredible MIUI Team, then this is the right place for you. This is indeed where we compile the best of MIUI threads you might have missed. Keep reading!




MIUI 10: Boost Speed Feature - Explained! by Apiyush265

One feature which got re-Introduced in MIUI 10, which is impressing many users with tons of new features as well as required add-ons to make MIUI quite flexible and fully-packed with cool features.The Security App is completely re-designed with rich look and fresh icon-sets and every sub-features are laid vertically as a card for more focused user experience which just meets the eye on the very first look and a feature has been recently re-added "Boost Speed", which will let you boost the speed of your device.

Read more: https://in.c.mi.com/thread-1661061-1-0.html
Introducing All New Facebook Cleaner In MIUI 10
by
Apiyush265

The Security App is completely re-designed with rich look and fresh icon-sets and every sub-features are laid vertically as a card for more focused user experience. With MIUI 10, the concept of Cleaner has been introduced in MIUI Security App. Nowadays, a lot of media is saved by us through these social media apps which is very difficult to find and delete the unwanted media. With that in mind, a new feature has been recently added "Facebook Cleaner", which let you to manage your Facebook multimedia files.

Read more: https://in.c.mi.com/thread-1661033-1-0.html
MIUI Battery Usage: Completely Redesigned with New Settings & Refined UI
by
Apiyush265

Battery Usage and its relevant settings are very important part of a device, therefore it needs to be updated with new settings and algorithms according to user's need. Also the UI should be more attractive and easy to use for the users. The Battery Usage settings is available in Mi Security App, which has been completely re-designed with fresh icon-sets and every sub-features are laid vertically as a card for more focused user experience which just meets the eye on the very first look.

Read more: https://in.c.mi.com/thread-1662775-1-0.html

The MIUI Global Stable ROM is rolling out for majority of devices and very soon every device user will be able to experience the new buttery smooth MIUI 10. Every time we share about the new settings and its features, but we never focused on how can we use and excel those features. Our fellow Moderator Apiyush265 is sharing his experience on how the features of MIUI helped him. He just love to share his real-life day-to-day experience with the MI Fans.

Read more: https://in.c.mi.com/thread-1669423-1-0.html
[MIUI 10] How to disable Dual App account instantly?
by
lungkhim7

Our admiration towards MIUI is always on the top, because everytime we feel it is worth apt for our devices. Meanwhile the dual Apps feature is simply a clutch where it help us to manage our dual app accounts smartly. When the things are about removing dual app accounts, the procedure was quite weary where all of you have been experiencing till now. Keeping in mind about our time factor with new MIUI 10 Global Beta Update (8.11.6) now we have introduced simple method to delete all your dual apps instantly.

Read more: https://in.c.mi.com/thread-1650902-1-0.html
Theme Pick: Grey Area V10 By Superwitchi
by wrony1119

Themes the word itself explains much about it. MIUI supports changing themes depending on personal choices. It has a dedicated Theme Store Application which comes packed with MIUI in Xiaomi Phones. Now, we are sharing an amazing Grey Area V10 Theme. We, Mi Community Themes Team, are determined to provide you with themes that give a new and unique look to your devices.

Read more: https://in.c.mi.com/thread-1671853-1-0.html

That's all from MIUI section for reads this week. Hope to see you all with a new beautiful compilation next week. For now, I would like to thank all my fellow MIUI Mods for contributing their time and efforts to share these amazing threads for our Mi Fans. Special thanks to our Admin R0user and Super Moderator ATHUL P for their continuous support and guidance. Don't forget to vote for your favourite threads and share your thoughts in the comments section below!

Previous volumes

What's hot on Mi Community

New user? - Start Here!



Vote for the best thread below and help us improve!