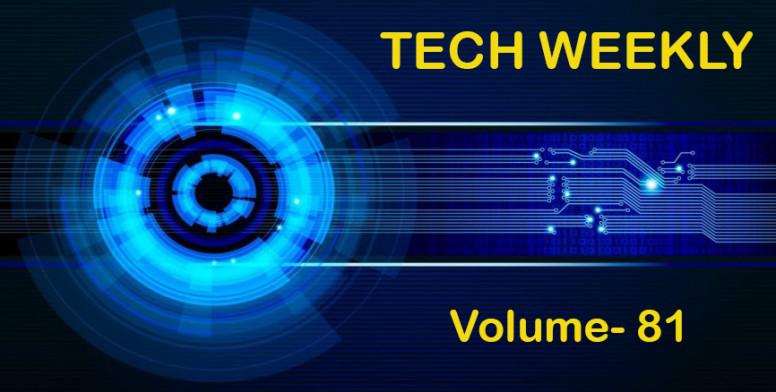 Hello Mi fans,
Technology is a body of knowledge devoted to creating tools, processing actions and the extracting of materials. The term 'Technology" is wide, and everyone has their way of understanding its meaning. We use technology to accomplish various tasks in our daily lives, in brief; we can describe technology as products and processes used to simplify our daily lives. We use technology to extend our abilities, making people the most crucial part of any technological system. So without wasting time let's check out what we have for you this week from our Techie Team.
Meccano-Erector M.A.X: The Interactive AI Smartbot!
By- Hari Sankar G



Hello Mi Fans!

Build your very own robot with the Meccano-Erector M.A.X Interactive AI Smartbot. This device combines customizable programming and AI, resulting in a truly unique personal robot. M.A.X allows you to develop your knowledge of programming while you personalize it to your requirements. Once completed, the smart bot stands 12 inches tall. Complete with built-in infrared sensors, M.A.X moves with agility and dodges obstacles. In addition, you can control the smart bot using buttons on the MeccaBrain, voice commands or the app. Thanks to its expressive facial graphics, it's easy to know what M.A.X is thinking.

Know More- https://in.c.mi.com/thread-1672680-1-0.html
Atmotube 2.0: The Portable Air Pollution Monitor



Hello and Welcome MI Fans,

Everyone loves breathing fresh air! Sadly the air we are consuming on daily basis is far from fresh! So what can we do about it? To find the same answer and raise the awareness about the quality of the air you are breathing, the creators of Atmotube have launched Atmotube 2.0 which is the first truly personal, most affordable device that helps you breathe cleaner, healthier air. KnowMore-

http://in.c.mi.com/thread-1672472-1-0.html
Hybo iLiDAR: The Device To Make Autonomous Robots.




Hello Mi Fans!

I this today's era all the things are becoming automated. The biggest source behind this are robots. From vacuum to self-driving cars all are just because of robots and the AI technology. Haven't you ever wondered about how these things work? The answer is by using LiDAR Technology. With the help of LiDAR a company named Hybo has made a device called iLiDAR which is helpful for making autonomous robots.

Know More- https://in.c.mi.com/thread-1672757-1-0.html
EyeQue VisionCheck: World's First Automated Eye Test!



Hello Mi Fans!

We all generally do a check-up of our eyes whenever we think that anything has gone wrong with it but it's a pretty time-consuming thing because we need to make a schedule, book the place, drive through traffic and many more. To help you save time and check your eyes whenever and wherever you want, EyeQue VisionCheck is here and it's easy to use. Know More-

http://in.c.mi.com/thread-1675552-1-0.html
Rivian's R1T Electric Truck : A Dream Truck For Adventurers



Hey MI Fans!!

After nine years of design and development, automotive startup Rivian unveiled not one but two new electric vehicles (each with Level 3 autonomy no less) at the November 2018 Los Angeles Auto Show. The R1T is a pickup built specifically for off-road adventuring while the swanky R1S looks to compete with Range Rover's line of upscale SUVs in both looks and amenities.

Know More- http://in.c.mi.com/thread-1675732-1-0.html
Gravity: The Weighted Blanket For Sleep, Stress And Anxiety



Hi Mi Fans !

Sleeping is the one most essential activity of human day to day activity which provides us both mental and physical clarity and enable us to think and work properly. What can be better than a good sleep. But often we land up not sleeping too well because of irregular and uncomfortable sleeping positions. For that u need the right stuff to sleep with.

Know More- http://in.c.mi.com/thread-1670209-1-0.html?utm_source=share
G12H- A Street Legal e-bike



Hello Mi Fans!

I am back with another thread about an E-bike! Generally speaking, e-bikes are bicycles with a battery-powered "assist" that comes via pedalling or, in some cases, a throttle. When you push the pedals on a pedal-assist e-bike, a small motor engages and gives you a boost, so you can zip up hills and cruise over tough terrain without gassing yourself. Know More-

http://in.c.mi.com/thread-1676828-1-0.html
Thanks to the authors for your contribution and sharing updated technology information to Mi Fans.


Our Previous Volumes:
Please Vote and share your feedback in reply.
Rate