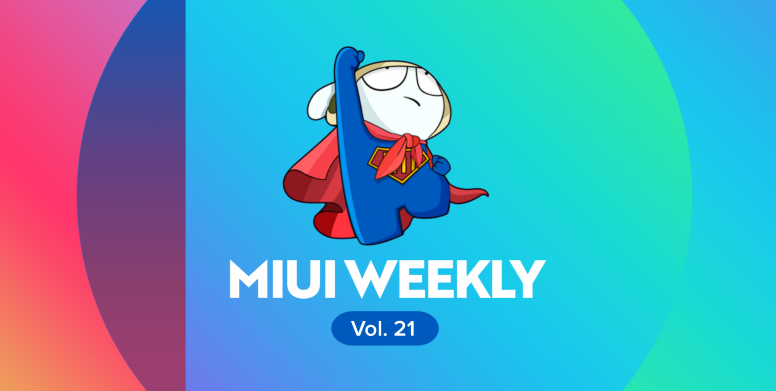 Hi Mi Fans,
Hearty welcome to a brand new volume of our weekly MIUI roundup, MIUI Weekly. It's our responsibility to keep you updated with the hot happenings from Mi Community's incredible MIUI section. We compile a week worth of news, announcements, reviews, theme suggestions, tips & tricks and other useful threads into one just for you. If you've been busy last week and couldn't keep up with the updates from our dedicated MIUI Team, then this is the right place for you. This is indeed where we compile the best of MIUI threads you might have missed. Keep reading!




MIUI Camera - Now record short videos up to 15 seconds by R0user

You asked, we delivered! Many of you have been asking to increase the time duration of the short video since quite a time, well, it's time to rejoice! We have now increased the duration of the short video up to 15 seconds.

Read more: https://in.c.mi.com/thread-1689376-1-0.html
MIUI 10 Video App- Introducing New Categories & Dedicated Sections and Much More!
by
Apiyush265

With every MIUI update there is some improvement and changes which makes MIUI unique and user's are able to have new experiences everytime. As highlighted during MIUI 10 launch, there will be major upgrades in MIUI Video App. We can already observe those changes in past few updates such as Playback speed control, Short video, etc. There has been also increase in the contents, let's discuss about them.

Read more: https://in.c.mi.com/thread-1682452-1-0.html
Let's Debate: MIUI Themes App Vs Other Theme Apps
by
Apiyush265

This app lets you design and make your mobile more beautiful. Apart from UI, you need something to sooth your eyes and change the phase of your device with occassions, whether its wallpapers, themes, fonts or ringtones. It's your very own MIUI Themes App which provides you with new wallpapers for your lock screen and home screen according to your moods and needs. Mi Community also supports the MIUI theme apps as it has 2 dedicated sections for it, Resources and Themes. MIUI also encourages the Theme developers by organising competitions. Let's start our debate on what gives MIUI Themes App an edge over other Themes App.

Read more: https://in.c.mi.com/thread-1688538-1-0.html
[MIUI 10] Wallpaper Carousel - Introducing new glance wallpaper and many more!
by
lungkhim7

Not only the outer design will be enough for our device to make it smart, the desire of new level of innovative smart reflection is exactly what Mi Wallpaper Carousel has been doing, with its high premium wallpapers and of course three cheers to the developers for their incredible effort to put it in a new fashion. Well with the new Global Beta update now we are gonna experience Mi Wallpaper Carousel with most interesting add-on and changes.

Read more: https://in.c.mi.com/thread-1685441-1-0.html
Top 3 MIUI 10 Themes For Your Xiaomi Devices
by wrony1119

"Themes" the word itself explains much about it. MIUI supports changing themes depending on personal choices. It has a dedicated Theme Store Application which comes packed with MIUI in Xiaomi Phones. Now, we are sharing MIUI 10 themes for your xiaomi devices. We, Mi Community Themes Team, are determined to provide you with themes that give richness and new look to your devices.

Read more: https://in.c.mi.com/thread-1688537-1-0.html

Theme of the Week is a series of threads posted by our beloved MIUI crew Manvesh Kajale on every Friday for all the Mi fans who love a change. He personally try out a few New and Trending themes from the theme store and feature them in his threads weekly so that you all don't have to worry finding the right theme. Thinking to have a change? Then it's the correct time to change your phone's theme!

Read more: https://in.c.mi.com/thread-1694089-1-0.html

That's all from MIUI section for reads this week. Hope to see you all with a new beautiful compilation next week. For now, I would like to thank all my fellow MIUI Mods for contributing their time and efforts to share these amazing threads for our Mi Fans. Special thanks to our Admin R0user and Super Moderator ATHUL P for their continuous support and guidance. Don't forget to vote for your favourite threads and share your thoughts in the comments section below!

Previous volumes

What's hot on Mi Community

New user? - Start Here!



Vote for the best thread below and help us improve!