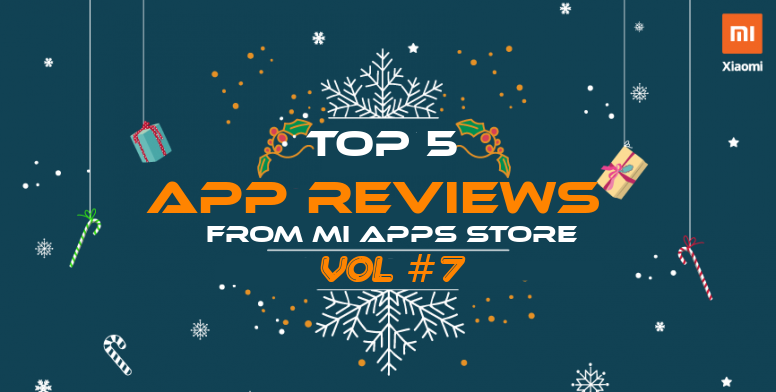 Hi Mi Fans!!
Greetings and wishes to you all from App Review Team. Welcome back to another new volume of our Biweekly App Review roundup. Nowadays there is an app for everything. You wake up in the morning with an alarm app and go back to sleep at night wishing good night to all of your friends with another app. This time we share one-stop thread for you. Mi Community App Review Team is the one-stop destination for all your apps needs. This is indeed where we compile the best of App Review threads you might have missed. Keep reading!


Mazes & More is a classic maze puzzle game with fun tweaks and surprises. Mazes, as the name states, we have to find a way to the hole. It's the simplest and mind challenging game, so let's start!. Just swipe your finger and guide the dot through the walls to find a way out and escape the labyrinth. Minimal 2D graphics make it feel like a classic and retro maze game, while new game modes keep the adventure fresh (and sometimes scary!). No marker needed. We don´t experiment with mouses or cheese..

Read more:
[ART] Eckovation - Social Learning Platform!
by
Hrishee
The way of education has changed a lot in recent years, the main reason is Mobile Internet (Mi). As said by Manu Kumar Jain sir the main aim of Mi (Mobile Internet) is to change the world with mobile internet and in our country, the early steps have been started from both sides government and entrepreneurs namely. Eckovation is one such application or app which offers you more online courses and help to boost up your career. It provides you with more than 5000 courses and 1000 qualified instructors too. This app helps you to prepare for all competitive exams and also for advanced courses which might be useful for you!.

Read more:
[ART] MESSENGER LITE - It's Fun, Quick & lite...!
by
#SK/
Messenger Lite from Facebook is an smaller sized app as compared to the Original FB Messenger developed to get into your Smartphone with minimum space required. Why so boring chats when even your messenger is super cool??? With this interesting layout and this lite app turn your chats into a Quick Fun . It offers you many features at very low size which will also ensure your phone doesn't got all the RAM eaten up...!

Read more:
[ART] English Dictionary - offline
by
Hrishee
Many of you have encountered the name dictionary before in your daily life, But does anyone think about what is a dictionary? [ART] English Dictionary - offline A dictionary is a book that contains the meaning of English words in an alphabetical order. Sounds funny right? But this is the meaning of dictionary in the Cambridge dictionary.[ART] English Dictionary - offline Okay, now many imagine the biggest book on the world as the dictionary. But imagine a mobile application which works flawlessly without internet on your handy smartphone. Sounds great right? And the name of that mobile application or app is English Dictionary. This app contains more than 302000 definitions and a large number of inflected forms. The biggest asset is the app is available offline and completely free.

Read more:
Everyone loves music. Here, SoundCloud is the world's largest open audio platform, powered by the community of creators, listeners. The app developed to empowers the world's audio creators with the best tools, services and it comes With over 190 million tracks from 20 million creators heard in 190 countries, what's next in music is first on SoundCloud.

Read more:
That's all from App Review Section for reads this week. Hope to see you all with a new beautiful compilation Next Series. For now, I would like to thank all my fellow App Review Team Members for contributing their time and efforts to share these amazing threads for our Mi Fans. Don't forget to vote for your favourite threads and share your thoughts in the comments section below!

Vote for your favourite review from the list and help us
improve!
Rate