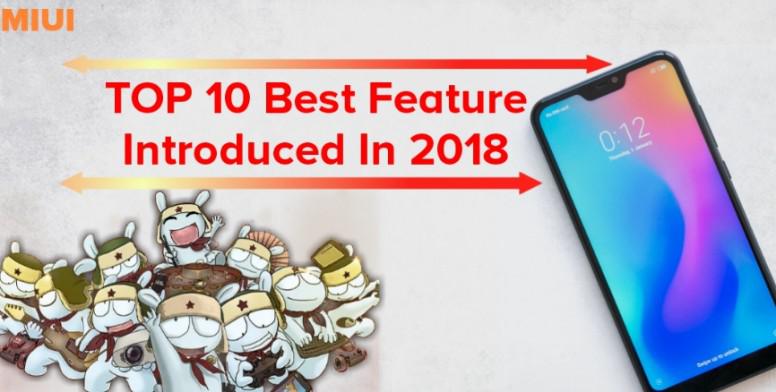 Hey MIUI Fans,
This year has brought many happiness and joy amongst our MIUI Fans. We have seen many new threads which has been introduced in this year according to users need and feedbacks. Here today, we will have a look at the Top 10 best features which came in the year 2018.



1. MIUI App Vault



The App vault was introduced in MIUI 9 but it has received major upgrades this year with the introduction of MIUI 10. "App Vault on MIUI is a testament to the Information Architecture element: everything important is on your screen with just a right swipe - and more importantly, you choose the content". In the age of information, in essence, any digital product is simply a representative collection of information. The world is changing and today, more than the websites on a big screen, apps and personal assistants on smaller screen tops the chain of users' attention pyramid.
2. Hidden Apps Feature

This was one of the most demanded features by the MIUI user's. They used to install 3rd party apps to hide their apps but with MIUI 10, It's an inbuilt feature.
We, at MIUI, put your privacy and security at the top-most in order to give you the best possible user experience.


We are presenting Hidden Apps feature, which will enable you to add the app icons to the hidden folder, and hence that app icons including that folder, will not be visible on any home screen, giving you the privacy that you deserve, followed by a very handy secured shortcut to enter to hidden apps folder.



3. MIUI Security App

Following the MIUI 10's design, the new Security app features a complete minimalistic white look with fresh icon-set and every sub feature vertically laid as a card for a more focused user experience. Adding to that, we have also designed a new page for data usage which just meets the eye on the very first look. We have Revamped Homepage of Security app, A new card style UI for each subfeature, New optimization effect animation, Newly designed pages with fresh icons.
Features Added:




4. MIUI Camera App 2.0



MIUI 10 brings something that you have been waiting for. AI algorithm can now blur the background on your portrait shots. You don't need a DSLR and, even more importantly, a dual camera phone to make your photos look stunning and professional. With AI onboard, single camera phones do the job just right. This feature will be available on most Mi phones across our whole lineup after you upgrade to MIUI 10. Artificial intelligence helps the Camera app in MIUI 10 to identify people on photos and draw the distinction between their silhouettes and the background. Background blur for single camera phones is the result of hundreds of thousands of photos being used for deep machine learning. That's AI at its best.



5. MIUI Music App
Not just one of the greatest triumphs of humancreativity, music is one such element which connects us all beyond the barrierof language, and above the tracks of geography and Mi Music has woven thiselement into everything we do here.The awsome experience of MIUI which meetsthe users requirements always makes it in a top. The preinstalled Mi MusicPlayer App in MIUI makes cherry in a cake into your device which eliminates theneed of installing third party apps. Mi Music now comes with Hungama Music, SouthAsia's largest digital entertainment organization with more than 400 contentpartners across geographies and languages, which of course will be enough forthe users to meet their requirements.




Features Added:
6. MIUI Video App
Mi Video is MIUI's default Video player and visual entertainment application. Introduced as MIUI Video Player, it is always one of the most essential apps in MIUI. With the introduction of MIUI 9, the app was rebranded as a standalone app, creatively called Mi Video and a complete UI redesign was implemented. Along with that, many new features such as support for more video formats, automatic grouping, multilingual subtitles and private videos were also added. MIUI 10 brought India's largest content aggregation into Mi Video which is a major milestone in the app's timeline. Now you can enjoy offline videos as well as 500,000+ hours of online content within the same app, which makes it truly an entertainment champ!





Related Contents:
7. Rediscover the Sounds of Nature



In MIUI 10, we introduced a completely new system of sounds and ringtones. Artificial intelligence is able to reduce the number of unnecessary sounds that might disturb you, while the sounds you actually hear feel natural rather than mechanical. Nature sounds aren't limited to ringtones. Even using a thing as stressful as timer becomes relaxing: ambient noises played throughout the countdown are much more soothing than an alarming beep at the end.






Do you record your thoughts in voice notes? Or are you someone who take voice notes during the meeting and then use it later. Well, that's easy but the later part of organizing, it is hard.

Well, whatever the case may be, MIUI 10 got you covered. Introducing voice notes! Before you jump up and say, it was there before too, this time it has been integrated with your very favorite Notes app with just a one click, hence making it easy for you to organize it, the way it suits you!
9. MIUI Remote with Live TV Tab
Convenience and usefulness are the hallmark qualities of Mi Remote app. With its user friendly interface and easy to use controls, Mi Remote app became an ultimate user favourite. But unlike previous times, our devices are no more ordinary, they're Smart! Ordinary TVs are being replaced with Smart TVs, so our remotes should also have Smart features in it. Introducing the new redesigned Mi Remote app, which is now comes with a Live TV tab and an Interactive Programme Guide. In the Live TV tab, you'll be able to configure your Set top box, switch between different Channels and Programmes, set reminders, etc with ease. This service has been provided by Sensy, the same team who's providing several TV services in the Mi TV 4/4A range. In brief, our Mi Remote is pretty Smart now! Come, let's explore more.



10. Quick Action button on Messaging App
In this age of WhatsApp and Facebook, our classical SMS app is now used less often. As a first step to keeping it still meaningful to the user, we have implemented quick actions in SMS thread. Since the reply section for promotional SMSes doesn't make much sense so we have used this space. Example- You will never reply to 'money debited SMS' received from your bank unless you are really adventurous :)
Imagine a practical scenario like I just got an SMS from Amazon stating that my order is out for delivery. Now, I might want to quickly check Amazon what are all the items which I can expect today (maybe just for confirmation). So a button to open amazon app or website will be very helpful.



I would like to thank the entire team of
MIUI Mods
, who have been always ready to face new challenges and tasks. I would also like to thank the
SMods
who have been the hidden helping hand behind our threads and have always supported and encouraged us. Last but not the least our
beloved Admins
who have trusted on us and has provided with such an amazing opportunity.
Keep loving MIUI and sharing you valuable feedback with us and also dont forget to leave your suggestions below in comments.
Wishing you all a Happy New Year.

Rate