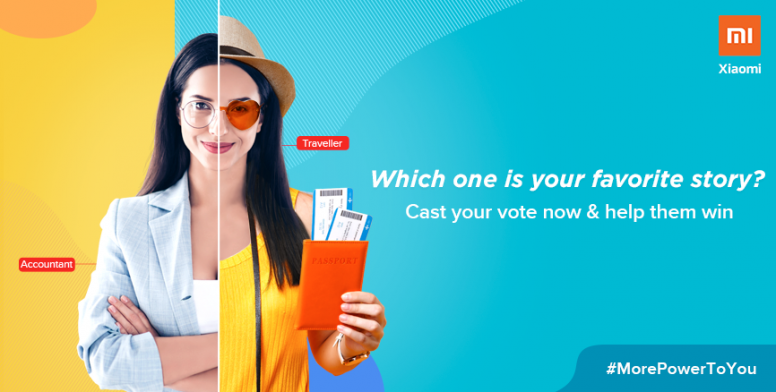 Mi fans!
Thank you so much for the tremendous response and sharing your inspiring 'Do More' in life stories, we are really moved to hear them all. Although each story has it's own place we found the below ones really standing out. Here are our best picks, please vote for your favorite one and help them win!
Deadline to vote
4th Jan 2019, 18:00 Hrs
Story #1 - Furqaan
The purpose of life is not to be happy. It is to be useful, to be honorable, to be compassionate, to have it make some difference that you have lived and lived well.

There are people who still don't get food on time, there are people who don't get proper treatment most of the times. It's a very sad moment to see them in pain but however, their struggles are far more than what we believe we are going through

It was August 2015 that I joined a local NGO where I used to spend time with slum kids teaching them about health and hygiene followed by some activities. Managing my college life as well as taking out time for those slum kids was no less than a cumbersome task for me but I didn't stop!
Story #2 - Arun Abhimanyu
Its Time To 'Do More' up to now, I have helped the Orphans & NGO's, its not enough, there are a lot of people needs the so many things so I want to make a new team that will be lead to the help the Orphans & helping financially to the persons which have lots of talent in their hands…
Story #3 - justin_ajith
Later, I wrote another drama story titled as 'A Film' and started shooting for it. We had to spend more than 8months of time in that as we had simultaneously our academics going on. When it hit YouTube. We had 3.5k views with mixed reviews. Yes, I know it wasn't a feature movie but it was my movie. Many people even said it is crap. But I believed it's a good story
Story #4 - Apiyush265
Education is essential for all and imparting our knowledge and spending a few hours for a noble cause isn't a tough task

All the events so long during the year gave me amazing memories and all new experiences. I was able to take a mile extra to fulfill my thirst of exploring new activities. The internal motivation and self-confidence kept me in high spirits due to which I was able to take up all the various challenges throughout the year. Managing all these events made me realize sometimes, Even 24 hours was not enough for a person
Story #5 - wrony1119
In India, when you are try something different from the general public then that path not easy for you. Peoples mentality is that you are mad, the same thing happened to me but that fear gave more strength to me. I was much passionate about studying math and solving tricky logic

In 2014 I have completed my Engineering then entered into the real world of struggling where daily I have learned a lot from every single human being and implemented that lesson currently in my professional life. Today I am also following the same thing from 9 to 5 my office and in the evening 1 hour teach free online classes.
T&C's
Votes after the deadline will not be counted
Fake voting, if detected, a participant will be removed from the contest
Admin reserves the 15% chance to select the final winner story
Mi Community reserves to make any changes in the contest, at any given time, without prior notice.

Rate