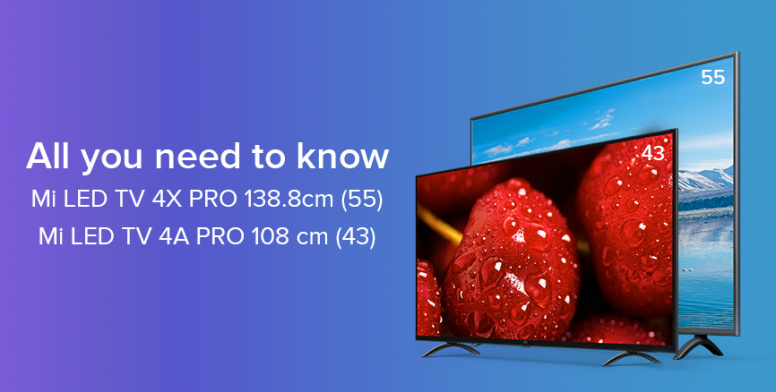 Mi Fans!
Gear up and get ready for the BIG TV revolution with Mi LED TV 4A PRO 108 cm (43) & Mi LED TV 4X PRO 138.8cm (55)! Here's what all you need to know about both the products which got launched today:
Check out the product video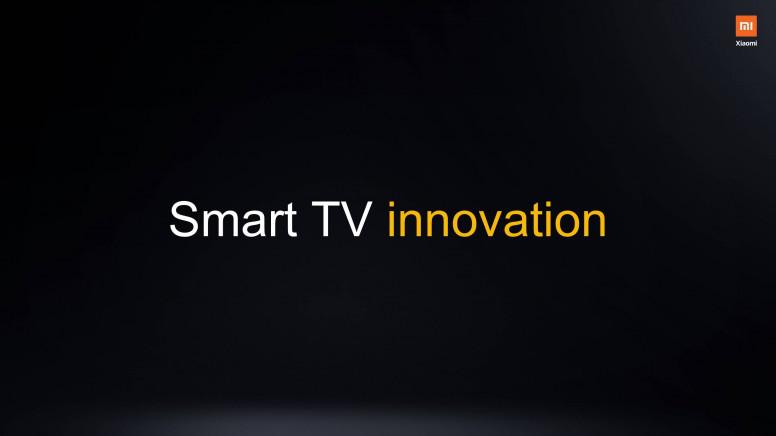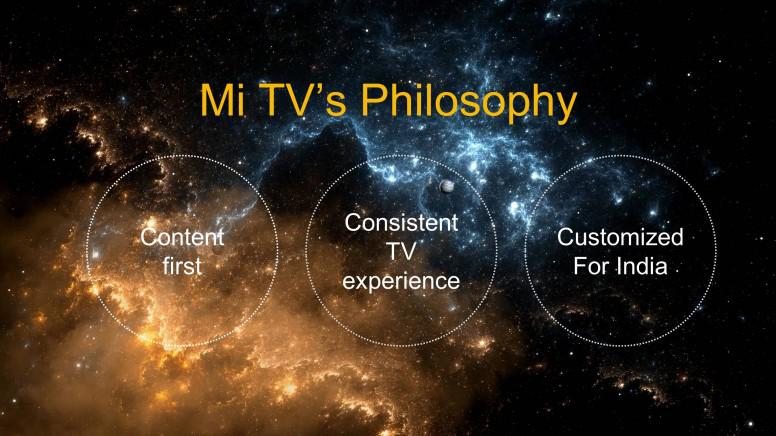 Xiaomi's philosophy is based on
1) Content First
2) Consistent TV experience
3) Customized for India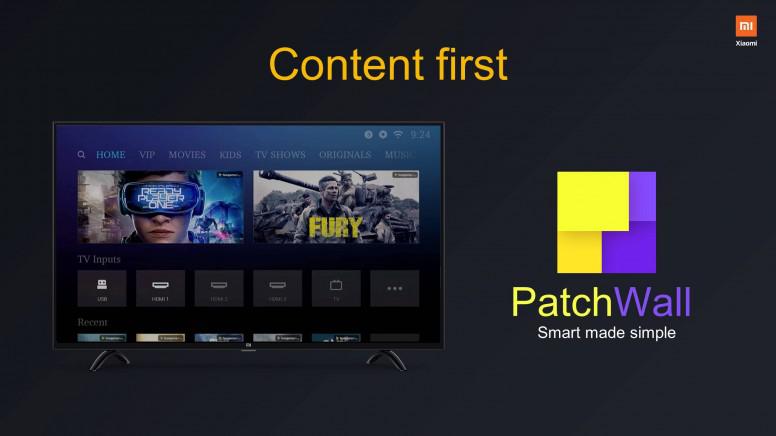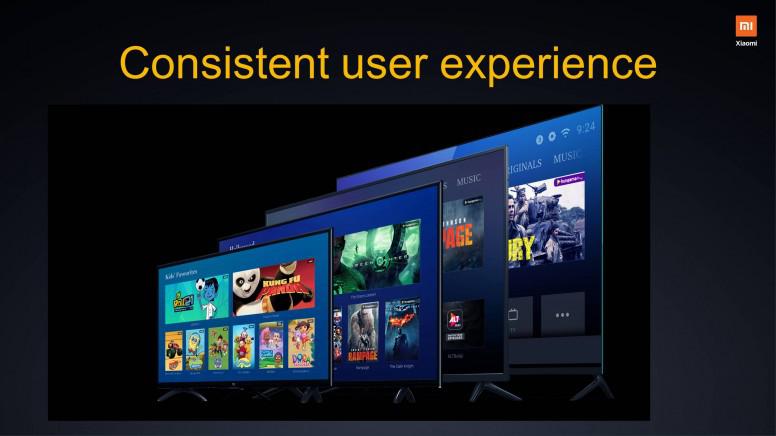 PatchWall is the first of its kind, a smart operating system that brought content from several content partners and put it right on your home page under various categories. PatchWall evolves continuously and since the day it launched, we have introduced TWO brand new channels called
Regional and Originals.

Consistent User Experience is a very important decision that we had made early on in our product development stage that defined a lot of the hardware that you see across all Mi TVs delivering the great user experience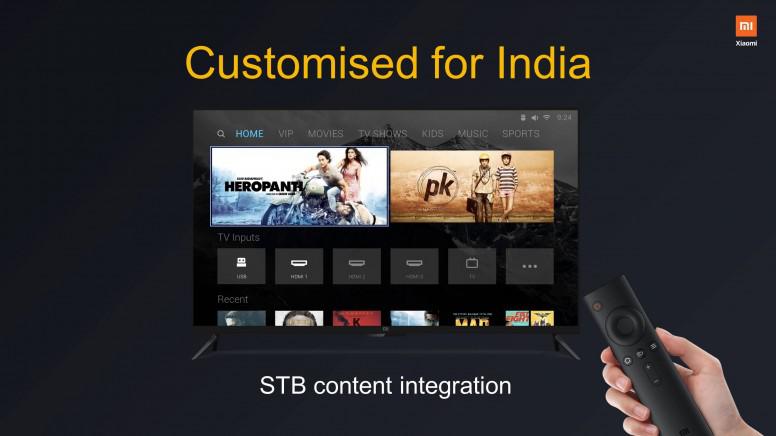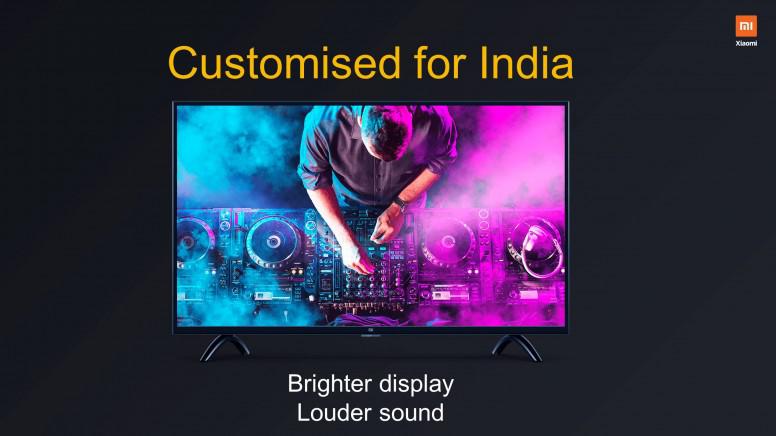 We customized Mi TV operating system to adapt to India content consumption. India watches lot of content from set top box, we worked very closely with Sensy to integrate LIVE TV right into our PatchWall. Now with just your voice, you can automatically switch to the right channel. In fact, you never have to remember channel numbers again. Just say, Switch to Cricket or News and Mi TV will do the rest. Not just software, we made several hardware changes to all our TVs sold in India.

Display + Sound
- We increased the overall brightness and
- We increased sound that is more powerful & louder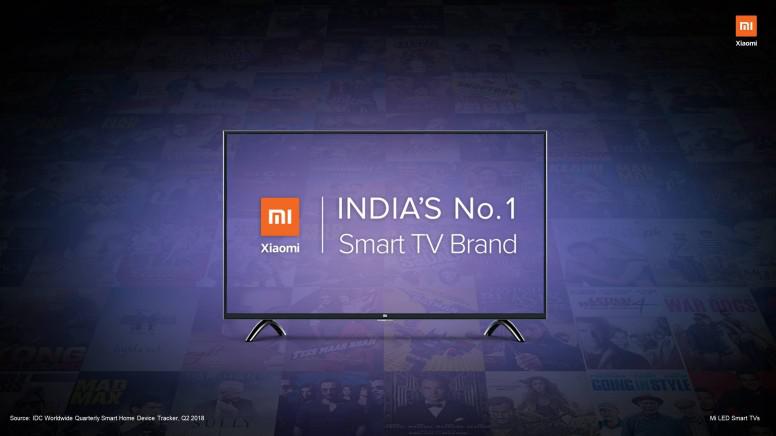 Xiaomi continues to be India's No.1 Smart TV brand in Q3 2018 as per IDC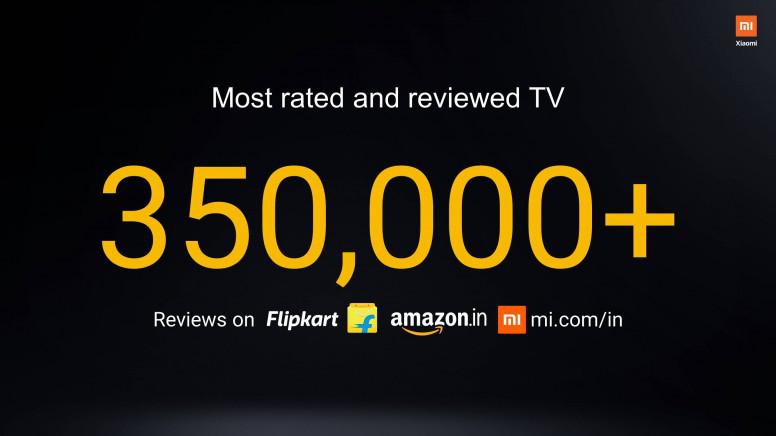 We have got over 3.5 lacs reviews for all our TVs.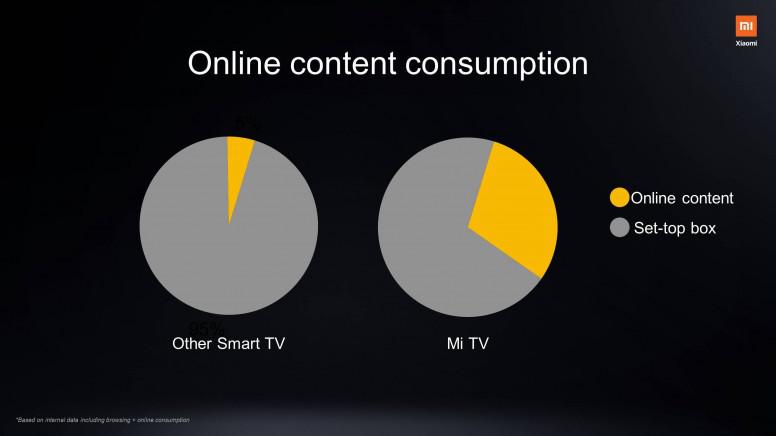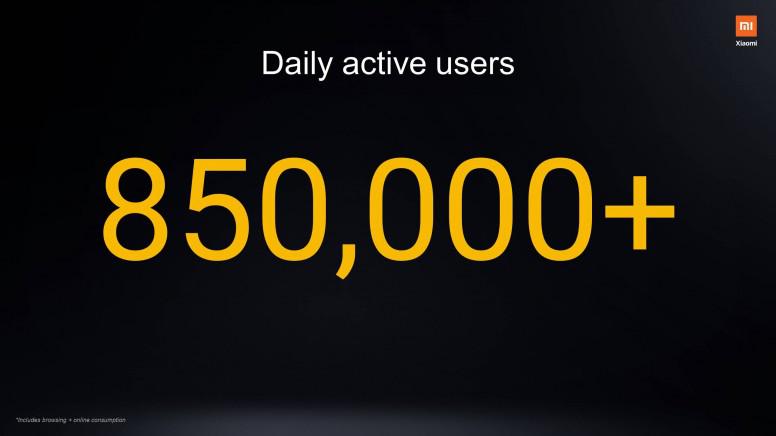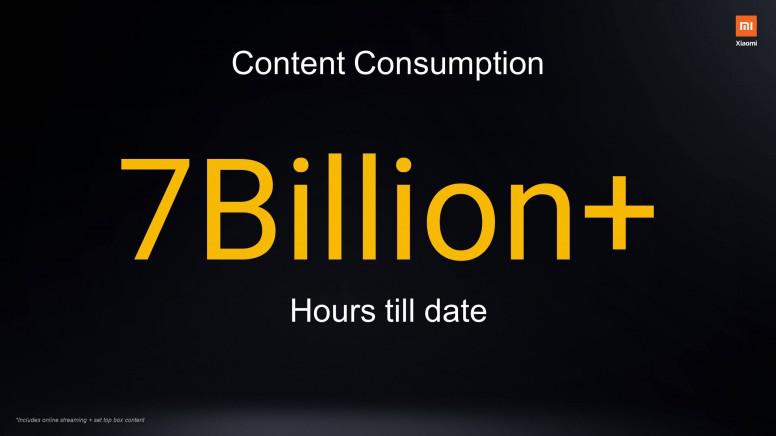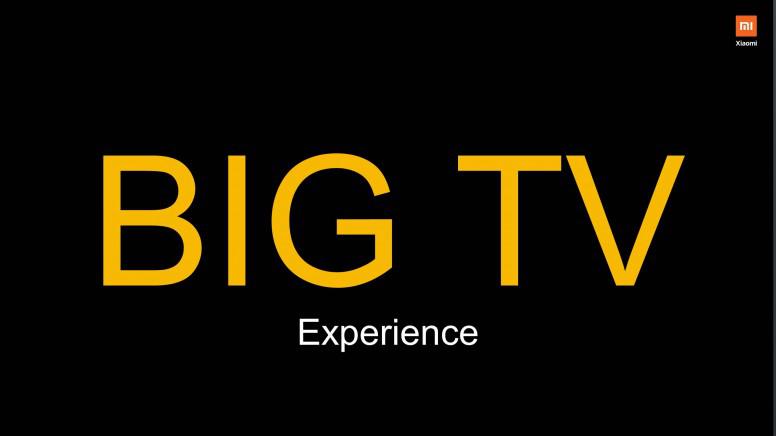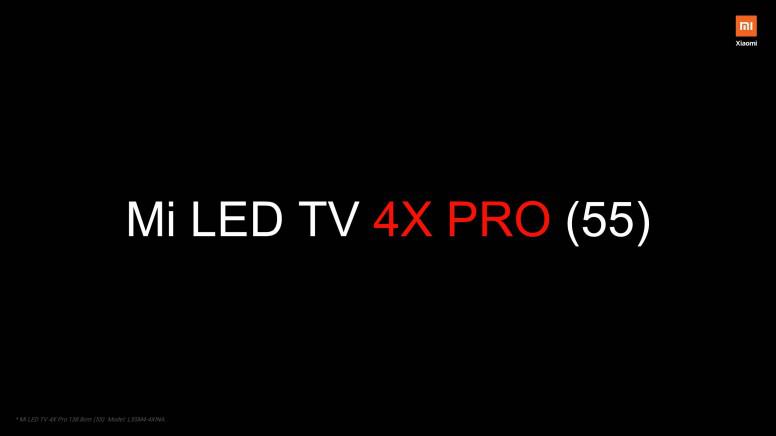 Introducing our latest Mi TV 4X 55 inch Smart TV - comes with a massive 55-inch display. Bigger the display, better the experience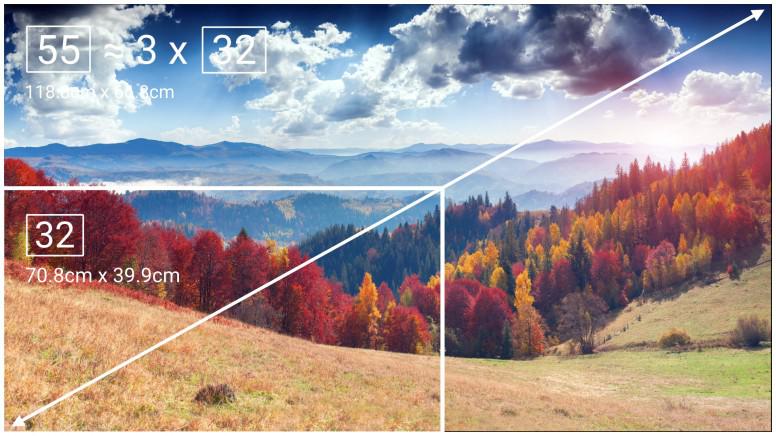 Comparing against the 32-inch, its almost 3 times the size; giving you a great immersive viewing experience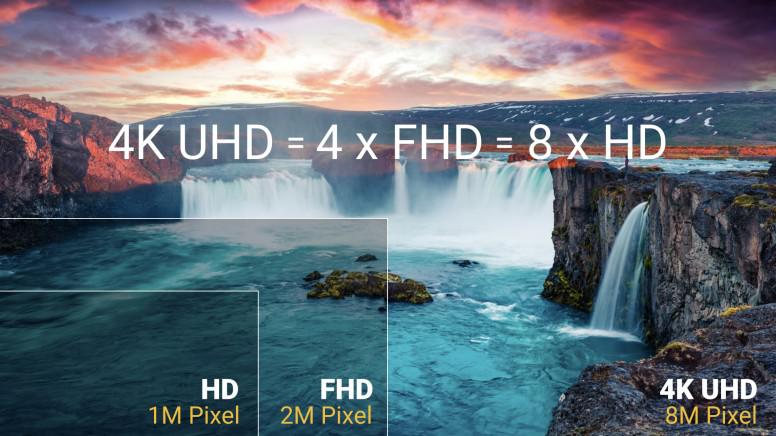 The new 55inch comes with 4K resolution display, which means 3 times more pixels on your screen giving you a stunning 4K rich experience from supported content and source. With the 4K Ultra HD, you get 8 times more pixels than an HD panel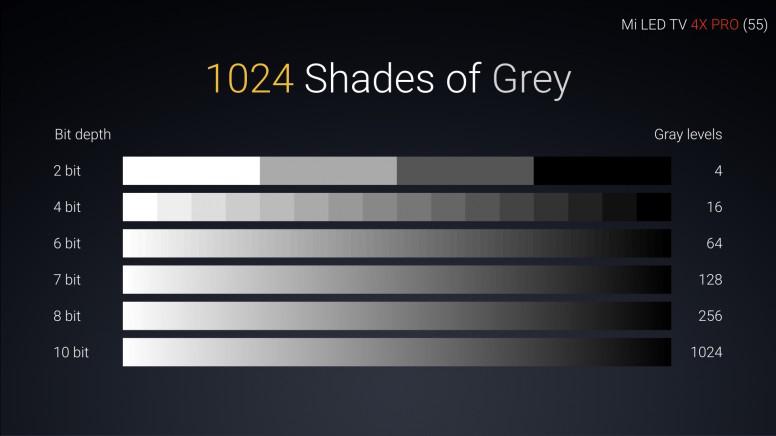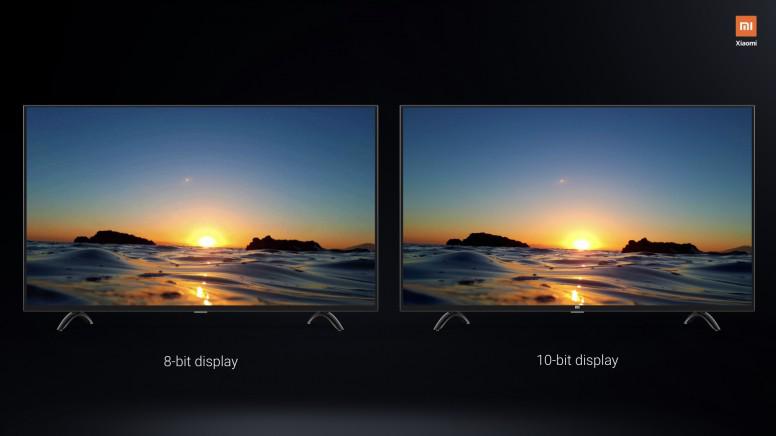 Mi TV 4X 55 also has a true 10-bit panel, which means more shades of color - it can reproduce up to 1.07 billion colors.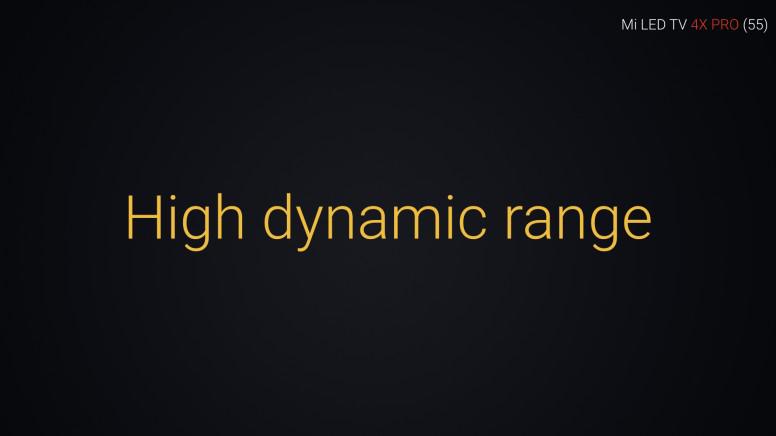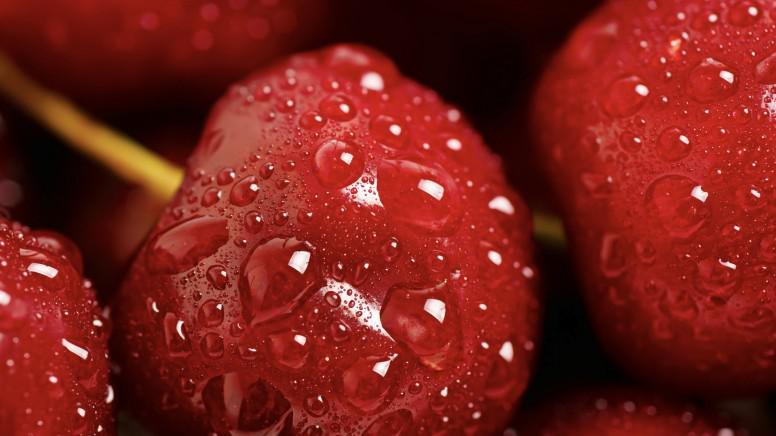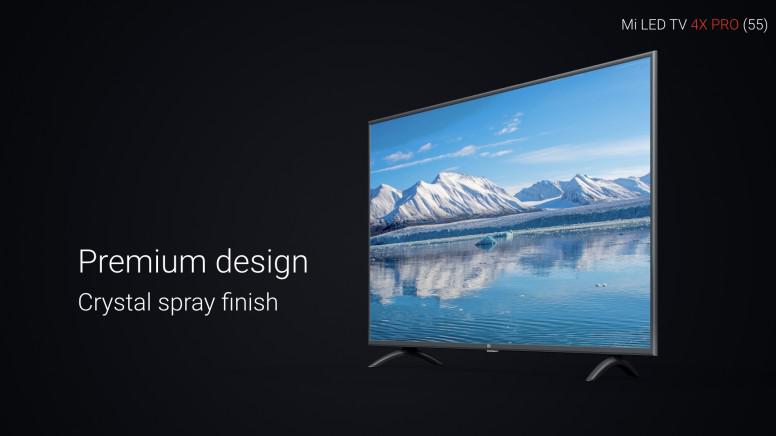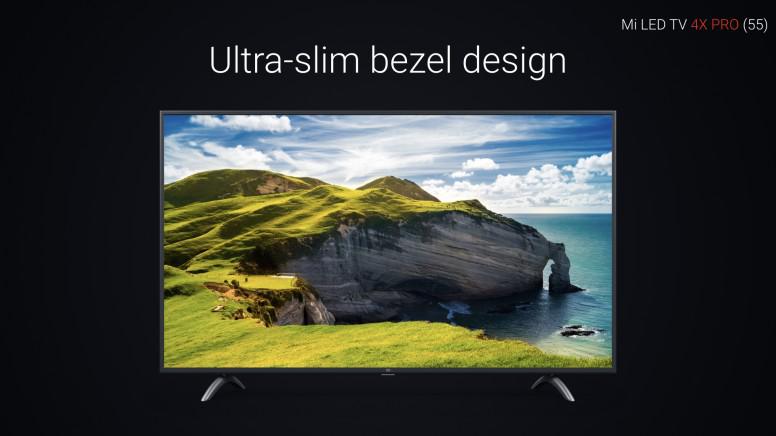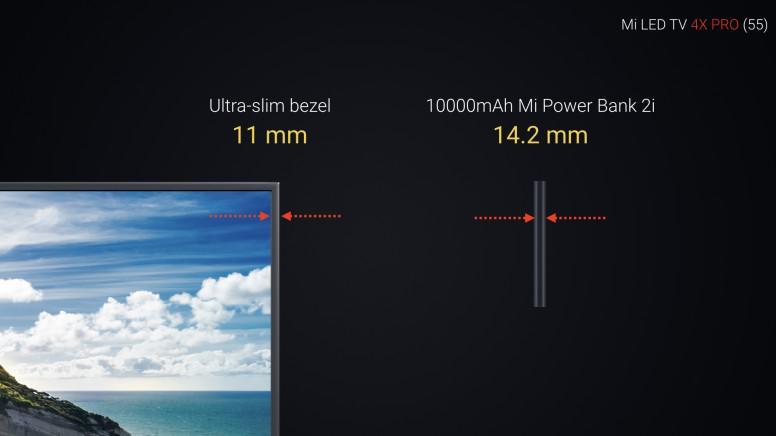 Mi TV 4X Pro 55, comes with really thin bezels all around the screen. It blends into your existing TV cabinet or if you decide to wall mount
Here are some examples below. This also comes with Nano coating all around the bezels to give a premium look and finish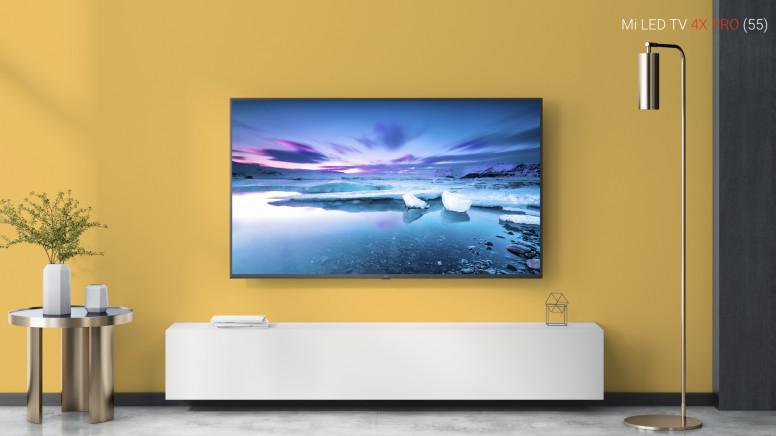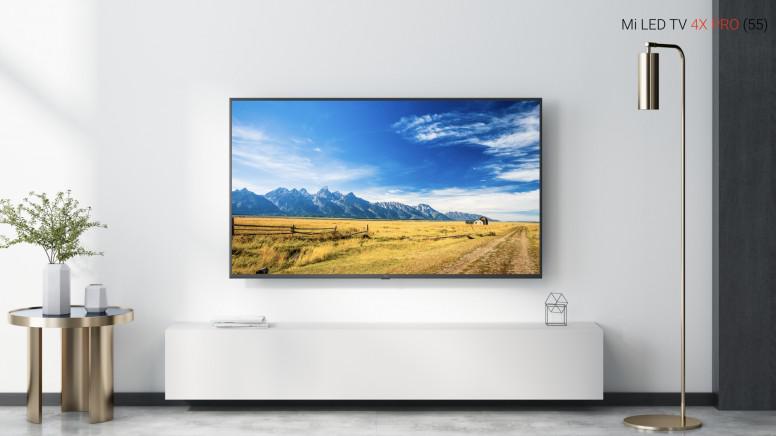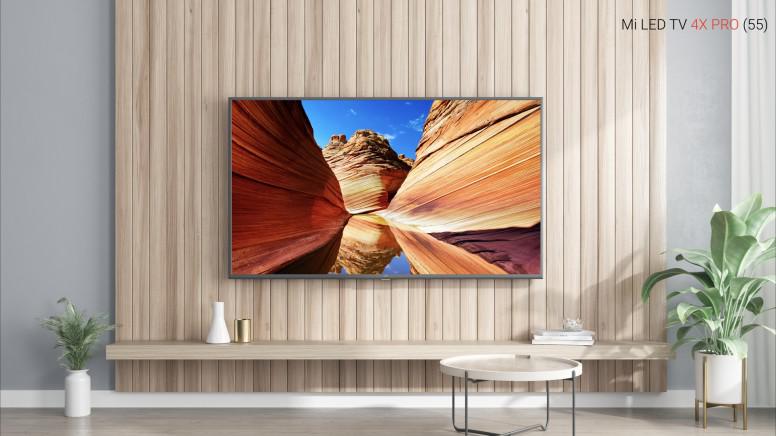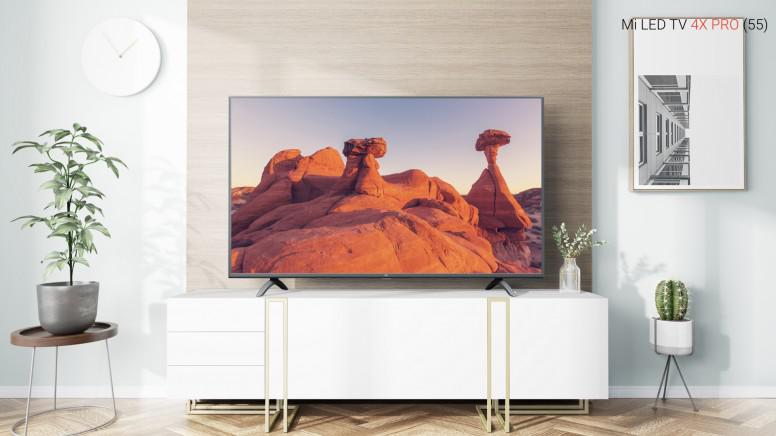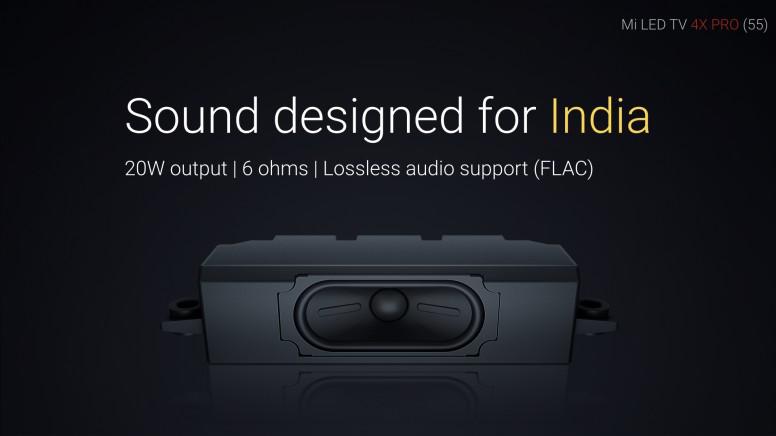 The new Mi TV 4X Pro comes with our powerful custom-designed 20W speakers. This has been tuned to the music tastes of Indian consumers. It also supports high fidelity lossless audio format FLAC natively.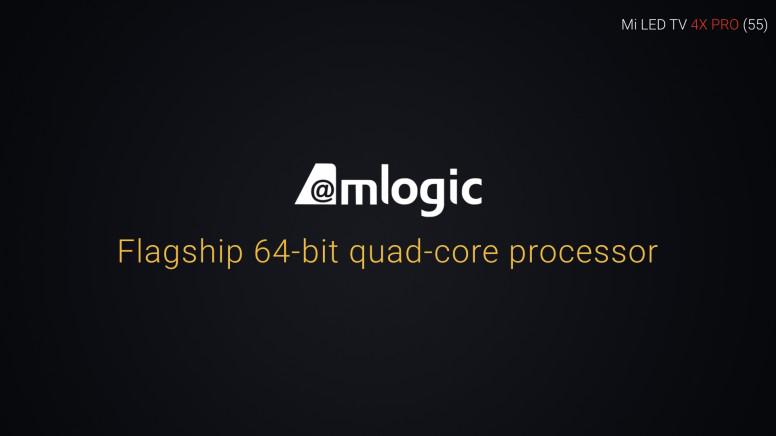 Mi TV 4X Pro ships with the latest Amlogic chip available. This chip comes with the latest 7th gen imaging engine to give the best picture quality possible.
It comes with the 7th generation advanced Amlogic Trulife Image Engine, Motion compensated noise reduction & spatial noise reduction, Super scaler technology for intelligent upscaling, VP9-10 Profile 2 codec that supports up to 4k@60fps, H.265 codec support, real & many other codec support on all MiTV - keeping you 'Future Proof'.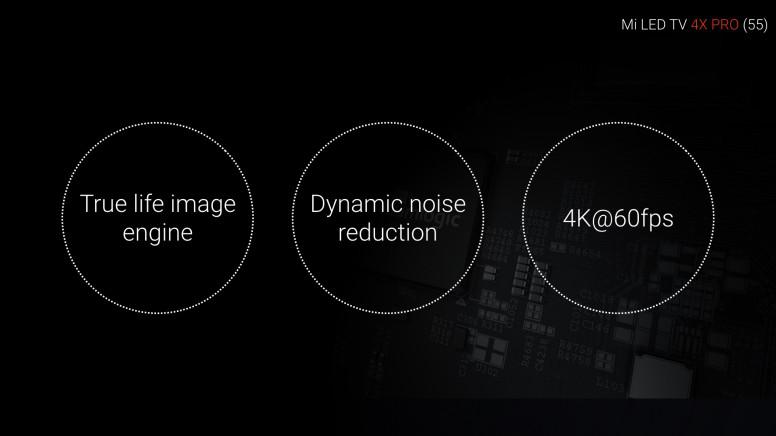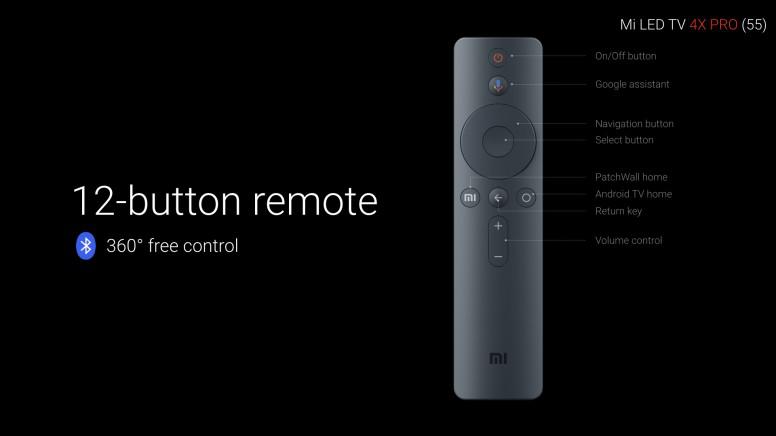 Remote is the oldest User interface in human history & we are shipping our 12 button Mi Remote with Google Voice search. This change the way you interact with your smart TV. Now you can find your favorite movies, TV shows and do more with Google voice engine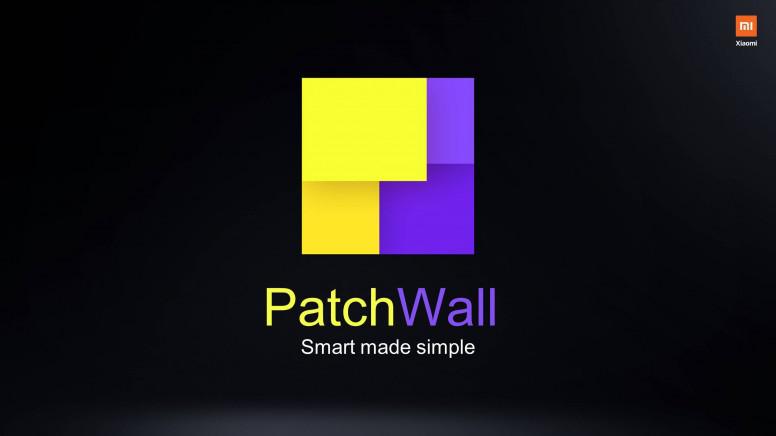 We made smart simple and easy to use for everyone with PatchWall. And with all the new Mi TV you get best of both worlds! Thanks to Google, Mi TV ships with the latest Android TV 8.1 & the best deep integrations that are pushing the industry to whole new user experience. Mi TV can search across lacs of hours of content and set-top box seamlessly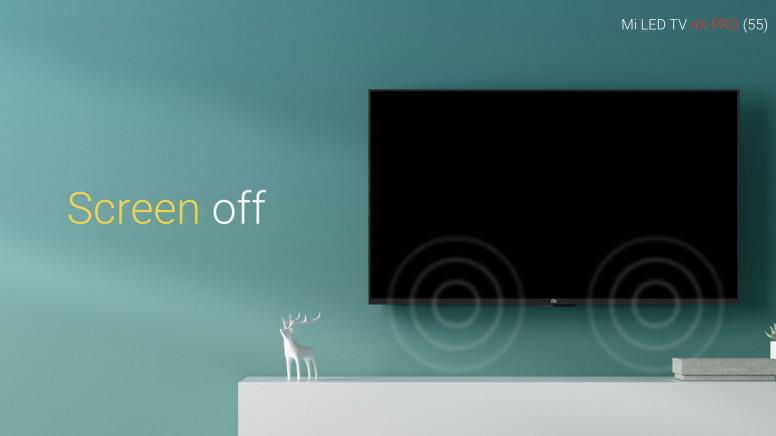 Screen off - This was demanded to bring to our new Mi TV Pro series. This is now available for all the Pro TV series.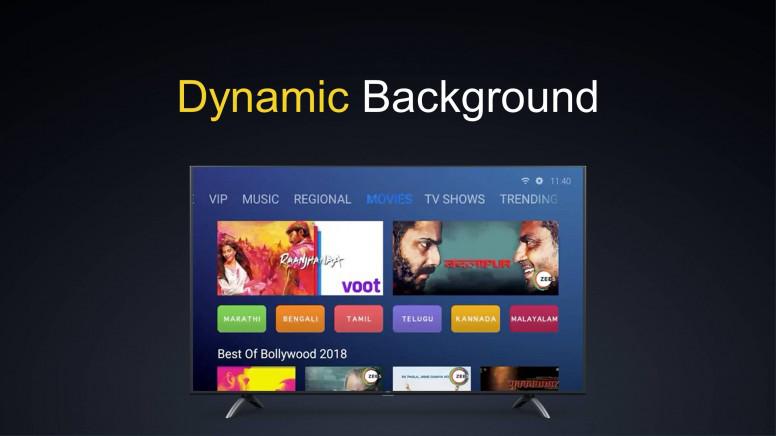 New fonts and background color - We also have new fonts that make it provide a consistent user experience across both Android TV or PatchWall UI.
And with every content you select, the background changes accordingly.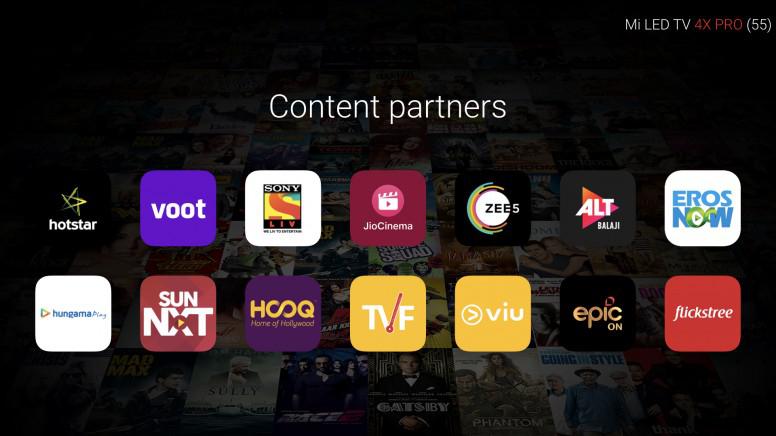 All the 16 content partners that provides thousands of hours of content.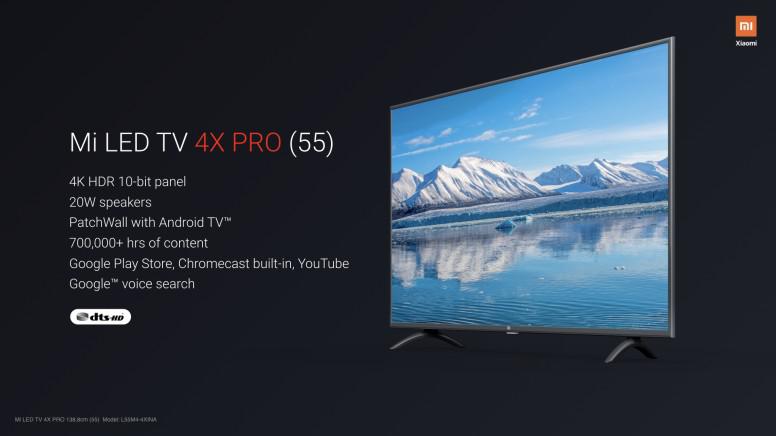 This is all new Mi LED TV 4X PRO (55)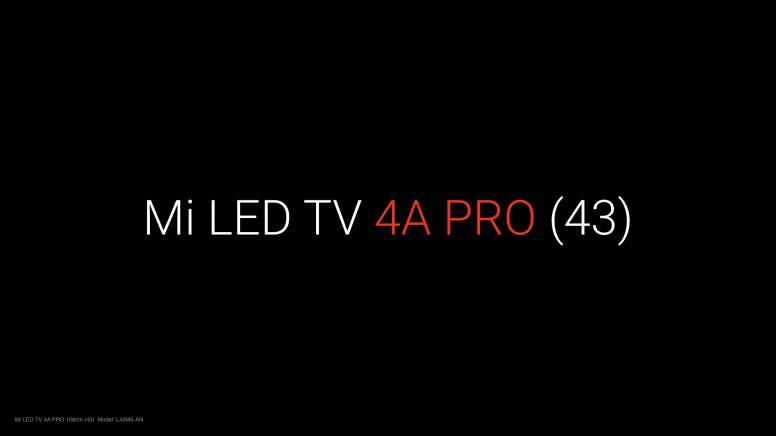 Last year we launched Mi TV 4A 43 and it became India's best selling 43-inch smart TV & today we are announcing the successor - Mi LED TV 4A Pro (43).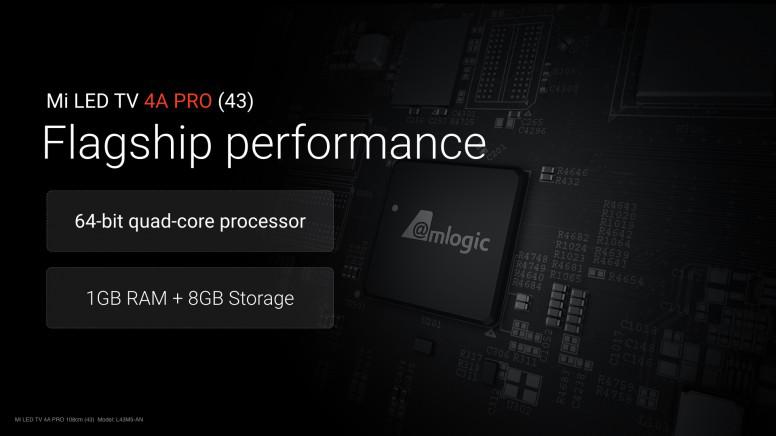 It ships with Amlogic 64 bit Quad core processor coupled with 2GB RAM + 8 GB internal storage. It also has Dolby Audio plus DTS-HD to give you a complete cinematic experience right in your homes!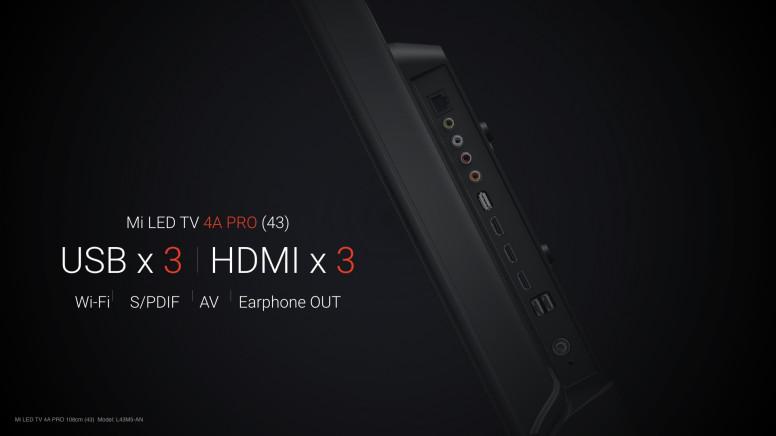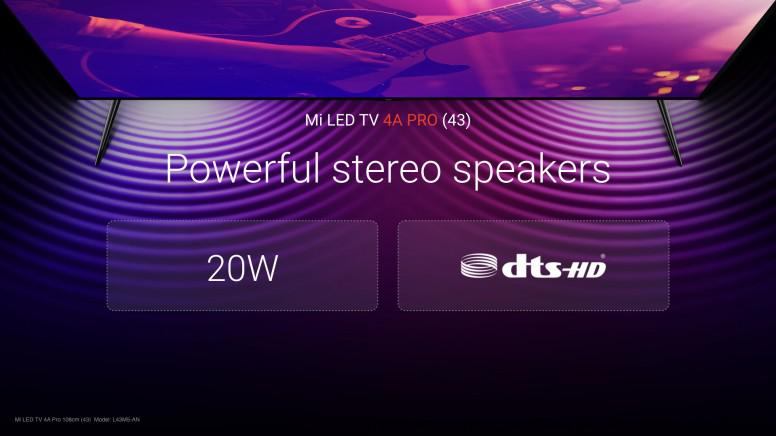 To summarise, it comes with:

Patchwall - Over 700000 hours of content,
Android TV - Get all the google tv services like Youtube, Play Store, Chromecast
Universal voice search enabled by Google(TM) voice search
Voice integrated into Set-top box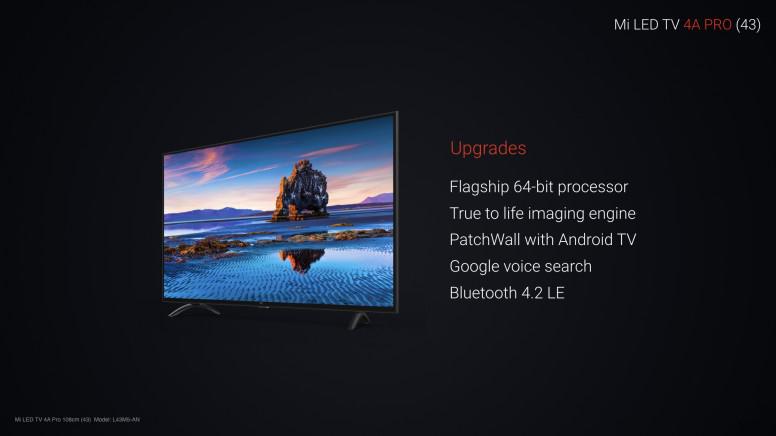 These are some of the key hardware and software changes:

Latest chip
New codec support
Bluetooth Mi Remote
Voice search
PatchWall with Android TV out of the box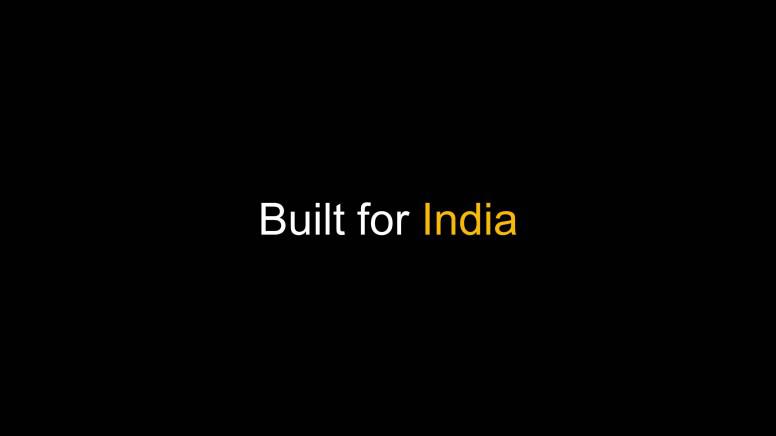 All our TVs are Built for India they go through more than 20 rigourous quality test that have been tweaked to withstand Indian conditions, for example - Voltage stress stress or the current spike test is for longer time and more current surge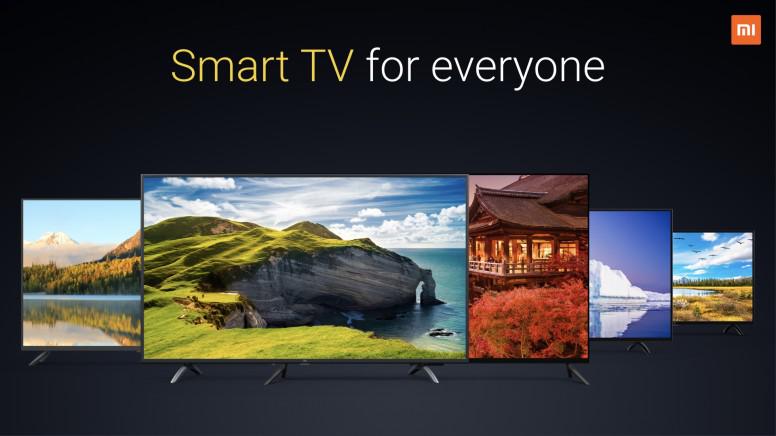 With almost 11 months to date, we now have 5 TVs available in India for different user needs. Right from a 32 inch all the way to 55 inch which is a head turner with a 4.9mm thin, state of the art design in its segment.



Don't forget to tell us which one is you are going for?



Read more