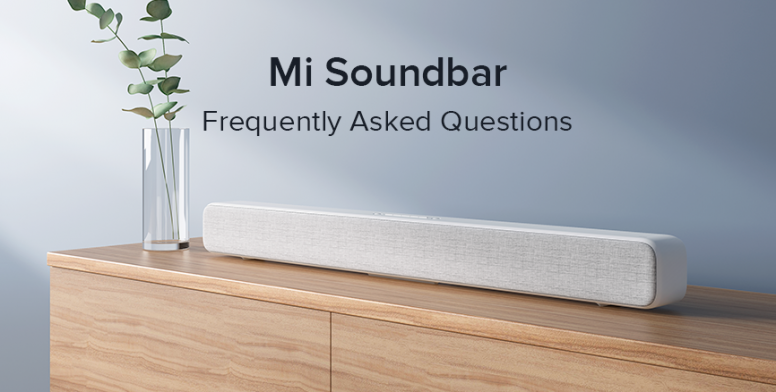 Hello Mi Fans,
Are you excited about the new Mi Soundbar launched in India?
Do you want to get one for yourself?
Do you have questions about it as to why you should get it?
Here is some Frequently Asked Questions regarding Mi Soundbar. And at the end of the thread, I'm sure you would be convinced to get one for yourself. Let's start....
Q. What are the dimensions of Mi Soundbar?
Mi Soundbar has a Length of 830mm, Overall Height of 87mm and Width of 72mm.
Q. How much is the weight of this product?
Mi Soundbar is only 1.925 kg in weight.
Q. What are the color options while buying this product?
This product comes in White color only.
Q. What is the cost of Mi Soundbar and how to buy it?
Mi Soundbar is available in
mi.com
and Mi Home at a price tag of ₹4,999.
Q.What all items the Mi Soundbar package inbox contain?
The Mi Soundbar package box contains one Mi Soundbar, User Manual, Adapter, One SPDIF Cable and Two Screws + Two Expansion Screws.
Q. Is Mi Soundbar waterproof or water resistant?
No, the Mi Soundbar is not waterproof, so please don't expose it to the water.
Q. Does Mi Soundbar has LED signal indicator light?
Yes, Mi Soundbar has LED signal indicator light.
Q. How many Sound Driver are there in Mi Soundbar?
Mi Soundbar has 8 Sound Driver for the next level of sound experience revolution Mi Soundbar.
Two 65-mm (2.5-inch) bass units, Two 36-mm (075-inch voice coil) dome treble units and Four 70x55-mm passive radiators.
Q. Can the Mi Soundbar be used with my mobile devices?
Mi Soundbar also comes with Bluetooth 4.2 A2DP, which can be used to connect to any mobile device, TV, Laptop etc.
Q. What about the Bluetooth range of it?
A typical range of Bluetooth connection is 10 meters. So it should work properly without any distortion anywhere between 10 meters of range from your phone.
Q. How does the Mi Soundbar connect to my TV?
You can connect the Mi Soundbar with your TV through any of the 5 legacy connectivity options. The Mi Soundbar ships with SPDIF cable, which you can use to connect your TV and Mi Soundbar. You can also connect via Bluetooth, Line-in, Optical, Aux-in options.
Q. Can the Mi Soundbar be mounted to the wall?
Yes, Mi Soundbar can be made to sit flush to the wall. We ship 2 screws and 2 expansion anchors that will help you with wall mounting the Mi Soundbar.
Q. How to wall mount Mi Soundbar?
You can wall mount the Mi Soundbar in 3 easy steps:
(1) Mark Position: Mark the position where you want to drill holes at the desired installation height. The distance between two holes between the two holes must be 416mm.
(2) Drill Holes: Drill holes inte the location that you marked on the wall
(3) Mount the Mi Soundbar:Slide the expansion anchor provided in the box to each of the two drilled holes. Insert the screw provided in the box, into each of the anchors ensuring they are screwed in tightly. Finally, mount the Mi Soundbar onto the screws.
Q. How do I connect a Bluetooth device with the Mi Soundbar?
Steps to connect a Bluetooth device:
(1) Power on the Mi Soundbar
(2) Next press the Bluetooth® button located on the top of the device
(3) Press and hold it for 3 to 5 secs.
(4) The Bluetooth indicator will start blinking
(5) Open your BluetoothB setting on your Laptop/Mobile device which you wish to connect and select "Mi Soundbar" from the list of available devices to connect to it.
(6) To pair a new device, Press and hold the Bluetooth button on the Mi Soundbar for 3 to 5 seconds until the blue indicator light starts blinking. Repeat the above process to connect.
Q. How do I control Mi Soundbar remote Mi Remote controller?
Yes, Mi Remote can control the Mi Soundbar, if your Mi TV is connected via Bluetooth or Aux-in 3.5mm. Applicable to any TV.
Q. What about Buttons and Connections?
Power Switch:Allows you to turn your Mi Soundbar on and off.
Input Toggle Buttons: Allows you to toggle between different input sources Eg. Optical, SPDIF, Line-in, Aux-in and Bluetooth.
Q. What to do if something goes wrong with my Mi Soundbar?
You can post your
queries on Mi Community forum and the moderators will attend to the same. If there is a physical damage/defect you can visit nearest service center. The service center details are available on
http://www.mi.com/in/service/repair
/
That's all for today, see you again with another interesting thread. Hope you all liked this thread. If you have any queries, you can ask me in the comment section!!
***Thanks***