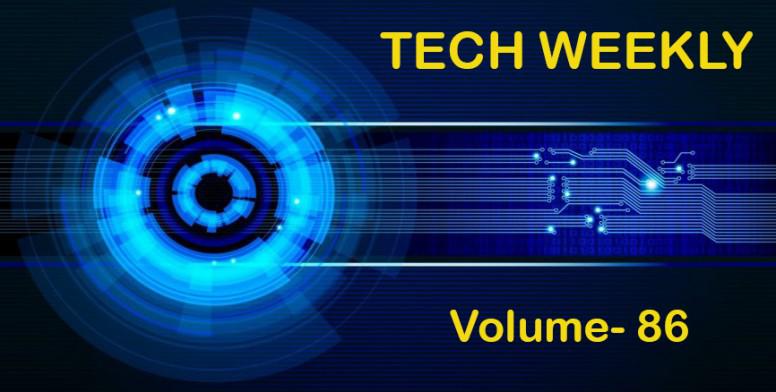 Hello Mi Fans,
Technology refers to methods, systems, and devices which are the result of scientific knowledge being used for practical purposes. The purposeful application of information in the design, production, and utilization of goods and services, and in the organization of human activities Technology can be described in many ways. So without wasting time let's check out what we have for you this week from our Techie Team.
LETEO: The World's Smartest Affordable Luxury Gloves!



Hello Mi Fans!

Gloves have been an integral part of fashion for nearly one thousand years-If clothes maketh the lady or gentleman, then gloves maketh the statement – along with the obvious benefits of course! Combine style and functionality when you wear the LETEO Affordable & Luxurious Smart Gloves. Featuring exceptionally stunning Italian leather and a nano cashmere lining, these gloves are as timeless as they are sophisticated.

Know More- https://in.c.mi.com/thread-1722185-1-0.html
Miko 2: The Most Advanced Personal Robot For Children By Emotix!




Hello Mi Fans!




Indian consumer electronics start-up emotix, unveiled its latest offering, Miko 2, a personal robot for children. The robot aims to help modern parents in early education and development of children by engaging the child in "playful learning." The robot can initiate and hold long conversations with kids, imparting knowledge based on academic curriculum and general facts about the world. Say "Hey Miko" to the robot and it starts a conversation on its own in an emotive voice unique to it. The system has been further powered by a proprietary emotional intelligence engine developed in-house by emotix, enabling the robot to not only identify and remember the child's moods but also adapt to their personality. So let's talk about Miko 2 now. Know More-

http://in.c.mi.com/thread-1722942-1-0.html
GazeTray: The World's First Multi Device Wireless Charging Tray!
Hello Mi Fans,

We all use lots of devices, but when it comes to charging all those devices we all get fed up because it takes too time to charge all of them one by one. There are many smart chargers are available in the market but they are not able to charge all your devices together. GAZE TRAY is the world's first multi-wireless charger that intelligently charges all your Wireless devices at once. It is very perfect and fit for your desk space.

Gaze Tray is the wireless charging storage tray. This wireless charger seamlessly fits into your space, providing an easy to way to power and store your devices. In addition, the tray enables you to charge up to five separate devices in one go. Compatible with any device that supports wireless charging, the large Qi standard charger sits on the left side of the tray.

Know More- https://in.c.mi.com/thread-1724979-1-0.html
PrintBrush XDR: First Colour Inkjet Printer For Smartphones!
Hello Mi Fans!

Whenever we need to print something we basically use the desktop printers and a paper where it'll provide the imprints but how it will be if we can print things easily with the help of our Smartphone? Yes, we can, using the PrintBrush XDR. Now there'll be no need for you to use paper all the time because using the PrintBrush XDR you can print on any surface!

The PrintBrush XDR is a much interesting printer for smartphones. This printer allows you to, Go Truly Mobile. Go Paperless. Save The Planet. The best thing about this printer is you can easily print things on any kind of surfaces by simply swapping from right to left or from left to right and it's a compact package which you can take with you almost everywhere.

Know More- http://in.c.mi.com/thread-1727260-1-0.html
DARTER - The Micro Pen With A Hidden Secret !!




Hey MI Fans!

A novel product introduced on the market which looks like a micro pen but houses some other secret. This little secret can help you out of some embarrassing situations. It must have for your Every Day Carry (EDC). This new product is DARTER, a micro pen with a hidden sewing kit. It is beautifully machined from Aluminum and Brass. The internal sewing kit is just ¼" in diameter (6.3mm). This complete tool is something we have not thought over before. Because this pen and sewing kit is actually very tiny. Let's Check it in detail!

Know More- http://in.c.mi.com/thread-1730937-1-0.html
Thanks to the authors for your contribution and sharing updated technology information to Mi Fans.
Rate