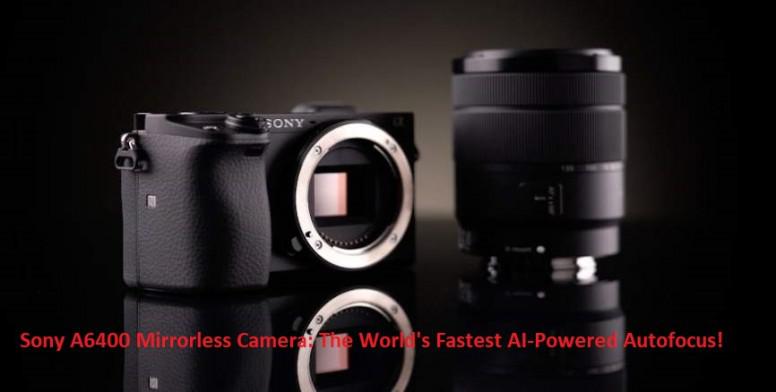 Hello Mi Fans!
Sony has announced the a6400, an updated 24.2MP mirrorless camera with a flip-up rear touchscreen and the processor and autofocus system 'borrowed from the a9'.In many respects, the camera resembles an a6300 with a more powerful processor, enhanced autofocus and a more extensively articulated touchscreen, but launched at a slightly lower cost. It also adds the time-lapse function that was lost when Sony moved away from offering in-camera apps. Like previous models, it can shoot at up to 11 fps or 8 fps in silent shutter mode, both with full autofocus and exposure capability, but not live view. So Let's talk about Sony's 24-megapixel A6400 mirrorless camera now.
The A6400 is designed for both stills photographers and videographers and should be particularly attractive to bloggers and vloggers. It has a 180-degree rotating rear screen like the one on the long-running A5100 camera so that you can compose selfies and record video commentaries to the camera and see what's on the screen at the same time, but retains the electronic viewfinder of other A6000-series models. It might be one step down from the top-tier A6500, but the A6400's video credentials look very strong indeed, and it doesn't stint on build quality either, with a magnesium alloy body and 200,000-shot shutter life. It will be interesting to see what happens to the A6500 from here, although the A6500 still has the advantage of its in-body image stabilization system. The new camera's sensor resolution stays at 24 megapixels in line with previous A6000-series cameras, but the A6400 gets the BIONZ X processor and imaging technology from the Sony A9 to provide better image quality overall, improved skin tone and a new highest sensitivity setting of ISO 32,000, increasing to ISO 102,400 in expanded mode.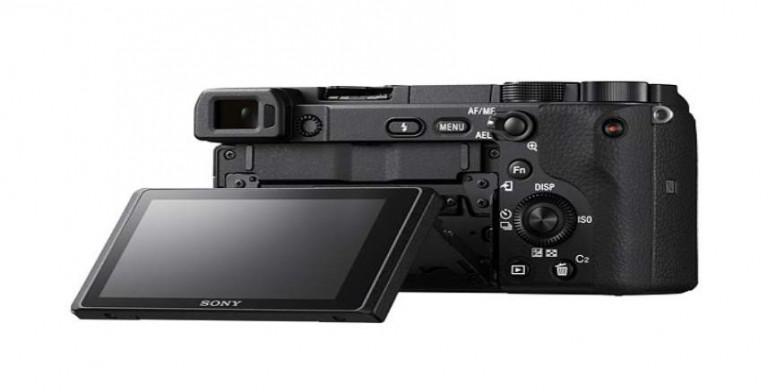 Enhanced AF:
Most of the enhancements come in the form of autofocus improvements that have been developed for the a9. These include increased speed along with the enhanced 'real-time tracking' and animal Eye AF coming to the a9 pro-level sports camera this Spring and Summer. Like recent APS-C Sony models, it has 425 phase detection points spread out across its sensor. These, combined with the more powerful processor let Sony claim World's fastest AF (with all the footnotes such claims usually entail). The most obvious differences are that Sony now says its subject recognition and tracking algorithms now include eye and pattern detection, in addition to the distance, color and face detection information they previously worked with. This should lead to more stable, persistent tracking, the company says.
Custom Key:
Other small changes include the addition of a screen showing the camera and which functions have been mapped to which function button. It's also now necessary to specify whether tapping the screen should move the AF point or initiate tracking (touchpad AF with your eye to the finder is only possible with the former).
There's also a 'My Dial' feature that re-purposes the camera's dials when a custom button is pressed or held (you get a choice of whether it works as a toggle). You can configure up to three sets of functions and assign them to separate buttons or one button that cycles between them. However, our early impressions are that assigning, say, aperture value to My Dial gives a more laggy experience than not using the function and just letting the dial control aperture.
Excellent Camera Features: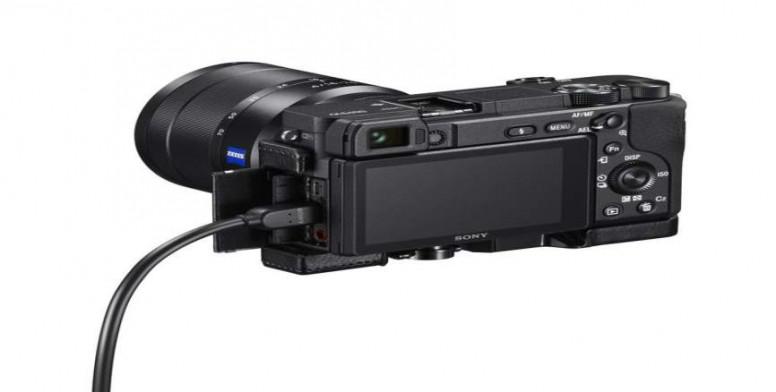 World's Fastest 0.02 seconds AF acquisition speed plus 425 phase-detection and contrast-detection AF points covering approximately 84% of the image area
Advanced Real-time Eye AF
New Real-time Tracking for object tracking
24.2MP APS-C Exmor CMOS image sensor and latest-generation BIONZ X image processor
180-degree fully tiltable LCD touch screen for self-recording
High-speed continuous shooting at up to 11 fps mechanical shutter / 8 fps silent shooting with continuous AF/AE tracking
High-resolution 4K movie recording with full pixel readout and no pixel binning, plus advanced AF speed and stability
Interval recording for time-lapse videos

Speedy Performance that Captures Decisive Moments:
The new a6400 features 425 phase-detection AF points and 425 contrast-detection AF points that are placed densely over the entire image area, covering approximately 84% of the image area. This high-speed, high-performance tracking AF system is paired with a new-generation BIONZ X image processing engine that together allows the camera to acquire focus in as little as 0.02 seconds2 and maintain subject lock extremely effectively, ensuring even the fastest moving subjects can be tracked and captured with ease.
The a6400 introduces advanced "Real-time Eye AF," the latest version of Sony's acclaimed Eye AF technology. This exciting new capability employs artificial intelligence based object recognition to detect and process eye data in real time, resulting in improved accuracy, speed and tracking the performance of Eye AF. In all autofocus modes, the camera now automatically detects the eyes of the subject and activates Eye AF with a half press of the shutter button, and when in AF-C or AF-A mode, the preferred eye (left or right) of your subject can be selected as the focus point. Choices include Auto / Right Eye / Left Eye, and a Switch Right / Left Eye function is able to be assigned to a custom function as well. This exciting new technology completely frees the photographer to focus solely on composition with full trust that focus will be tack sharp on the subject's eye. Eye AF support for animals will be added in summer 2019 via a system software update, ideal for wildlife photographers.
All-around Advancements in Image Quality:
Sony's new a6400 is equipped with a 24.2 MP3 APS-C sized image sensor with that is paired with an upgraded BIONZ X processor to deliver incredible advancements in image quality and color reproduction in all types of shooting conditions. Standard ISO ranges up to ISO 32000 for both still and movie, and is expandable up to ISO 102400 for still images, with excellent noise reduction at medium and high sensitivities.
Advanced High-Resolution 4K Movie Recording with Fast Hybrid Autofocus: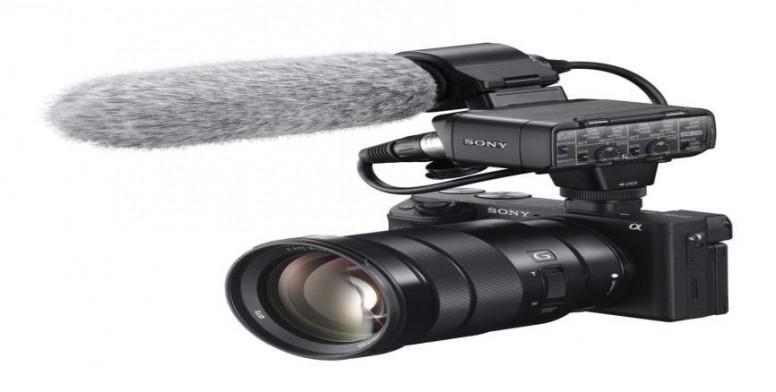 The versatile a6400 is an exceptional video camera, offering internal 4K (QFHD: 3840 x 2160) movie recording with full pixel readout and no pixel binning to collect about 2.4x the amount of data required for 4K movies, and then oversamples it to produce high-quality 4K footage with exceptional detail and depth. Focusing during movie shooting is fast and stable thanks to upgraded Fast Hybrid AF technology, which keeps the subject in constant smooth focus no matter the scene, and even if an object crosses in front of the camera. This advanced AF plus touch focus functionality make it an ideal camera choice for many bloggers and video creators that are regularly creating and uploading content online.
For time-lapse movie creation, the new camera features built-in interval recording that can be set anywhere between 1 and 60 seconds, with a total number of shots from 1 to 9999. AE tracking sensitivity can be adjusted to "High", "Mid" or "Low" during interval shooting, allowing for reduced changes in exposure over the shooting interval.
Upgraded Build to Maximize Versatility: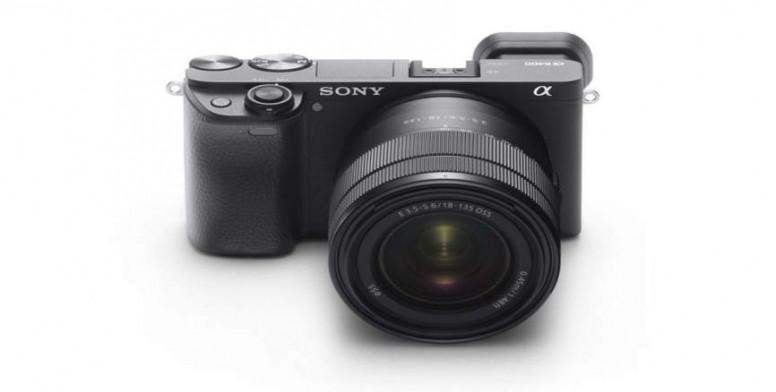 The new camera is designed to offer a high level of functionality and customization to maximize shooting freedom. New on the α6400 is a fully 180-degree tiltable, 3.0-type LCD flip screen with 921k-dots of resolution that allows for simple and effective framing of selfie-style shooting for both still and video capture. Utilizing this capability, vloggers will be able to check and monitor composition throughout their entire creative process. The LCD screen is also equipped with touch functionality, with options for TouchPad, Touch Focus, Touch Shutter and new Touch Tracking which quickly activates "Real-time Tracking" through the touch screen.
This A6400 model lacks in-body stabilization, packs a single UHS-I card slot and boasts a relatively low-resolution 2.4 million dot XGA OLED viewfinder, unfortunately. It also uses an older NP-FW50 battery pack (with a 410 shot life), but at least Sony has introduced USB charging. However, The arrival of strong competition for Sony's full-frame mirrorless cameras from Canon, Nikon, and Panasonic means the electronics giant will want to keep all its APS-C fans on board. well, so the feature set is pretty solid for a mid-range mirrorless camera.
Be the first to be informed: Follow us
Recommended Threads:
Big Thanks to
Thanks to Our Beloved S Mod @FurqaanSaikh And Our Mods @Patitapaban & @Harisankarg For Continuous Inspiration And Guidance And Supervision
Rate