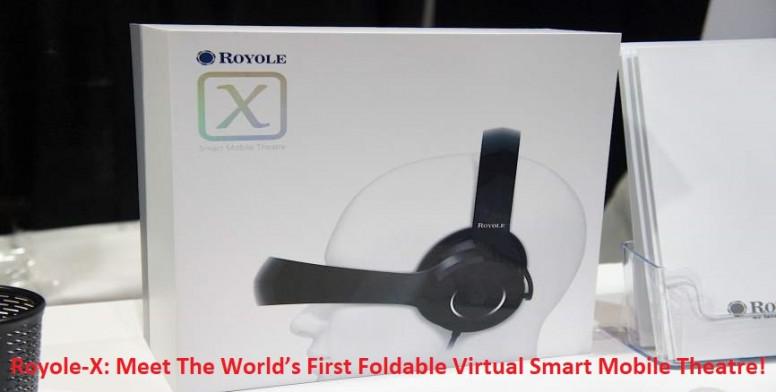 Hello Mi Fans!
Introducing Royole-X, the world's first foldable smart mobile theatre. This amazing kit includes a hard drive to upload your favorite content as well as an audio and video headset. Designed to be taken wherever you go, the Royole-X headset easily unfolds to deliver incredible sound and stunning video for a personal cinematic experience. The headphone portion provides noise cancellation up to 22 decibels and has less than 1% distortion. The eyepiece has dashboard-like controls complete with intuitive touch wheels to customize your view. Connect to Royole-X with an HDMI cable, USB OTG, the internal storage, or share and stream wirelessly. Available in white, red, or black, the Royole-X lets you escape to your favorite film no matter where you are. So Let's talk about Royole-X Foldable Virtual Smart Mobile Theatre now.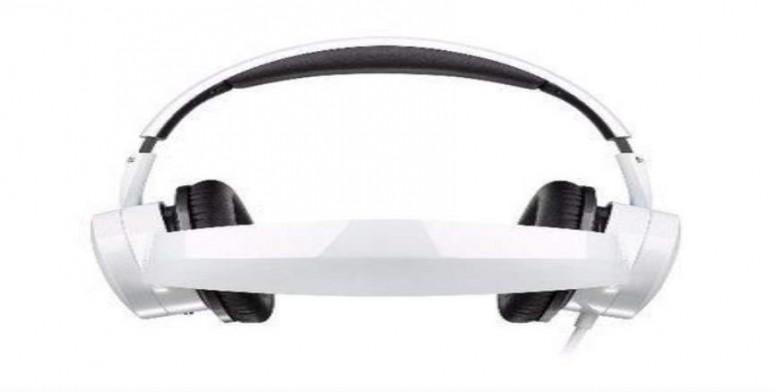 Royole Corporation recently launched its new wearable product Royole-X, the first foldable smart mobile theatre device of its kind. With the highest pixel density displays, stunning noise-canceling headphones, novel operating system Royole-X OS and unique foldable product design, Royole-X presents an unprecedented theatrical experience that follows you everywhere, whether you are in a college dorm, at home, or on a flight. Particularly, the integrated video-audio design offers a brand new fashion to the wearable industry.
Royole-X is different from anybody else starting from its gene. It is not just yet another headset. It was designed to serve as a wearable PC, a foldable mobile theatre and a portable ultra-high pixel density display audio/video station. While we look at Royole-X today, this is what makes it unique from inside out. Achieving the target is never easy. From the inception of the idea to the 6th version of prototypes to manufacturing on our production line, today we are very excited that Royole-X has successfully made it.
-:Key Features:-
3300 PPI - the world's finest display:
Royole-X adopts groundbreaking display technology to enable the world's highest resolution display, with a pixel density of 3300 ppi, ~ 10X higher than advanced smartphone displays. There has never been a more clear and detailed screen on any consumer electronics products. A combination of high contrast ratio 10000:1, wide color gamut, micro-second level response speed and 24-bit RGB color mode, makes every single frame absolutely stunning.
Exceptional viewing experience. Finely personalized: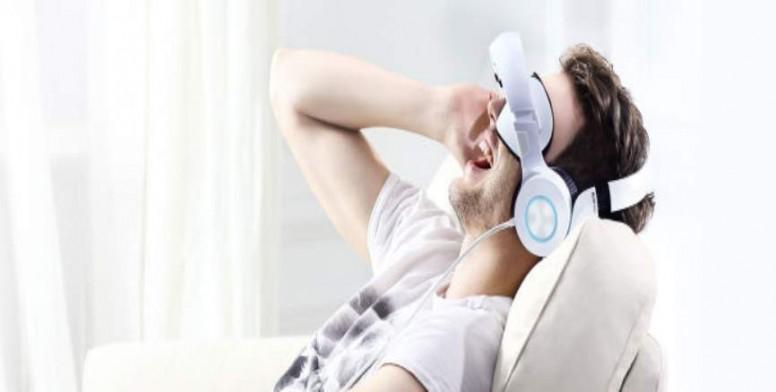 We understand that the perfect viewing experience is more than just developing the world's most sophisticated wearable display. In creating Royole-X, our team of optical and human factor experts dedicated countless hours to creating the most eye-pleasing mobile cinema ever.
Active noise-canceling. Activate an alternate reality:
Royole-X's first-class active noise control technology can achieve a noise reduction rating of up to 22dB, and the sound system and circuitry enable near-perfect audio fidelity with less than 1% sound distortion. Put on Royole-X, load up your favorite movies, music or games, and get ready for a truly out-of-this-world experience.
Heavy-duty. Lightweight. Human-centric:
To create the ultimate mobile theatre experience, every aspect of the Royole-X unit was designed with the user experience in mind. Our industrial designers went through numerous prototypes until we have finally arrived at the Royole-X in its current form: a lightweight All-in-One marvel crafted from materials of the highest quality and durability.
Touch wheel control at your fingertips: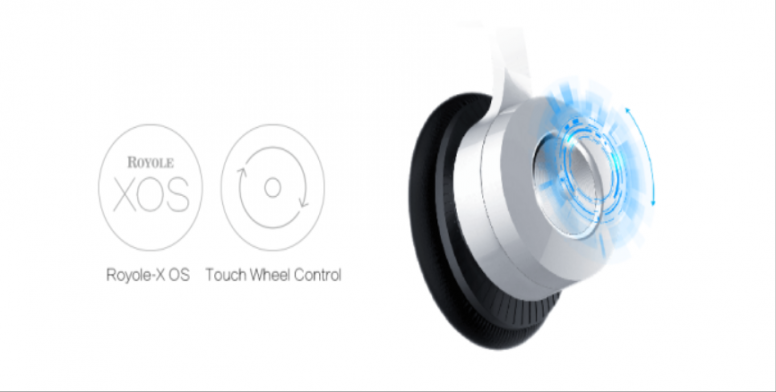 Royole-X OS is the most powerful operating system ever created for the mobile theatre. Take control of the world you are in with the intuitive touch wheel control at your fingertips.
Five sources. Infinite possibilities: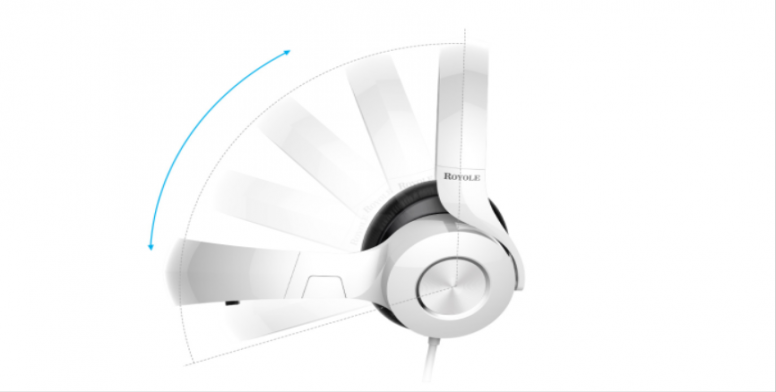 Royole-X supports five video input connections, including HDMI, wireless streaming, Wi-Fi sharing, USB OTG, and a 16GB internal storage.
-:Display Technology:-
3300 PPI ultra-high pixel density display:
Inside Royole-X, the AMOLED display adopts a groundbreaking technology that brings a pixel density ~10X higher than leading-edge smartphone displays. There has never been a clearer, more detailed screen.
Stunning contrast 10000:1: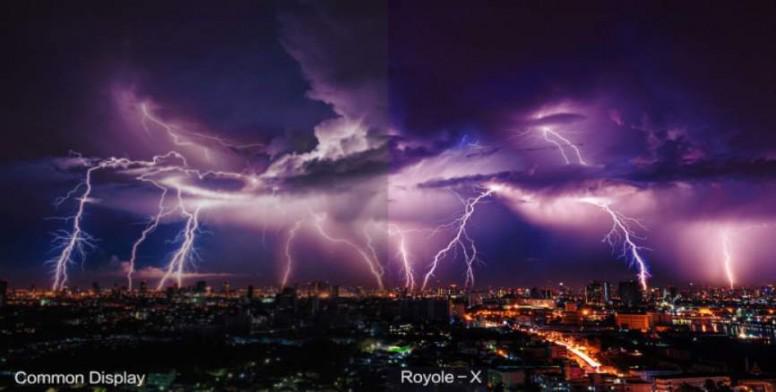 For every single frame, Royole-X renders splendid images of excellent quality in terms of contrast, brightness and color balance.
Micro-second level response speed:
High-performance image processing capability offers ultra-short response time, 1000X faster than the traditional LCD display, resulting in completely blur-free video playback.
-:Viewing Experience:-
Ideal match to your vision:
We want to share the joy of Royole-X with as many people as possible. Therefore, we engineered it to be adjustable for diopter and pupillary distance. Freed from the confines of corrective lenses, the world through Royole-X is an incredible beauty to behold.
Natural view. Strain-free: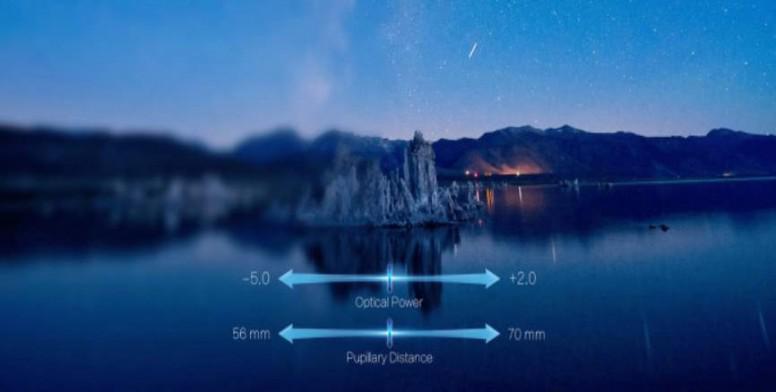 The human eye is at its most natural position when viewing -10° below the horizontal, and that is exactly how we have designed the Royole-X display to be. Now you can enjoy Royole-X all-day without ever needing to take a break.
Your mobile theatre. Your style:
The silicone-sponge eye cover is customizable and can be replaced with one of the colors and shapes of your choice. It fits comfortably around your eyes, completely shielding you from the outside world.
All-in-ONE. All comfort:
To revolutionize the wearable display industry requires something that is both innovative and impeccably designed. The Royole-X is an artful unison of mobile display and noise-canceling headset, with its entire weight distributed solely throughout the headband. This, by design, removes any discomfort from your nasal bridge while Royole-X is mounted.
Take control with your fingertips: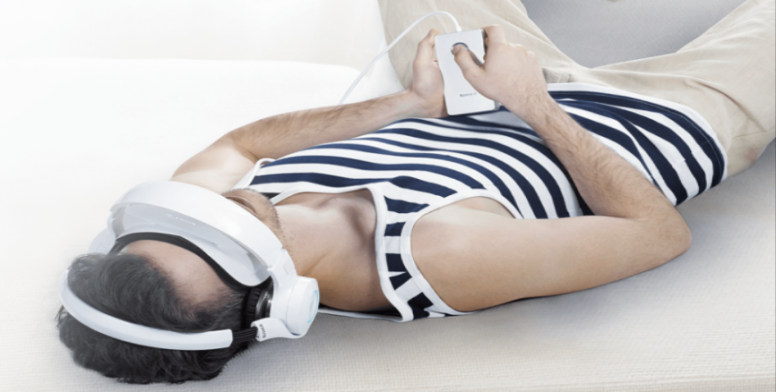 High precision touch sensing panel replaces any buttons. With just a rise of your hand, the touch wheel controller is simply by your side, on the right ear cup.
6000 mAh high capacity battery:
Paired with the ultra-high resolution and fast-response display, Royole-X owns a large 6000 mAh standalone battery. With a dynamic, optimized power management solution, Royole-X offers 5-7 hours of video playback.
On the software side, Royole-X uses its own new operating system, Royole-X OS. It is the first operating system ever created for mobile theatre application. Users can take control of the world they are in with an intuitive touch wheel control on the right ear cup. The hardware supports five video input connections, including HDMI, wireless streaming, Wi-Fi sharing, USB On-The-Go, and internal storage.
Besides Royole-X, the company also develops state-of-the-art flexible displays and flexible touch panel technologies. Royole introduced the world's thinnest full-color flexible displays with a thickness of 0.01 mm and a bending radius of 1 mm. Royole started mass production of flexible display modules and the proprietary flexible touch panels on Royole's production lines in Shenzhen, China. The Company is led by a team of experienced technical experts and professionals from Stanford, Tsinghua and many other leading research institutions and Fortune Global 500 high-tech companies around the globe.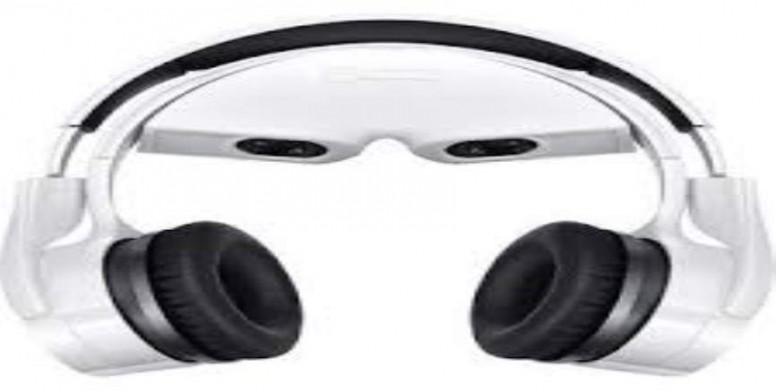 There are a couple of downsides. The entire affair is pretty bulky as you can see here, and you do have to carry around this external controller for the battery and the connections (The battery life is apparently up to 5 hours). But if you don't care what people think about you when you're wearing it and you feel like escaping the world around you for a few hours, then it might be worth the money.
Be the first to be informed: Follow us
Recommended Threads:
BigThanks to
Thanks to Our Beloved S Mod @FurqaanSaikh And Our Mods @Patitapaban & @Harisankarg For Continuous Inspiration And Guidance And Supervision
Thanks for Reading
Rate