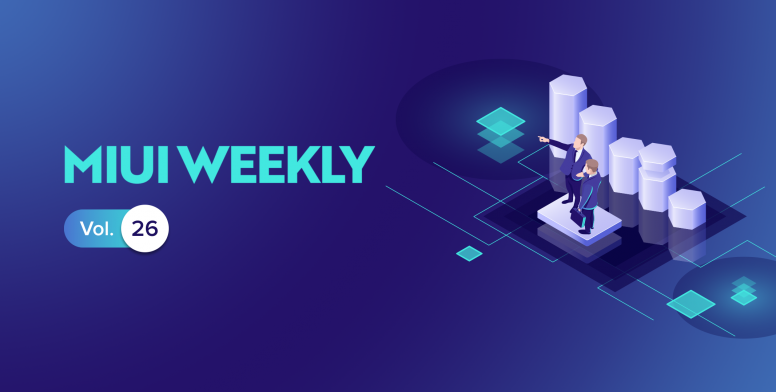 Hi Mi Fans,
When you are busy living, you may not get enough time to read each and every thread we've put here. But do not worry about that, I am here with MIUI Weekly, a series of MIUI threads from a week's time which are handpicked exclusively for you. If you've been busy last week with your routine life and couldn't keep up with the updates from our MIUI crew, then you're at the right place. This is indeed where we compile the best of MIUI threads you might have missed. Keep reading!




New Wallpaper Carousel on Lock Screen by Ritesh_Jha

Are you getting bored of old static wallpapers on your lock screen? We have a super exciting feature released with New Year 2019 where we have revamped lock screen stories and wallpapers which you can see on your system lock screen. You will get dynamic and interesting photos on your lock screen every SCREEN_ON. Press the power button ON and OFF, then you will see new dynamic wallpaper on your screen. You can browse to know more about the story in a single tap, and the best part is you don't need to unlock. You can even watch videos, play lite games, browse through the content within the lock screen.

Read more: https://in.c.mi.com/thread-1739790-1-0.html
Let's Debate: MIUI Screen Recorder Vs Other Screen Recorders
by
Apiyush265

An important app which is very useful and is a part of normal schedule. In other ROM, you definitely need to download a third party application for this. Its primary function is to record your screen. It's your very own MIUI Screen Recorder, an in-built app designed specially for the MIUI users to avoid the need of 3rd party applications. Record your screen easily by just tapping the record sign. Also it has the settings of resolutions, video quality, frame etc which gives an addition to the app which increases the use and blends according to the user's needs. The MIUI Gallery App already has the feature of editing videos, crop, add sound, filters which adds to the editing part of the videos. Let's start our debate and find out what gives MIUI Screen Recorder an edge over Other Screen Recorders.

Read more: https://in.c.mi.com/thread-1742080-1-0.html
Mi Themes Presents Ringtones in 10 Regional Languages: Download Now!
by
R0user

The wait is over! Finally, you can download the ringtones of your favorite songs in your regional language. MI Theme Store has newly introduced over 600 ringtones in around 10 languages: Hindi, Punjabi, Tamil, Telugu, Marathi, Kannada, Bengali, Bhojpuri, Rajasthani, and Gujarati.

Read more: https://in.c.mi.com/thread-1739734-1-0.html
Rainbow Themes For Your Xioami Devices
by
wrony1119

"Themes" the word itself explains much about it. MIUI supports changing themes depending on personal choices. It has a dedicated Theme Store Application which comes packed with MIUI in Xiaomi Phones. Now, we are back with more amazing MIUI 10 themes for your xiaomi devices. We, Mi Community Themes Team, are determined to provide you with themes that give richness and new look to your devices.

Read more: https://in.c.mi.com/thread-1740188-1-0.html
Theme of the Week: White v10 - This Republic Day get this peaceful white theme
by
Manvesh Kajale

Theme of the Week is a series of threads posted by our beloved MIUI crew Manvesh Kajale on every Friday for all the Mi fans who love a change. He personally try out a few New and Trending themes from the theme store and feature them in his threads weekly so that you all don't have to worry finding the right theme. Thinking to have a change? Then it's the correct time to change your phone's theme!

Read more: https://in.c.mi.com/thread-1743473-1-0.html

That's all for reads from MIUI section this week. Hope to see you all with a new compilation next week. For now, I would like to thank all my fellow MIUI Mods for contributing their time and efforts to share these amazing threads for our Mi Fans. Special thanks to our Admin R0user and Super Moderator ATHUL P for their continuous support and guidance. I also thank my partner MiAkash for the impressive banner design. Don't forget to vote for your favourite threads and share your thoughts in the comments section below!

Previous volumes

What's hot on Mi Community

New user? - Start Here!



Vote for the best thread below and help us improve!
Rate