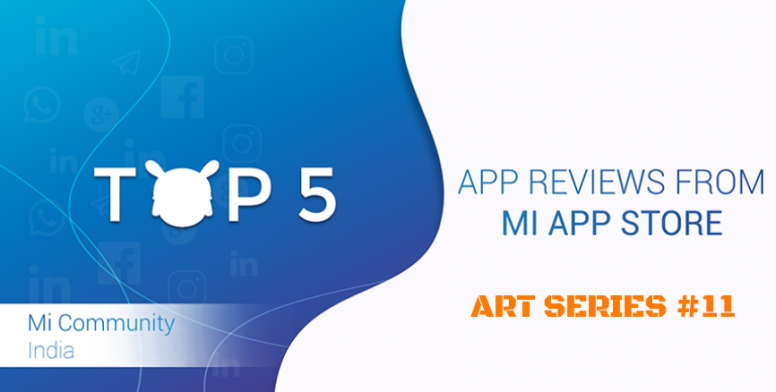 Hi Mi Fans!!
Greetings and wishes to you all from App Review Team. Welcome back to another new volume of our Biweekly App Review roundup. Nowadays there is an app for everything. You wake up in the morning with an alarm app and go back to sleep at night wishing good night to all of your friends with another app. This time we share one-stop thread for you. Mi Community App Review Team is the one-stop destination for all your apps needs. This is indeed where we compile the best of App Review threads you might have missed. Keep reading!


Nox Cleaner is a light and fast phone cleaner and booster app for Android device. It has a great ability to clean junk files and caches to free up storage space and make your phone faster. Nox Cleaner can help you to free up RAM in one tap. Your device has become freezing, lag and slow? Your Android has run out of space for apps? Your Battery has started draining quicker than ever? Nox Cleaner app is your right choice to clean the RAM, improve performance and accelerate your Android device than ever.

Read more:
Nowadays multimedia have essential for entertainment. Vyng is an app which is a personalized app for your phone. It is newly launched in India and it is basically an app where you can set video ringtones in your phone.
Let's check out its features and then goes for app review.

Read more:
Gaana is a music app which provides a very vast range of music, playlists which is available for online and offline both. This app also suggests playlists of music according to the Indian calendar occasions. All most all kinds of music are available in each and every language which frequents in India. We can share music and also we can play online music for free.

Read more:
Welike app gives you all types of categories in one app for using which you like to view or use for self. Here you select your own language because more than 10 languages are available here and also more than 10 categories are here. In this app, you can watch videos and also download it. Other categories are like Sports, Lifestyle, Entertainment, Comedy, News etc. You also post your story or videos in any section to make it in trend.

Read more:
Mx Player lets you watch videos of almost any format available also its supported on every mobile with android 4.0 and up, not only videos but you can use MX player to listen to your favourite songs, with tons of features including customisation of the subtitle to hardware acceleration and kids lock makes this player the best. The new introduction of the online feature lets you watch online videos for free, you can find many videos and watch according to your interest, with over 500 million downloads MX player is the most trusted player for all your entertainment needs..

Read more:
That's all from App Review Section for reads this week. Hope to see you all with a new beautiful compilation Next Series. For now, I would like to thank all my fellow App Review Team Members for contributing their time and efforts to share these amazing threads for our Mi Fans. Don't forget to vote for your favourite threads and share your thoughts in the comments section below!
Follow Us On
Vote for your favourite review from the list and help us
improve!
Rate