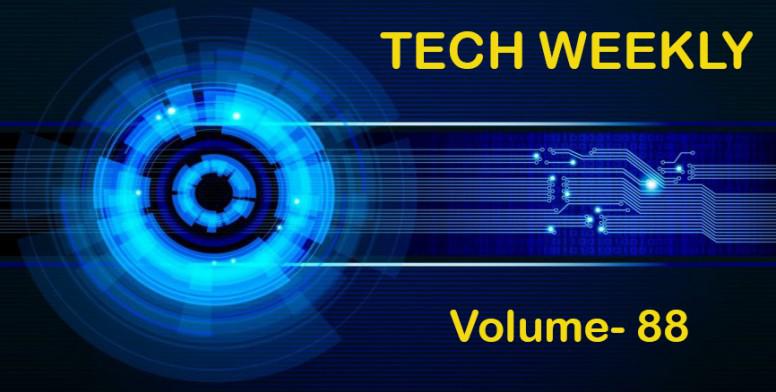 Hello Mi fans,
Technology is a body of knowledge devoted to creating tools, processing actions and the extracting of materials. The term 'Technology" is wide, and everyone has their way of understanding its meaning. We use technology to accomplish various tasks in our daily lives, in brief; we can describe technology as products and processes used to simplify our daily lives. We use technology to extend our abilities, making people the most crucial part of any technological system. So without wasting time let's check out what we have for you this week from our Techie Team.
Windward: The Portable Hands-Free Wearable Fan!
By- Hari Sankar G




Hello Mi Fans!
So you are tired of sweating your body off at work and don't have easy access to a cooling fan? The Windward is a wearable fan that you can put around your neck to keep your body cool. It comes with direction control and airflow speed of 1.8 m/s on top and bottom. Stay comfortable while working in the heat with the Windward Hands-Free Wearable Fan. This device helps fight the heat so you sweat less while working in hot conditions. Windward is a compact device that you can easily wear around your neck. Know More-

High Five: The 5 In 1 Charging Cable!
By- A.Akbar




Hello Mi Fans,
We see new technologies in our day to day life and also use them. These technologies also make our life easier. One such type of technology is the High Five which is a cable with multiple connectors with the main USB-A that serves as the basis for the rest with super light design. The charging cable provides a USB-A, USB-C, Micro USB, Lightning combinations. This super cool product supports up to five different connections and is compatible with almost all of your portable devices. High Five basically has two parts: a versatile charging cable with connectors at both ends (Micro-USB, Lightning, USB-C) and the robust metallic body which is a USB-A adapter with ports for the respective connectors. Besides this, it is made in a way so that you can also use it as a keyring. Know kore-
Hexbot: The Modular All-In-One Desktop Robot Arm For Everyone!
By- Solver13





Hello Mi Fans!

Everyone wishes to create such things which look good and attractive. Whenever it's time to gift something to someone, things created by own ideas provides a totally different feeling and as we know bringing our own ideas to life is much difficult and in case of creativity, creating things using 3D Printing & Laser engraving costs a lot of money as well. The beauty and feeling of 3D Printing and Laser engraving are totally different especially when it's been created with the help of our ideas. To help you bring your ideas to life the Hexbot is here! Now you can not only do 3D Printing and Laser engraving anywhere but also a lot more than that such as, drawing, writing, Pick and placing using this device much easier.

Know More- http://in.c.mi.com/thread-1743244-1-0.html



Technology Behind Rollable Displays!
By- George Jacob




Hey MI Fans!

The Consumer Electronics Show (CES) wrapped-up in Las Vegas. The annual event gives enthusiasts a taste of the latest gadgets and devices on the horizon of consumer technology. Television technology was, once again, a focus. CES introduced a roll-up TV screen, also we saw more inbuilt technology and integrations, and bigger and better pictures.

Know More-
Aerowood: A Fully Customizable Wooden Drone!
By- A.Akbar




Hello Mi Fans,
Drones are one of the best things to capture beautiful images or to be entertained. There are many types of drone available in the market, with different shapes or size. But what if you can change the shape of the drone you own? Yes, you read it correctly! Aerowood is a type of drone which is fully customizable as per your need.

Aerowood is a wooden drone that comes with patterns to cut on and a guide on how to build your own wooden drone. The wood used to it is a birch wood. It comes with eco-friendly components for you to put it together. You not only get to build the drone but also its controller. It also has a 720p HD camera with real-time transmission to your phone. You not only get to build the drone but also its controller. Know More-
Thanks to the authors for your contribution and sharing updated technology information to Mi Fans.
Rate