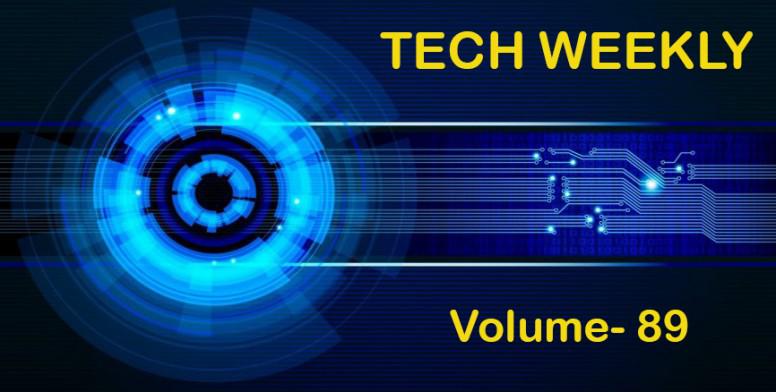 Hello Mi Fans,
Technology refers to methods, systems, and devices which are the result of scientific knowledge being used for practical purposes. The purposeful application of information in the design, production, and utilization of goods and services, and in the organization of human activities Technology can be described in many ways. So without wasting time let's check out what we have for you this week from our Techie Team.
ENERQi: The Invisible Fast Wireless Charger!
By- Solver13



Hello Mi Fans!

Whenever our smartphone runs out of charge we basically used to charge it using either a portable charger or using any kind of charger which comes with a cable but nowadays as we are getting to see smartphones arriving by getting equipped with Qi wireless charging we are also getting to see few improvements which are been done on wireless chargers as well.

Improvements help us to take things to a different level. Just like this, a Qi wireless charger is known as ENERQitakes us one step closer to true wireless charging with its awesome charging capabilities. We've seen various types of wireless chargers but have we seen any wireless charger which disappears into your environment? That's what the ENERQi does!

Know More- http://in.c.mi.com/thread-1747483-1-0.html
ZUUM: A Self Balancing Hover Shoes!
By- A.Akbar




Hello Mi Fans,
Due to the growth in the field of technology we used to see lots of inventions in our daily life. Technology also has an impact on the transportation sector. There have been lots of improvement in the transportation sector due to technology. There are lots of new inventions which are making the transportation sector more advance. On such type of device is the ZUUM's Self Balancing Hover Shoes.

ZUUM is very smart and most portable transportation device in the shape of Hover shoes that is a new way of traveling and very easy to ride both indoor and outdoor use. With ZUUM you can easily travel anywhere you want. It is suitable for all ages and quick charge timing. The shoes are portable and come with anti-skid technology that will keep riders in total control at all times. Know More-




http://in.c.mi.com/thread-1747483-1-0.html
Android TV VS Google Chromecast: Differences Explained!
By- J C Paul




Hi Mi Fans!

Modern technologies have changed our way of watching television. So, obviously, someone can mix up between the Android TV and the Google Chromecast, the fruits of today's science. If you want some Googly, Android action on your TV, Google generally offers you these two options: Android TV and Chromecast. But do you know how they differ each other and which one you really need? Most of us will say NO. So, to know more about it, continue the reading, I hope you'll find it to be interesting.

Know More- http://in.c.mi.com/thread-1753289-1-0.html
The Ocean Bottle: The World's Most Reusable Water Bottle!
By- BHARATKUMAR BHAGAT




Hello Mi Fans!




We all know how bad single-use plastic can be for the planet, with ocean plastic waste growing at an alarming rate of 22 million kgs each day – that's eight billion kgs of plastic a year! Over 80% of ocean plastic stems from impoverished communities that lack the incentives and infrastructure to recycle. That's where The Ocean Bottle comes in – the eco-friendly brand is launching a reusable water bottle that helps actively fight plastic pollution across the globe. This eco-friendly bottle actually helps clean the oceans as for every one purchased, 1,000 plastic bottles will be removed from coasts and waterways around the world. That's a whopping 12 kgs of ocean-bound plastic. So Let's talk about The Ocean Bottle now.

Know More- http://in.c.mi.com/thread-1754574-1-0.html
Deep Sentinel: The Smart Home Surveillance System!
By- Hari Sankar G
Hello Mi Fans!

Keep a watchful eye on your home at all times with the Deep Sentinel Smart Home Surveillance. This system works as an active round-the-clock security guard, ensuring that you always know when someone enters your property. Likewise, it utilizes multiple layers of deterrence including a two-way speakers, a loud siren and strobing lights to deter burglaries and thefts. Deep Sentinel also uses smart HD cameras to set up a virtual parameter around your home. Coupled with AI, it can tell the difference between non-threats such as cars or dogs and a potential intruder. Moreover, Deep Sentinel comes with everything you need to get started in minutes. Finally, the smart home surveillance features a weatherproof design, ensuring it provides ultimate protection by working 24/7.

Know More-
Thanks to the authors for your contribution and sharing updated technology information to Mi Fans.
Rate