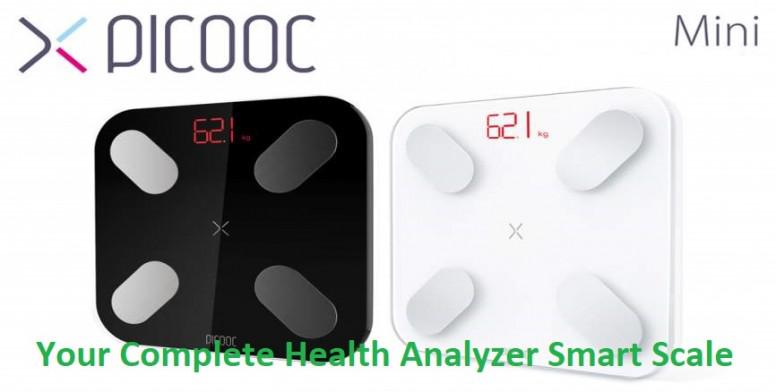 Hello Mi Fans!
Picooc has today announced the launch of a new digital smart weighing scale in India. Dubbed as Picooc Mini, The fat scale uses a combination of bio-electrical impedance analysis tech and the Picooc Health Data Platform (developed by Chicago University researchers) to obtain exact body scores and statistics. The product also includes step-on auto recognition technology, and it comes in a classic white look with a bright LED display for day and night viewing. This is truly one of the smartest products on the market, and it's excellent for those who are serious about their health. So Let's talk about The Picooc Smart Scale now.
The smart scale comes loaded with a host of interesting features. To start with, users can measure their weight along with 12 additional body vitals including BMI, Body Fat, Muscle Mass, Protein, Bone Mass, Metabolic Age, Visceral Fat Index, BMR, Body Water, Body Type, Skeletal Mass, and body girth. There is a red bright LED display that shows the weight.
In addition to this, it also offers a unique body score that is calculated using body vitals. The device provides all this information in the shortest span of just three seconds, therefore providing the user a holistic view of their health in no time.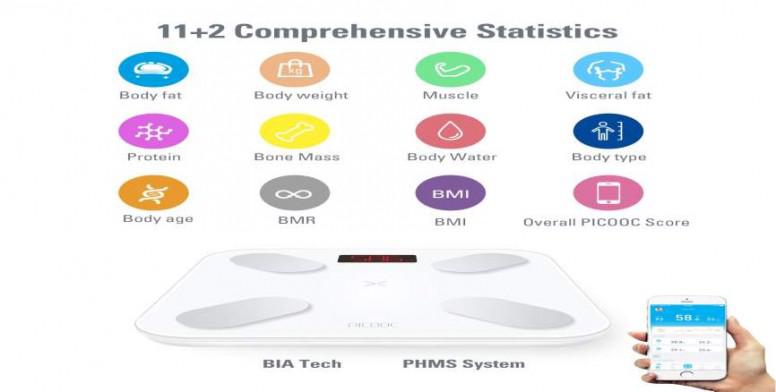 -:13 Body Measurements:-
Body Weight:
Body weight is your total body mass or weight aka the first thing you see when you step on the scale. Your weight can be shown in kilograms or pounds and may be changed in the app settings. Picooc knows people care about their weight the most, which is why it's the primary number shown when you open the app. The app's dashboard will tell you the date you weighed yourself, what it means, and a graph of weight fluctuations over time.
Body Fat:
Perhaps the second most important number to people that also shows up on your dashboard. Your body fat percentage is the total mass of fat divided by body mass. High body fat will increase your chances of getting diabetes, cardiovascular disease, and other ailments. The app provides additional details about your statistics including a chart of what someone of your gender, age, height, and current weight should be.
Skeletal + Muscle Mass:
Your muscle mass is the weight of muscles in your body, and it's directly related to your body fat percentage and BMR (basal metabolic rate). The greater the muscle percentage, the more calories you burn at rest. Muscle mass refers to smooth and skeletal muscles, which consist of water and protein. Skeletal muscles are striated muscle tissues attached to bones, and they are responsible for contracting and relaxing when you're moving. These muscles can be strengthened through weight training and can increase your speed and strength.
Visceral Fat Index:
Visceral fat is the fat that sits near your stomach and wraps around major organs like your liver, pancreas, and kidneys. Visceral fat has been touted as the most dangerous kind of fat because it can lead to cardiovascular disease, type II diabetes, and even breast cancer for women.
BMR:
The BMR or basal metabolic rate is your body's minimal rate of daily energy burn at rest. The higher the BMR, the more efficient your body is at burning fatBMR varies considerably by gender, age, height, muscle mass, and current weight.
Water Content:
Your body water is the number of liquids in the body expressed as a percentage of total weight. Sufficient water content allows for proper body maintenance and can dictate things like your BMR. Water levels can change considerably throughout the day due to fluid loss from sweating, urine, and breathing. Adequate water intake is necessary to maintain normal levels.
Protein:
The predicted mass of protein expressed as a percentage of total weight. An extremely essential part of your body that's involved in most cellular processes.
Bone Mass:
The weight of bone mineral in your body. Inadequate bone mass can lead to arthritis and other bone-related issues as you get older. Weight training and a calcium-rich diet can help maintain your bone mass after age 30.
Metabolic Age:
How your BMR compares to the average people in your age group. A lower metabolic age indicates an active metabolism while a lower age says the opposite. Improvements to your BMR can help decrease your biological age.
BMI:
The body mass index is your weight + body size (height).The most common indicator of underweight, normal, overweight or obese persons. Your BMI does not take into account your muscle and body fat percentage thus making it less useful than other indices.
Body Shape:
This chart places you into several body shape categories ranging from normal to very muscular to underweight. Where you place on the chart will depend on your muscle mass and fat percentage.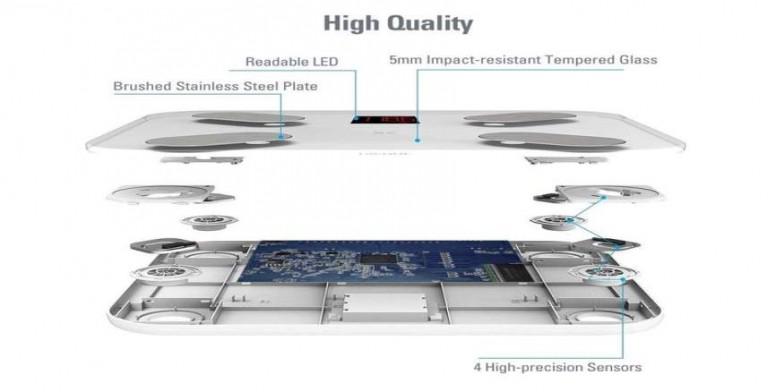 -: Digital Technology for a Healthy Body:-
Not only outwardly chic, but the inner values are also outstanding. PICOOC uses fast processors, precision sensors and power-saving technology. The scale activates automatically and switches off automatically as well. The connection with Bluetooth works quickly and easily. 3x AAA batteries are included in the Mini and last up to 12 months thanks to Bluetooth 4.0 and smart power-saving design. Equipped with 4 high-precision sensors, it can weigh from 18lbs up to 330lbs in 0.2 lbs increments.
Technical Specifications:
Model: Mini - White & Black
Dimensions: 28.7x28.7x2cm
Foot length: up to approx. 26cm
Automatic on/off
Surface: tempered ultra-white glass
Load: 5-150 kg
Batteries: 3x AAA (up to 12 months)
Requires Bluetooth 4.0 enabled mobile device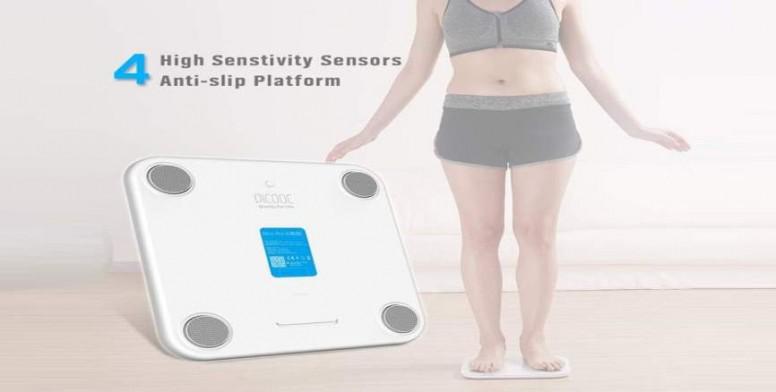 The device provides professional grade data accuracy using the BIA technology with a metal-less ITO layer that enhances the sensitivity, therefore enabling to track the tiniest changes that occur in the user's body. Combining high-precision data recording & big data core algorithm, the device is designed to offer one of the most accurate comprehensive health measurement reports making it ideal for health-conscious people who want to keep track of their fitness from the comfort of their home.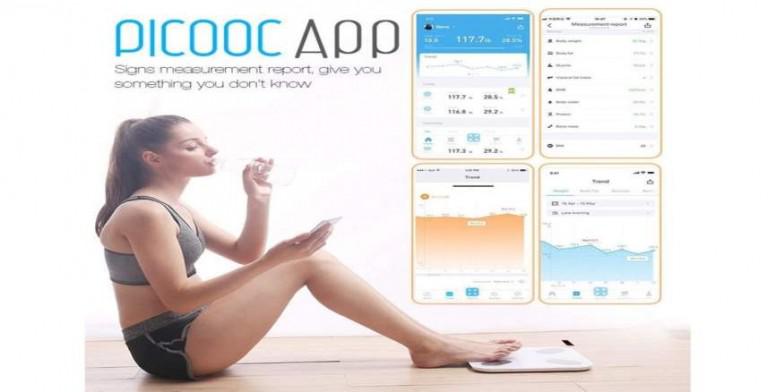 -: Picooc App:-
Picooc Mobile App is available for both Android and iPhone devices. The application shows data that can help the users to set goals towards their desired fitness plan. The app also provides personalized suggestions using the big data core algorithm technology and shares the user's body score with their friends and family to encourage them in attaining their fitness goals.
The product's biggest talking point is its app because you can access all your data, graphs, and trends from it. It's also just a really good app with a minimalist and user-friendly design that fits the Picooc style. When people hear "smart" anything they immediately think that it'll be too challenging, but that's not the case here.
Stable & Stylish Design:
The 6mm tempered glass looks great, the non-slip pads prevent sliding, it's sleek and compact, and the white color makes it perfect for any room. The body is made of strong ABS material that survived a 1.5-meter drop test, and it holds the inner components nicely. My Picooc scale is placed in my bathroom and it blends in flawlessly.
13 Body Measurements:
Most scales only measure things like body weight or fat percentage, but this scale dives into the more critical measurements. The 13 figures provide a fantastic analysis of how your body is functioning and what you'll need to do to improve it. You can even download your stats and show them off. Pico's algorithms are constantly making adjustments, and as a smart scale company, they're one step above everyone else.
Auto Recognition With Multiple Users:
The scale uses step-on technology and auto recognition to identify who is stepping on the body scale, and it can work with an unlimited number of people. I love that this product is geared towards multiple users because it's likely you'll be sharing the scale with other family members or friends. The ability to create additional user profiles on the app is also a nice touch because it removes the need for multiple app downloads.
Data Sync With Google Fit & Apple Health:
Your measurements can sync with Google Fit, Apple Health, or Samsung Health to maximize their effectiveness. The data syncing is handy when combining with other health aspects like caloric intake and exercise because it'll up the accuracy of all your data sets. It can also be beneficial if you're talking to your doctor about starting a weight loss program.
Bio-electrical Impedance Analysis Tech:
The analysis tech is the key reason why this scale works so well. The scale has four precision sensors and four electrodes that obtain body readings when you step on the scale. They send a harmless electrical signal throughout your body that configures critical body readings. Those readings are then integrated with data sets and algorithms that determine your health stats versus the norm. It's a complex process that's imperative if you want more error-free results.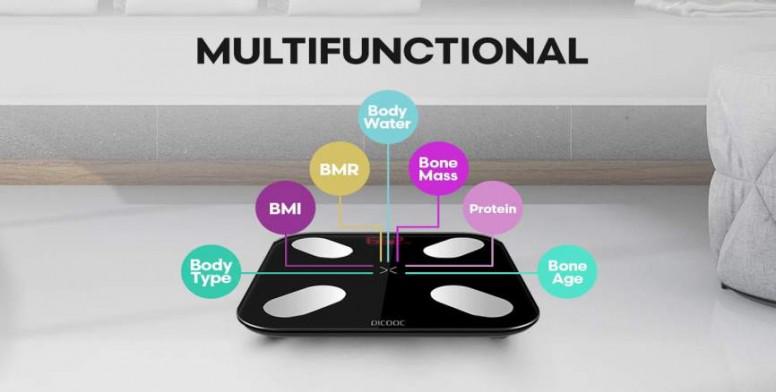 -:Your Benefits:-
Timeless and beautiful design - an artwork, light and resistant
Intelligent body analytics by PICOOC: long-term analytics PHMS provides you with unique information and valuable tips about your body.
Fast and reliable measurement with high precision sensors
Measures, tracks and analysis 11+2 body parameter
The exclusive PICOOC App provides an easy to use interface
Body analysis for the complete family
Sync with Apple Health or Google Health

Picooc has launched Picooc Mini, a high-precision health monitoring smart weighing scale in India which will be distributed exclusively by Optiemus Infracom Limited. Staying true to its name, Picooc Mini is a compact device, making it easy to store and carry and can also be connected to the user's smartphone using a Bluetooth connection and processes the measurement data to create health trends. It also offers personalized suggestions on the Picooc Mobile App. The device allows to create unlimited profiles, hence, making it ideal for family use as well. allowing to add unlimited family members to use the scale with the App. One scale and one app for multiple phones are enough for a whole family, even for your friends. This App contains a variety of charts to show the long-term trend of a users health condition, helping them better set their goal and understand progress over time. the App syncs with Apple Health and Google Fit, you can check your steps via those Apps English, Germany, French, Spanish, Italian, Russian, Korean, and Chinese versions are available.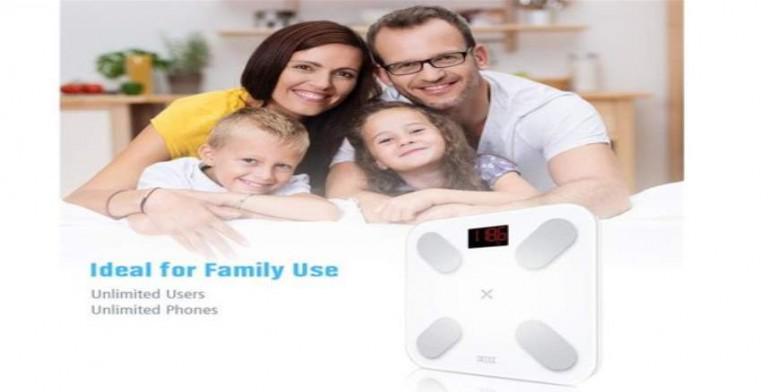 Be the first to be informed: Follow us
Recommended Threads:
Big Thanks to
Thanks to Our Beloved S Mod @Furqaan Saikh And Our Mods @Patitapaban & @Harisankarg For Continuous Inspiration And Guidance And Supervision.
Thanks for Reading
So, what do you think about this Picooc Smart Scale? Please share your thought in the comment section below
Rate