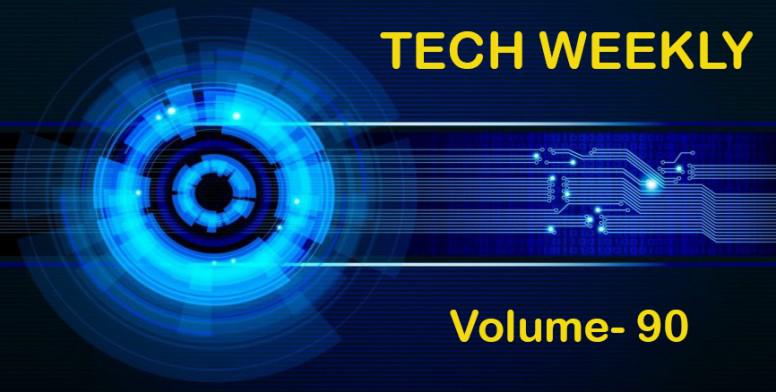 Hello Mi Fans,
Technology refers to methods, systems, and devices which are the result of scientific knowledge being used for practical purposes. The purposeful application of information in the design, production, and utilization of goods and services, and in the organization of human activities Technology can be described in many ways. So without wasting time let's check out what we have for you this week from our Techie Team.
iRobot Terra: The Robot Lawn Mower!



Hello Mi Fans!

iRobot is best known for making vacuum cleaner robots: the infamous Roomba lineup. But the company also makes mopping robots (Braava lineup), pool cleaning robots (Mirra lineup), a bot to help clean gutters, and even programmable robots (Create lineup). So, what's next for your home? A lawn mower robot. If you're tired of mowing the lawn, iRobot, at long last, might have a solution: iRobot Terra: The Robot Lawn Mower!

Know More- https://in.c.mi.com/thread-1755862-1-0.html
Picooc Smart Mini: Your Complete Health Analyzer Smart Scale!
Hello Mi Fans!




Picooc has today announced the launch of a new digital smart weighing scale in India. Dubbed as Picooc Mini, The fat scale uses a combination of bio-electrical impedance analysis tech and the Picooc Health Data Platform (developed by Chicago University researchers) to obtain exact body scores and statistics. The product also includes step-on auto recognition technology, and it comes in a classic white look with a bright LED display for day and night viewing. This is truly one of the smartest products on the market, and it's excellent for those who are serious about their health. So Let's talk about The Picooc Smart Scale now.




The smart scale comes loaded with a host of interesting features. To start with, users can measure their weight along with 12 additional body vitals including BMI, Body Fat, Muscle Mass, Protein, Bone Mass, Metabolic Age, Visceral Fat Index, BMR, Body Water, Body Type, Skeletal Mass, and body girth. There is a red bright LED display that shows the weight.
IsoStraps: Wrist Straps Changing Fitness Forever!



Hello Mi Fans!

Exercise helps our body a lot. It helps our body to be fit and provides a type of power which helps us overcome various types of pains. Even when it comes to doing some exercise many people's went for the gym as well but there are only three things which prevent us from workouts which are our hands, wrists and elbow issues which occurs due to various ways.

The issue which we all have to survive with our hands, wrists and elbow it might be due to an injury, arthritis, tendinitis, overuse, and certain exercises but from now they'll no longer be able to keep you away from exercises or workouts by using IsoStraps. From now you can workout with less bad pain and more gain pain as the IsoStraps targets only the muscles.

Know More- http://in.c.mi.com/thread-1758875-1-0.html
NuDock: Turn Your Smartphone To A Computer!




Hi Mi Fans!

Smartphones have become one of the most essential needs of our daily life. To be frank, nowadays, we can't imagine ourselves even a single moment without smartphones. But do we really use its full power or even know what it can do for us except those common things? Trust me, the most common answer will be NO. That's why, you need to be introduced to NuDock - a versatile USB-C dock for unleashing the power of your smartphone.

NuDock is actually a smartphone docking station that can charge your phone as well as can give you everything simultaneously for your entertainment and work in one place, at the same time. While charging, you can connect your smartphone to - Flash drive, Hard drive, Projector, TV screen, Monitor, Mouse, Keyboard, Game controller, SD and MicroSD card. Sounds crazy? But it's true. Well... without wasting any more time, let's see the features of such fruit of modern tech.

Know More- http://in.c.mi.com/thread-1759796-1-0.html
MusicLens: The Smart Musical Sunglasses!




Hello Mi Fans,
If you want to listen to music you need to put on headphones or use a Bluetooth earphone. Both of those can become uncomfortable over time and hurt your ears. A new product solves this problem named MusicLens audio sunglasses that use bone conduction technology. MusicLens sunglasses let you listen to music through bone conduction technology.




MusicLens is virtually indistinguishable from normal glasses and can listen to music, make phone calls andreceive FM radio signals. The MusicLens model weighs less than 40 grams, making them light and comfortable for everyday use. It claims to use "ultra high-quality one conduction technology" to increase audio quality while reducing external sound and minimizing sound leakage.

Know More- https://in.c.mi.com/thread-1757854-1-0.html
BioLite CampStove – The Substance Beyond the Hype!




Hello Mi Fans,

The BioLite CampStove received a huge amount of media attention this summer for being the first camping stove that can burn wood for cooking and recharging USB-enabled electronic devices. That's a bunch of baloney, in my opinion. There are far better ways to boil water in the backcountry and recharge electronic devices than using a wood-fired stove. Especially since you need to sit around and burn wood for HOURS to recharge a cell phone with the BioLite. Instead, I'd recommend that you simply carry extra batteries or a power brick charger if you can't absolutely live without your electronic devices in the wilderness. This product has novelty value only.

Know More- https://in.c.mi.com/thread-1760103-1-0.html
Thanks to the authors for your contribution and sharing updated technology information to Mi Fans.
Rate