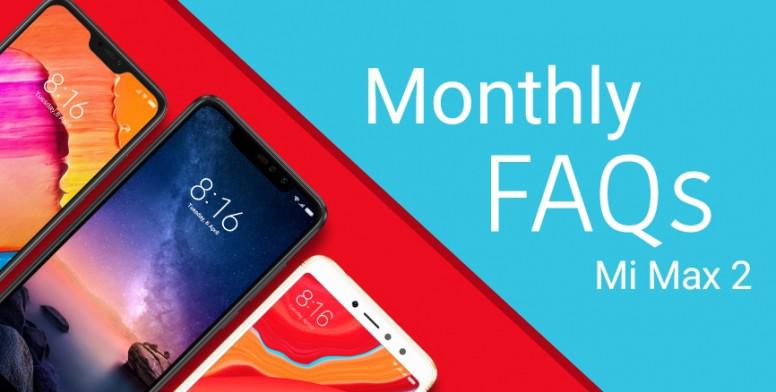 Hi Mi Max 2 users,
We are introducing a Monthly FAQ thread in which we will include all those questions which are asked by many users with a proper answer. We will post these type of FAQ threads every month where we will take all the user queries and concerned (of that particular month) and will merge them together here with solutions.
Note: Please go through all the questions and let me know if there are furthermore queries in the comment below. Also please do not create threads again and again with the same queries which are already mentioned below :)
Q1. Will Mi Max 2 get Oreo update?
Ans. As of now there is no official announcement regarding Android Oreo update for this device.

Q2. Will Mi Max 2 get portrait mode in back camera?
Ans. Currently, Portrait mode is enabled only on front camera and we don't have any information on when it's coming in back camera. Stay tuned on mi community for further updates.

Q3. Is Anti-rollback enabled on my device?
Ans. No, Anti rollback isn't available on Mi Max 2.

Q4. I'm facing battery draining issue, what shall I do?
Ans. Since MIUI 10, many users are facing extreme battery draining. Although this issue has been reported to the developers, but if you post a thread regarding battery issue. Kindly post battery usage graphs, Screen On Time and mention your MIUI version too.

Q5. When will as I get face unlock for Mi Max 2?
Ans. There is no official announcement regarding face unlock for this device.

Q6. My voLTE isn't working. What is the solution?
Ans. First of all check that voLTE is supported in your region. Then try resetting default APN settings. If this also doesn't help, reinsert your SIM card once.

Q7. Will Mi Max 2 get dual 4G support?
Ans. As of now, there is no official announcement regarding dual 4G support for Mi Max 2.

Q8. What is the latest ROM for Mi Max 2?Ans. Currently latest global stable ROM is MIUI 10.2.1.0.NDDMIXM and the latest beta ROM is 10.9.1.24. If you aren't on this ROM. Check your updater app once.

Q9. My Mi Max 2 is not supporting OTG?
Ans. Mi Max 2 supports OTG function. If you are trying to connect pen drive please ensure that the file system is FAT 32.

Q10. Does Mi Max 2 support Mi band 3?
Ans. Yes, Mi Max 2 supports Mi band 3. In order to manage your Mi Band 3 on your device, you need to download and install Mi Fit app.

Q11. How to enable developer options and turn on USB-Debugging?
Ans. Go to Settings About Phone Tap on MIUI version repeatedly until a message pops up: Congratulations! You're a developer.

Q12. How can I unlock the bootlader of my Mi Max 2?
Ans. If you wish to unlock your bootloader, there is an available 'Mi Unlock' app available. However, we do not advise and encourage you to do so. So Please proceed at your own risk, and you are held responsible for your own device. For more details fillow think Learn how to Unlock the Bootloader of your Mi/Redmi Phone.

Q13. My compass is not calibrated correctly. How to calibrate my compass app again?
Ans. Try moving your device in such a way that you make a infinity symbol. If you don't get this, clear the data of the compass app and then try recallibrating it.

Q14. Is my device waterproof?
Ans. No, handle your device with care.



Q15. When Mi Max 2 will get Feb Security Patch update?

Ans. We do not have any information regarding security patch updates. Please stay tuned to the Mi community for more updates.




Q16. When Camera2api will be enabled in Mi Max 2?
Ans. There is no official announcement when it will be enabled.




Q17. Does my device support quick charge?

Ans. Yes Mi Max 2 supports Quick Charge 3.0 and the charger provided with the box is the fast charger.




Q18. Why I haven't got full screen gestures support on my device?

Ans. Since Mi Max 2 has backlight navigation keys, full screen gestures are not available. The gestures are only enabled on full screen devices.


Q19. Does Physical damage come under Warranty?
Ans. Physical damage does not come under the Warranty, you have to pay for it even if the device is under warranty.





I hope your queries are answered here. If you think there are some questions missing, you can post a thread regarding your issue along with some screenshots, and MIUI version. The Device team and moderators will surely help you.




Rate