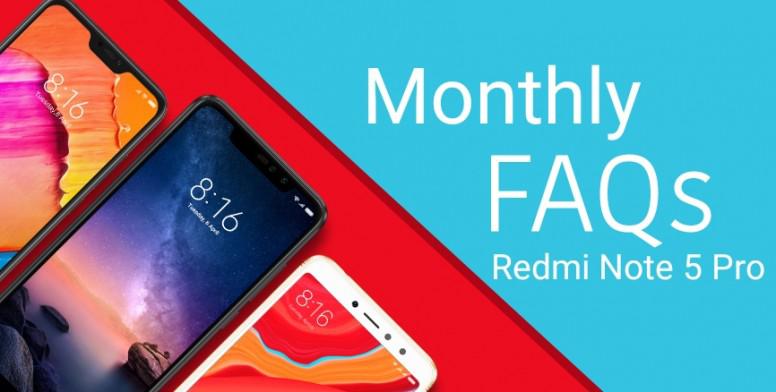 Hey Redmi Note 5 Pro Users,
We are introducing a Monthly FAQ thread in which we will include all those questions which are asked by many users with a proper answer. We will post these type of FAQ threads every month where we will take all the user queries and concerned (of that particular month) and will merge them together here with solutions.

Note: Please go through all the questions and let me know if there are furthermore queries in the comment below. Also please do not create threads again and again with the same queries which are already mentioned below :)



Frequently Asked Questions:
Q1. When Redmi Note 5 Pro will get the Android Pie update?
A. As of now, there is no official announcement regarding the Android Pie update. Hopefully, it will be releases soon for all the redmi 5a users.
Q2. Why I am facing too much battery drainage?
A. Please try manual network search option, choose your operator from the list then reboot and try again.A. Get the battery percentage level to fall below 0% until the mobile gets switched off on it own, now charge your device from 0% to 100% without turning on the device until it gets a full charge, this it would help to recalibrate the battery and if it doesn't help back up your data and consider a factory data reset it would clear most of the issues faced by you.You can perform battery calibration also. Charge your device fully and use it without charging until it switches off. When the device is switched off then charge it fully but don't switch it on and then see the battery performance. This method helped many users.
Q3. Why videos aren't playing in full-screen mode or over the 18:9 display?
A. Mi Video update is now available and full-screen mode is working in the new update. For other apps, it is under Beta Testing and it will be resolved soon for Stable ROM too.
Q4. Why Google Map is crashing?
A. Google Map is crashing in many Xiaomi devices and Google agreed that it is an app's issue. It will be resolved soon.
Q5. Why Google Camera and Google Lens isn't working?
A. Right now, Redmi Note 5 Pro does not support Google Camera and Google Lens. Also there is no official information about this feature yet.
Q6. What is the Anti-Rollback feature?
A. Recently MIUI introduced Anti-Rollback feature which means you can't switch back to MIUI 9 from MIUI 10 using updater app. If you perform the above step then the device can be bricked.
Q7. Is Redmi Note 5 Pro waterproof?
A. Redmi Note 5 Pro is not waterproof.
Q8. Will Redmi Note 5 Pro will support Quick Charge in future?
A. Redmi Note 5 Pro does not support Quick Charge. Redmi Note 5 Pro comes with 5v 2a charger.
Q9. My Redmi Note 5 Pro is not supporting Dual VoLTE?
A. Redmi Note 5 Pro supports Dual VoLTE. You have to confirm with your service provider that VoLTE is available in your area or not.
Q10. When Redmi Note 5 Pro will support 4K video recording?
A. Right now, 4K video recording isn't available for the Stock camera. You can use third-party camera apps for 4K video recording.
Q11. When Redmi Note 5 Pro will support Slow Motion video at 960 fps?
A. The camera sensor of Redmi Note 5 Pro does not support Video recording at 960 fps.
Q12. When Camera2api will be enabled in Redmi Note 5 Pro?
A. There is no official announcement when it will be enabled. It is only enabled in Chinese ROM.
Q13. My Redmi Note 5 Pro Both speakers aren't working, why?
A. Redmi Note 5 Pro has only one speaker on the right side and on the left side, it is a mic.
Q14. Does Physical and Water damage comes under Warranty?
A. No, Physical and Water damage does not come under the Warranty, you have to pay for it even if the device is under warranty.
If in case you feel something remained unanswered then do reply here!
Previously Asked Questions.