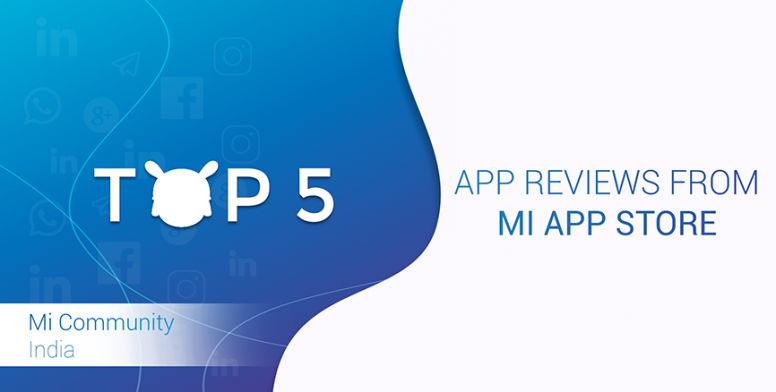 Hello, Mi Fans!!
Greetings and wishes to you all from App Review Team. Welcome back to another new volume of our Weekly App Review RoundUp. Smartphones have become an essential part of our daily routine. We can't imagine our phones without apps. From waking up in the morning and going back to sleep, various apps help us to complete our daily goals. We App Review Team are committed to delivering the best to you. Today, we have picked out the best 5 threads as a recap for All our MI Fans!. So, Let's get started!

TOUCHBAR - FOR ANDROID
By
Sumit
Rawat






Touch bar for Android is an application like your notification bar panel but the difference is that the notification bar is at top and touch bar situated on the bottom. It has amazing features. You can control settings likes wifi, data on/off etc.



Narrator's Voice - Easily Convert Text to Speech
By
Surya Prakash Gautam






Narrator's Voice app lets you create and share amusing messages using a narrator's voice of your choice. With a wide range of language and reliable, pleasant sounding voices. Simply speak or type a message, then choose the language, voice and any special effects for the app to use. The end result is a customized narration of your original message, which you can share as desires.



StoryZ Photo Motion: pictures came to life!



StoryZ is Fun, fast and easy to use with endless powerful creative options. StoryZ lets you quickly blend powerful art and special effects with your photos. Create animated Double Exposure Effect with a combination of static imagery and overlay video. Storyz is a unique app to create and share photo motion art. Bring your photographs to life with user-friendly and simple tools. A Photo animation suite is equally suitable for beginners as well as experts. Be a part of a leading photography community and get a chance to gain inspiration from other artists.



INDUS Launcher - No Ads, Top News & Services
By
Akash008






Here is a launcher with News and services and also with no ads interruption experience for you. Indus Launcher is a 10mb application that gives you a clear and smooth experience. You can download it from the app store it is a 10mb application with tons of features like Trending News, App drawer, Icon settings and much more. You find some special features in this app like Smart folders, Instant search, and Content & Services at your fingertips.



Wallpapers - Simple With Elegance
By
Uddesh Debnath






Wallpapers is a great app by Google, make the most of your display with beautiful wallpapers and advanced features. Choose one of your own photos, an image from the Google Earth collection, a scenic landscape from Google+, and more. Change it as often as you like, so your phone always represents your style.
Don't forget to vote for your favorite review from the list and help us
improve! Also do share your feedback!
Rate