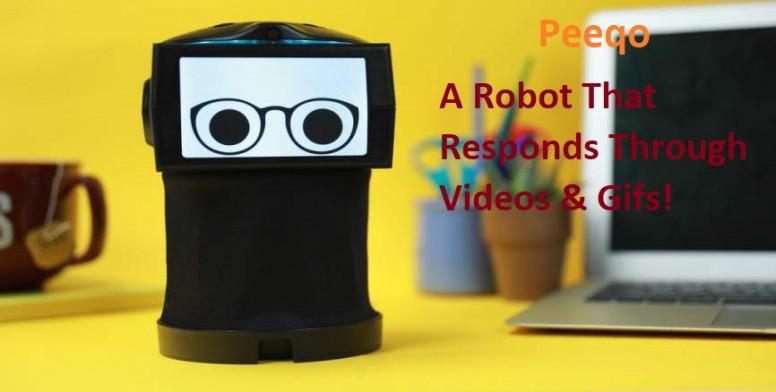 Hello Mi Fans!
If you really want to impress people with a question-answering smart home device, you'll want to check out Peeqo, As with devices like Google Home and Amazon Echo, Peeqo can respond to spoken word questions. The difference? It will respond to queries exclusively with a specially selected short video or GIF. Because, you know, it's 2019 and nobody feels comfortable communicating the old-fashioned way anymore. Peeqo is a voice-activated desktop companion that responds entirely through GIFs. You heard that right. Think of him as the love child of a home assistant and your favorite Disney character, with the ability to communicate through the universal language of GIFs.So Let's talk about The Peeqo robot now.
Everything you need will come in the kit so you can get started with no hassle. No special tools required, no digging through your drawer in search of that #2 Phillips screwdriver and no need to purchase an expensive soldering iron.
4" IPS screen for vibrant crystal clear all angle viewing
Dual omnidirectional microphones
Two 3W Speakers for stereo sound
A 5MP camera
An LED ring for discreet notifications
Four programmable buttons
A unique 3DOF mechanism
A Raspberry Pi 3B+

Plug Peeqo directly into the wall using the provided 12V DC plug and he's ready to go
Peeqo is small, like really small and will sit discreetly next to you on our desk while you go through your day, ever ready to help. Standing at just under 7 inches tall, he packs a lot into a tiny frame.
How Does Peeqo Work:
The voice detection within Peeqo operates using Amazon Voice Services, Google Cloud Speech, and Snips, as well as various others. Peeqo's purpose in life is to continuously surf the web for the best GIFs and videos (I know the feeling) to ensure that you get a unique clip for each question you ask. Your own custom responses can also be added. But surely eventually the clips will start repeating and the novelty will wear off?
Peeqo Open Source Code and Community Contribution:
The community contribution to Peeqo's code will ensure it constantly develops. However, this isn't just about finding the very latest GIFs on the internet. This little robot can perform so many smart home functionalities also
What Else Can Peeqo Do:
Peeqo can be used for such tasks as:
-Checking the weather
-Setting timers
-Controlling room lighting
-And so much more, which seems to make this personal assistant robot competition for other smart home devices, rather than a cheap-laugh gimmick gadget.
Peeqo's Technical Specifications:
7 inches product
4-inch IPS display
Dual omnidirectional microphones
Twin 3W speakers for stereo sound
5MP camera
LED ring for notifications
Four programmable buttons.
Powered by a Raspberry Pi 3B+ 64-bit quad-core processor

Peeqo is delivered as a kit for makers to build but is designed for three different levels of the programmer – no interest in coding, beginning, and seasoned developer. The commitment to Open Source software and hardware with basic plans already available on GitHub. Raspberry Pi 3/3B+ is the base for Peeqo but the campaign page states that as new boards are released by the Pi Foundation they will be compatible with the bot. A four-inch in-plane switching screen helps for viewing from all angles, with two omnidirectional microphones, a 5 Megapixel camera, two 3 Watt speakers, four programmable buttons, and an LED ring for discreet notifications. Voice detection works with Google Cloud Speech, Amazon Voice Services, Jasper, Mycroft, and Snips. The Comment section says that everything has been built and programmed for English but any language compatible with Google Cloud Speech might be used. Giphy, Guggy, and Vlipsy are the main GIF sites that will be used to allow Peeqo to give new responses to repeated voice commands. The comment section points out that pulling videos and GIFs from a computer will be the fastest way to get a response. Singh imagines that users can add functions like weather, timers, device control, and music control to the platform. Linking Peeqos together is also possible to send videos or GIFs back and forth.
And once it's ready, there's no telling what you can do. Or, well, there is. You basically talk to it, and, using similar voice detection services as the Alexa, it scours the greatest and latest digital GIF emporiums to find a suitable reply, which it shares on its cute little video screen face. It also comes with a bunch of preprogrammed skills, meaning you can use it to play your music or tell you the weather, or time...whatever it is you need to time. Plus, should your friend (or lover?) get one of these, you'll be able to link them together to send video and GIF responses directly.
Peeqo will continually scour the internet for the latest GIFs and response videos, meaning that you theoretically shouldn't get the same old clip every time you ask the same question. It's also possible to add your own custom responses. The result should be a gadget that won't quickly become boring once the immediate novelty wears off.
Be the first to be informed: Follow us
Recommended Threads:
Big Thanks to
Thanks to Our Beloved S Mod @Furqaan Saikh And Our Mods @Patitapaban & @Harisankarg For Continuous Inspiration And Guidance And Supervision.
Thanks for Reading
So, what do you think about this Peeqorobot? Please share your thought in the comment section below
Rate