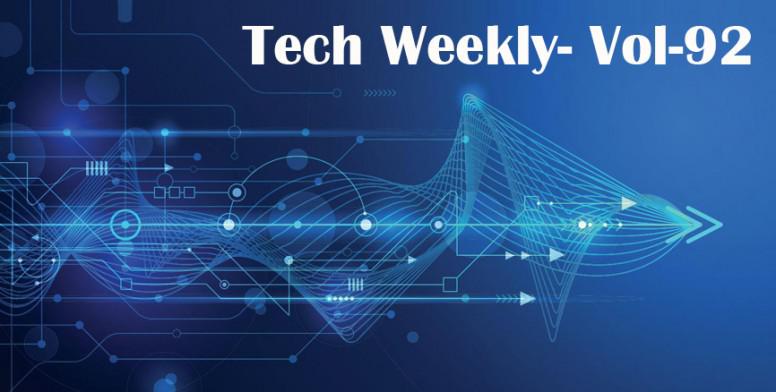 Hello Mi Fans,
Technology refers to methods, systems, and devices which are the result of scientific knowledge being used for practical purposes. The purposeful application of information in the design, production, and utilization of goods and services, and in the organization of human activities Technology can be described in many ways. So without wasting time let's check out what we have for you this week from our Techie Team.
Micro Drone 4.0: The Tiny & Super Smart AI Drone!
By- Hari Sankar G





Hello Mi Fans!
There are a lot of drones out there priced less. Very few of them come with good cameras. Those that do have good cameras lack image stabilization. The Microdrone 4.0 has armed with a Sony sensor, a two-axis gimbal, and electronic image stabilization, Microdrone 4.0 looks to be an exception to the rule.




Extreme Fliers, the creator of the popular Micro Drone, has announced the launch of Micro Drone 4.0, the next-generation palm-sized drone that is packed with completely new technology and has a whole new look. But don't let appearances fool you, under the hood, there's plenty to offer. The Micro Drone 4.0 bridges the gap between entry-level and professional drones by being the first palm-sized drone to offer stable HD video and advanced camera settings without breaking the bank. It offers features such as the ability to intelligently hover on the spot, has hot-swappable 1200 mAh batteries, and foldable propellers for easy, quick storage whether out on a walk with family or taking a look at your property from the sky.

Know More- https://in.c.mi.com/thread-1768416-1-0.html
Nebia Spa Shower 2.0: The Better Shower For A Better For Planet!
By- BHARATKUMAR BHAGAT
Hello Mi Fans!

The Nebia Spa Shower 2.0 features brand new proprietary nozzles, engineered using custom fluid dynamics models, perfectly positioned to maximize the water that comes into contact with your skin leaving it more hydrated and refreshed. The shower feels warmer (+29%), droplets fall faster (3X) while providing more coverage for your body (2X), making the experience remarkably exhilarating, all the while using 65% less water. Nebia 2.0 is 29% warmer than Nebia 1.0 and it has an even more powerful spray. It also comes in two new finishes: Matte Black and Matte Silver. So Let's talk about The New Nebia Spa Shower 2.0 now. Know More-

http://in.c.mi.com/thread-1768091-1-0.html
Zygo: Experience The Underwater Streaming In A New Way!



Hi Mi Fans!

Do you love sports - to be more specific, water sports? If yes, trust me this article will definitely make you happy. Those who don't get that much interested in sports, should also read this topic, as it's nothing but all about a new gadget...So then, let's start. As you've already known, water sports are under-served by the technologies for a long time. But did you ever imagine that a time will come when you can clearly hear sounds under water? Well.. at least I didn't and I can guess the same goes for most of you as well. So, I better introduce you to that gadget - Zygo is its name - an IP68 waterproof headset and transmitter.

Zygo is nothing but an IP68 waterproof headset and transmitter that is compatible with any smart device. Wireless communication, Bone Conduction, lightweight, unique design, waterproof, awesome working range and many more features actually make Zygo the world's best underwater headset. Sounds crazy or awesome? What will you say? I'm ready to hear that after finishing this thread.

Know More- http://in.c.mi.com/thread-1768793-1-0.html
R Pen: A Multi-Functional Smart Pen!
By- A.Akbar
Hello Mi Fans,

There are a couple of pieces that everybody will have to lift with them on a regular basis. A pen is one of those things. A pen is vital in our day-to-day existence. Maximum folks stay on searching for a great pen. It will have to be in beautiful look with clean writing and it could be implausible if it additionally is usually a purposeful digital product. If your thought is also similar to the mentioned words then R Pen will be the best-suited pen for you. R Pen is created by LIY7 which is a new smart pen equipped with a number of useful functions such as voice recording, flash drive and more. The Pen also has an attractive design.

Know More- https://in.c.mi.com/thread-1771290-1-0.html
Thanks to the authors for your contribution and sharing updated technology information to Mi Fans.
Please Vote and share your feedback in reply.
Rate