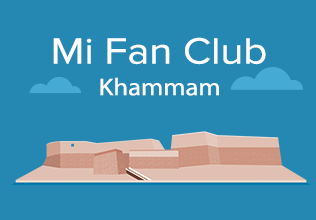 Type: Product experiential meetup
Time: 2019-03-03 00:30:00
Venue: Gorilla Park(Park Street)
Deadline: 2019-03-03 03:30:00
Applied: 55 users
Activity has expired!
Namaste Khammam Mi Fans,
How are you all Mi Fans of Khammam, I Hope you all are doing fine. We are back in action with the very first Phone Experiential Fan Meet of the year 2019 in Khammam. As we all know Xiaomi India is all set to unveil the highly anticipated
#ǝɟᴉ7ƃnɥʇ #ԀW8ᔭ #RedmiNote7
in New Delhi on the 28th February so this was bound to happen. Mi Fan Club Khammam in collaboration with Mi Officials presents an awesome opportunity to experience the
#RedmiNote7
.
And as you all know along with this Fan Meet we will be celebrating our
1st Anniversary
too, MiFC Khammam was initiated way back in 1st March 2018 and yes we have successfully completed a 1 year full of Mi events and so much fun! We had so many hands-on fans meets, and Now we have something very interesting in this Fan Meet. Finally, the day has come and we are also going to celebrate our
1st Anniversary
Fan Meet on
3rd March 2019
. A special thanks to all our group members for making this an active Fan Club.
We will also cherish our memories passed in this Fan Club for this 1 year. A little arrangement will also be there to celebrate our
1st Anniversary
.
Meetup Details:
Theme: Redmi Note 7 Experimental Fan Meet

Meeting Point: Gorilla Park(Park Street)

Meeting Time: 3rd March 03:00 PM Onwards

How to Reach: https://bit.ly/2S3ImKT
So get ready to be amazed. MiFC Khammam -
#RedmiNote7
Smartphone Hands On And Experiential Fan Meet.
So Guy's don't miss the opportunity to experience this
#RedmiNote7
Smartphone. Calling all the Mi Fans from nearby Khammam to come and join us and make the Fan Meet a Big Success. And also use the join option in the above and provide your details for registration for this Fan Meetup.
Do confirm your registration by filling the form
And for the Mi Fans who are not yet a part of
Mi Fan Club - Khammam
and are interested in joining the club click on below mention link
or
follow the instructions from the below thread
Shairuddin -
https://t.me/IamShairuddin
Hari Shravan -
https://t.me/ShravanNayudu
Regards,
Shairuddin & Hari Shravan
Presidents - Mi FC Khammam