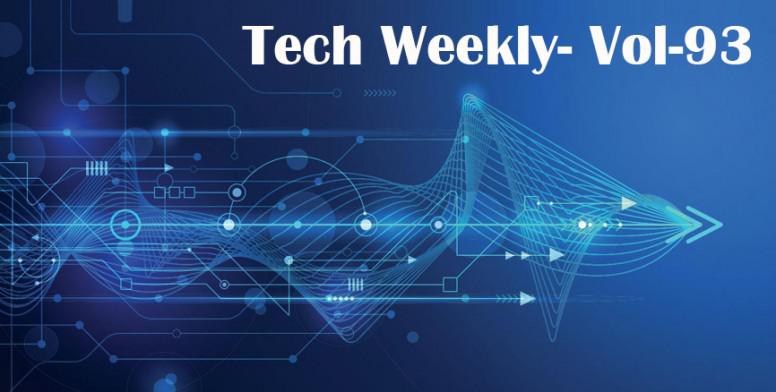 Hello Mi Fans,
Technology refers to methods, systems, and devices which are the result of scientific knowledge being used for practical purposes. The purposeful application of information in the design, production, and utilization of goods and services, and in the organization of human activities Technology can be described in many ways. So without wasting time let's check out what we have for you this week from our Techie Team.
Assemblage: Modular Tech & Gadget Hub For You!
By- J C Paul




Hi Mi Fans!

Technologies have gone far beyond our thoughts. If you think why I'm saying this, you've to read this thread carefully. Well, let's start then. Did you ever think of a device by which you can listen to music, watch videos, charge your phone, lighten up your room as well as get information about anything? I think the most common answer will be No. So, I better introduce you to Assemblage - modular tech and gadget hub.

Assemblage is nothing but a hub that contains interchangeable and stackable modules for audio, video, connectivity, information and many more in its body. With these interchangeable modules, you can create different hubs for your different needs - hub made of modules for projection, WiFi extender and smart assistant is for increasing your office work and hub made of modules for audio, projection, smart assistant and many more is for your entertainment. Know more-

http://in.c.mi.com/thread-1774231-1-0.html



Hio Key: Login To Your Account With Just One Click!



Hello Mi Fans,

Nowadays, to keep our data secure is a tough job. Millions of viruses and other harmful stuff attacks on your personal stuff. So to keep yourself safe in these days is a big challenge. The average technology user has an ever-increasing number of logins and passwords to deal with, so the Hio key has been developed as a solution to help keep them easy to access yet secure. With Hio, now, sign-in is secure and even much easier on any device simply by a click or double-tap. Hio provides a huge security experience, available to the individuals or businesses, on getting secure and fast access to all the devices. Know More-

https://in.c.mi.com/thread-1773501-1-0.html
Snapdragon 675 vs Snapdragon 660 !
By- Vizard




Hey Mi Fans!
Every Day we are surrounded by astounding tech yet what we all love is our smartphones, Midrange or Highend, we all wanna know what's powering them from the inside. So today let's compare the midrange chips of the year 2019, that you will surely see in some major upcoming smartphones. Know More-
Blinkers - Bright Cycling: The Ultimate Bike Light!
By- PPM2




Hello Mi Fans,

We want to improve safety on bikes, by building the next generation of bike lights. It's not about making them more powerful, but about adding extra safety functionalities like turning indicators, brake light, and a laser projection. Blinkers are the one thing that was missing for cyclists to be safer and to be a natural part of the road. Know More-

https://in.c.mi.com/thread-1774721-1-0.html
Signalchip Semiconductor Chips For 4G/LTE/5G Connectivity NR Modems: All You Need To Know!
By- BHARATKUMAR BHAGAT




Hello Mi Fans!




Bengaluru-based fab-less semiconductor company, Signalchip unveiled India's first semiconductor chips for 4G/LTE and 5G NR modems in the presence of Telecom Secretary Ms. Aruna Sundararajan. The SCBM34XX and SCRF34XX/45XX series of chips, code-named 'Agumbe', is the result of over eight years of relentless and deep R&D by Signalchip engineers. These chips put India into an elite group of countries that own this widely used fundamental technology. So let's talk about signalchip Semiconductor Chips now. Know More-

http://in.c.mi.com/thread-1781736-1-0.html
Thanks to the authors for your contribution and sharing updated technology information to Mi Fans.
Please Vote and share your feedback in reply.
Rate