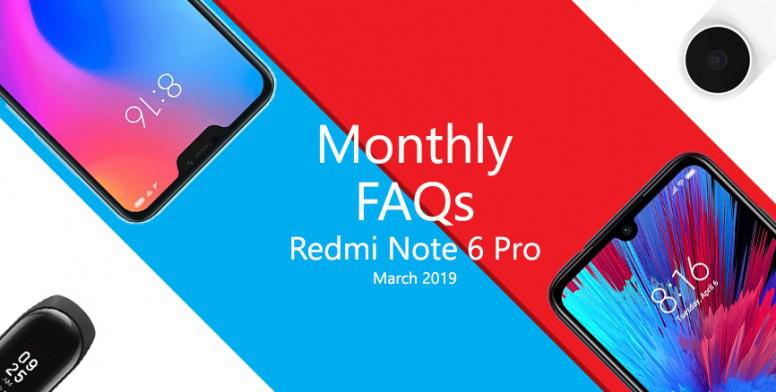 Hello Mi Fans,
We have seen many threads by different users asking the same questions and obviously, they got the same answer. So, we introduced a Monthly FAQ thread in which we have included those questions which are asked by many users with a proper answer.

Q1. When will we get Android Pie update?
A1. Beta Testing for Android Pie is started. After successful Beta Testing, it will be rolled out for Stable ROM.

Q2. Choose update package is missing from the Updater app. How to find it?
A2. Open the Updater app, tap on MIUI 10 logo 10 times and the option will be enabled.

Q3. The phone is hanging too much. How to overcome this problem?
A3. Always clear the cache of the device from the security app, close the background running apps and if the device still hangs then perform the factory reset.

Q4. Why I am facing too much battery drainage?
A4. This issue is faced by many users in many devices. This issue is reported to the developers and they are working hard to resolve it soon.
You can perform battery calibration also. Charge your device fully and use it without charging until it switches off. When the device is switched off then charge it fully but don't switch it on and then see the battery performance. This method helped many users.

Q5. Why Google Camera and Google Lens isn't working?
A5. Right now, Redmi Note 6 Pro does not support Google Camera and Google Lens. You have to enable Camera2api to use Google Camera.

Q6. How to use the Studio Lighting effect?
A6. The Studio Lighting effect will only work for those photos which are clicked in Portrait Mode using Back Camera. Open the photo that is captured using Portrait Mode, you will see a lens like an icon at the top-right corner of the photo from where you can find the Studio Lighting effect.

Q7. Does Redmi Note 6 Pro supports Quick Charge?
A7. Yes, Redmi Note 6 Pro supports Quick Charge 3.0. Inside the box, you will get the normal charger. You have to buy Quick Charger separately.

Q8. When Camera2api will be enabled in Redmi Note 6 Pro?
A8. There is no official announcement when it will be enabled.

Q9. Both speakers aren't working, why?
A9. Redmi Note 6 Pro has only one speaker on the right side and on the left side, it is a mic.

Q10. Why the camera isn't capturing photos in full display?
A10. The resolution of Redmi Note 6 Pro is 19:9 which is not available for the Camera right now. You can use a third-party camera app.

Q11.The camera app is taking time to open. How to overcome this problem?
A11. Clear the data of the Camera app, reboot the device and check again. If the problem still occurs then perform the Factory Reset.

Q12. Why Instagram stories are cropped on my mobile?
A12. As you know that the screen resolution of Redmi Note 6 Pro is 19:9 but the person who uploaded the story maybe has a device with a smaller resolution.

Q13. How to overcome from device heating issue?
A13. The device only heats up if you are using it too much and playing heavy games for a long time.

Q14. Does Redmi Note 6 Pro has Gorilla Glass display?
A14. Yes, Redmi Note 6 Pro has Corning Gorilla Glass display which protects the display from scratches.
Q15. While update MIUI, why the updater app is working abnormally i.e. showing percentage in negative or percentage greater than 100?
A15. It is a bug of the updater app which will be resolved soon. You can download the update and this bug will not consume extra Internet Data.
Hope you got the answers of the most asked question...
We will come with more answered questions next month
Till then Stay tuned to Mi Community!!!