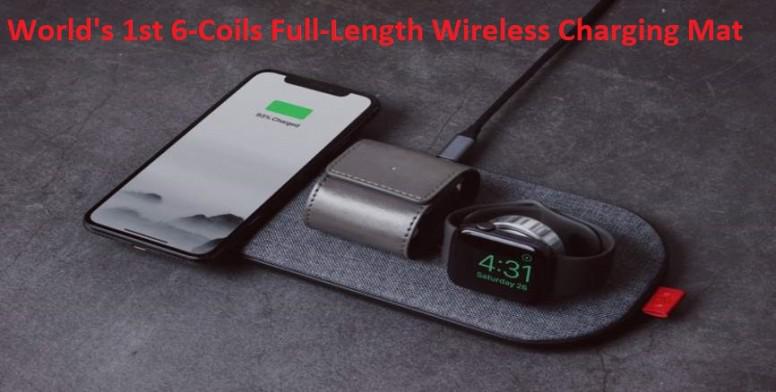 Hello Mi Fans!
Do you want to get rid of that tangle of cords on your nightstand or desk? Check out Hard Cider Labs' SliceCharge. This slim mat charges up to three devices including any Qi-enabled smartphone rapidly and simultaneously. It's now almost a year-and-a-half since Apple first teasedAirPower, a multi-coil charger that lets you place your Smartphone and wirelessSmartwatch anywhere on the charging mat. The powerful wireless charging mat includes an integrated MFi-Certified by OPSO, together with a 30W USB-C PDpower supply connection. now westing without time let's talk about the fastest 3-in-1 six coil wireless charging mat now.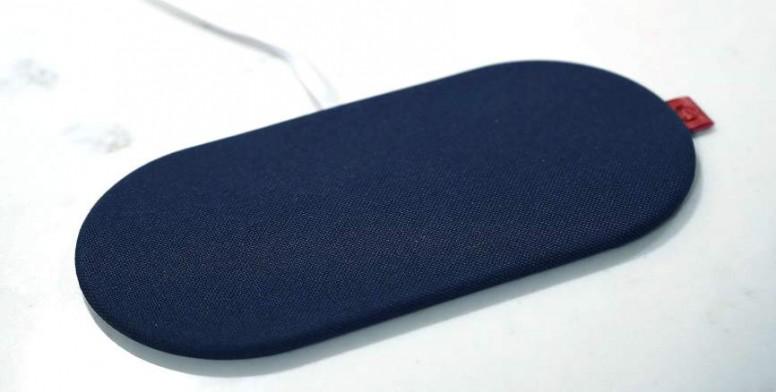 Specifications:-
Compatibility: wireless charger enables and devices with Qi standard.
Input: 1 x USB-C(PD 30W)
Materials: High-classfabric, PU leather, Aluminum Alloy, Plastic
Color: FrostedWhite, Anthracite Grey, Mountain Blue
Dimensions: 9.13" x3.23" x 0.51" / 232 x 82 x 13mm
Weight: 7.0oz / 200g
Features:-
The total output for the SliceCharge Pro among its three charging areas is 18w. Each of the outer phone spots is 7.5w. It comes with an 18w QC 3.0 power adapter (type/B) which has over-voltage protection, temperature control, and foreign object detection for safety purposes.SliceCharge Pro has six coils – one in the Watch charging puck, and five overlapping ones in the main section of the mat. The charger can provide up to 30W total power, with a maximum of 10W to any one device. It redesigned the shape of the coil, combining five coils together while solving the problem of interference and heat. The product is said to be certified and measures a little over 9 inches by 3 inches by half inches.
The all-new SliceCharge Pro has six coils- one in the watch charging puck for the watch and five overlapping ones in the main section of the mat, that provides a total power of 30W, with a maximum of 10W for each the device in order to speed up the charging process. This product compares favorably to other wireless charging coils and dual chargers in the market that either won't charge the Watch only charge Smartphone and a watch when they are kept in a fixed position. It also comes with a peer brick, a USB-C cable and a fabric top and non-slip plastic bottom hide an Aluminum chassis as before.
It has three charging areas. The center spot is for the watch. The left and right spots can charge any wireless-enabled Qi protocol phones, The left and right spots can also be used to wirelessly charge AirPodsby using the Hard Cider Labs' ElectroLeather AirPods case.
SliceCharge Pro is a slim, unassuming mat constructed from aluminum and covered with an anti-scratch, anti-slip fabric. The fabric looks and feels like a sturdy canvas. It comes in three colors: Frosted White, Carmine Red, and Indigo Blue so you can match it to your devices and/or your decor. The bottom is made of metal with a silicone ring around the edge which prevents slippage on the tops of tables or desks.
Not only that, SliceCharge Pro can provide up to 30Wcharging power for 3 devices, which means your charging speed will be 30%faster than other wireless chargers. it is simple to align our phone on the charging coils. There was never any fussing, we just placed the phone down, and as long as we were relatively centered on the body of the phone, it would begin charging. it charges quickly and consistently. SliceCharge Pro can be bundled with the ElctroLeather. This is a leather case for AirPods that builds in a Qi coil to enable wireless charging.
However, it will be a luxury many won't want to splurge on when there are so many more affordable options available. Of all the wireless chargers we've tested, SliceCharge is the closest yet to matchingAirPower's design and features.
Check out theSliceCharge Pro wireless mat here
Main Source
Copyright Disclaimer: The data and imagery provided in this article belong to the original creators!
Be the first to be informed: Follow us
Recommended Threads:
Big Thanks to
Thanks to Our Beloved S Mod @Furqaan Saikh And Our Mods @Patitapaban & @Harisankarg For Continuous Inspiration And Guidance And Supervision.
Thanks for Reading
So, what do you think about this SliceCharge Pro wireless mat? Please share your thought in the comment section below
Rate