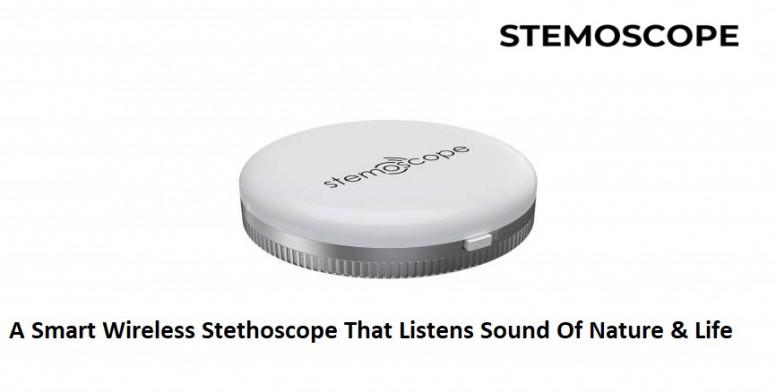 Hello Mi Fans!
We always see that only doctors use the stethoscope. They use it for listening to the sound of the inner body of a patient for medical diagnosis. But such tools can experience us much more in our life. Do you ever want to feel how your heart is beating in your chest? Have you ever experienced the wonder of hearing the heartbeats of an unborn child? What if you could hear the hidden sounds of life and feel the pulse of the earth? Today, I bring a very smart stethoscope called Stemoscope. It lets you listen to everything circulating in your body. Also, it enables you to listen to the sound of nature, heartbeats of your pet and much more. You can explore the surrounding sounds, save the beats and finally share it with your friends or loved ones anywhere in the world with this amazing product. So Not wasting much time let's talk about the Stemoscope A Smart Wireless Stethoscope now.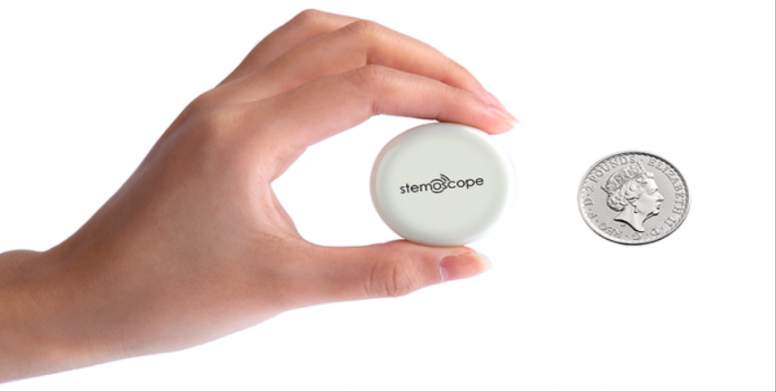 Stemoscope is compact, 1,5" in diameter and 0.4" thick, just a little bigger than a dollar coin. It is small, lightweight and wearable. It goes with you everywhere you go. It also comes with a strap so you can affix it to different objects like pets or trees. This allows you to listen with a deeper level of concentration anywhere. This device is appropriately named the "Stemoscope," as it is designed for science, technology, engineering, and mathematics (STEM)education. However, the company has shown the device being used for other purposes, such as listening to a pet's heartbeats or even to the sounds of a tree.
Materials: ZincAlloy With Chrome Plating and ABS Plastic
Weight: 30g
Dimension: 35mm (Diameter) x 11 mm (Height)
Battery: Rechargeable Li-ion Battery, 50 mAh
Power: Up to 5 Hours Of Continuous usages
Working distance: Max. 2meters
Frequency range: 10Hz - 1000Hz
Digital amplification: Additional 16x in STEM mode
Pitch(Frequency)shift: !+/ -2 Octane
Connectivity: All type of Smartphone with iOS 7.0 & Android 5.0 and above
Record your womb sound for your baby
According to scientific research, babies are soothed by the sound of their mother's heartbeat while in the womb. This effect continues after birth. With Stemoscope, a mother can record her heartbeat and play it back to her baby, helping to calm, quiet and relax her little one.
Detect More Sounds
For more example
Listen to the heartbeat
Listen to the dog's heartbeat
Listen to the trees singing
STEM Education
Stemoscopeisdesigned for STEM education and ideal for studying, discovering, and entertainment. With Stemoscope, even children and youngsters can learn about the sounds of nature to be inspired and entertained.
-: How does Stemoscopework:-
Don't worry about working! It is easy enough that anyone can use it. Simply, install the Stemoscope App in your smartphone. The App is compatible with any iOS and Android phone. Then turn on the App and Stemoscope. Scan the QR code that displayed on mobile screen and register. With automatic Bluetooth connection, start listening.
Save and Share Your Most Important Moments
Have you ever felt so excited that you could feel your heart beating in your chest? Have you ever experienced the wonder of hearing the heartbeat of your unborn child? The truth is, life is full of incredible moments like these, now you can record, share and save forever these precious moments.
The StemoscopeApp will let you see what you hear. Audio will be visualized as a waveform in your phone. It will help you to learn and identify the characteristics of each sound you heard.
Check out theStemoscope A Smart Wireless Stethoscope here
Moreover, Stemoscope comes with a strap which allows you to fix it on any objects like pets or trees. This will enable you to hear the heartbeats of your pet and sounds of the stem of a tree that you planted in your home.It is a tool that opens your door to science and nature in a new and exciting way. Everything in nature has a different frequency and a unique sound. It will help you to explore and experience those delightful sounds around you. In addition, with Stemoscope, even children and youngsters can learn about the sounds of nature that are inspiring and entertaining.
Copyright Disclaimer: The data and imagery provided in this article belong to the original creators!
Be the first to be informed: Follow us
Recommended Threads:
Big Thanks to
Thanks to Our Beloved S Mod @Furqaan Saikh And Our Mods @Patitapaban & @Harisankarg For Continuous Inspiration And Guidance And Supervision.
Thanks for Reading
So, what do you think about this Stemoscope A Smart Wireless Stethoscope? Please share your thought in the comment section below
| HAPPY HOLI |
Rate