Thank you all for your overwhelming response and patience. We have finalized the New Device Team Members. The selected ones are listed below.
Congratulations to the selected candidates! You will receive a PM soon containing more details for further proceedings.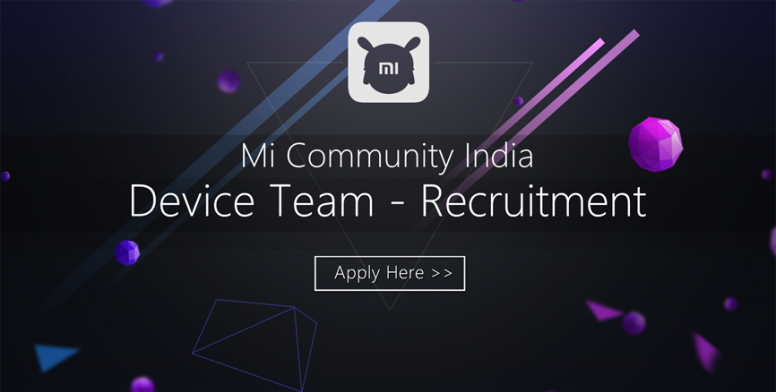 Hello, Mi Fans!
As all of you are aware Mi Community is growing tremendously fast. We are now more than 6100000 members and are still growing rapidly, so we need more passionate Mi Fans to contribute to Device Team. Device Team shares everything related to Device, Tips & Tricks, Mods & Hacks, Tech Class, Live Q/A etc.
Responsibilities Device Team:

Help users with their queries in the Device sections.
Write device-specific tips & tricks.
Help in conducting live Q&A session with Moderators.
Willing to conduct tech class every week.
Write Device Unboxing, Tear-Down, reviews.




Requirements:

Willing to follow Mi Community and Device Section Rules.
Must be passionate about MIUI and possess adequate knowledge about all Mi Devices.
Contribute at least 8 Device-related articles per month.
Actively discuss with other members of the Device Telegram group.
Friendly, Cooperative and helpful attitude towards fellow members.
Have enough time and commitment to be online at least 2-3 hours every day.
Good at communication and cooperation.
Being a special team member includes a few major responsibilities which he/she needs to follow.

How to apply?

Reply to the thread with the below details,
A Brief Introduction of yours.
The Device(s) you are currently using.
Why do you think you are eligible for this post?
Links to the sample threads created by you.
Not posted any threads yet? You can post it before 31st March and update your application.


Recruitment Process

| | | |
| --- | --- | --- |
| Recruitment Time | Selection Time | Announcement Time |
| 22nd-31st March | 1st April-2nd April | 3 April |

Benefits:
Close working relationship with Mi Community Admins and Moderators.
Priority to join Mi Community official events like Mi-POP, Product Launch Events and more.
Larger attachment size.
Prizes from Mi Community Team
Promotion to higher management level i.e. Moderator.
Incentives include Community Points.
Exclusive Device Team Medal.

Important Note:
If you are already in any Special Team on MIUI Global Forum or in Mi Community, you need to leave it so that you are able to better commit your time to the section and to best serve our Mi Community.
Once you are selected, you are not allowed to switch the teams before 3 months.
What are you waiting for? Come join us!!!
Rate