Hello Mi Fans!
A home the garden gives you instant access to fresh fruits and veggies—and the best part? You can grow them without pesticides or herbicides, choose exactly what you want to grow, and even make it a fun activity for you and your family. But whenthe winter months hit—or if you live in an apartment with zero backyards tospeak of—your idea of a garden often gets reduced to the two or three herbs youcan squeeze onto your windowsill. Well, The OGarden Smart is about to change all of that. The OGarden organic gardening system allows you to plant, harvest, and then eat veggies right from its mounted unit. It's literally farm-to-tablefrom the next room. From German Thyme to Greek Oregano, you can choose from aselection of 30 different types of organic plants free of pesticides,preservatives, or pollutants. This indoor gardening system hardly takes up anyroom in your house, yet it can grow up to 90 fruits and vegetables simultaneously. So Let's Talk about OGarden Smart indoor gardening system now.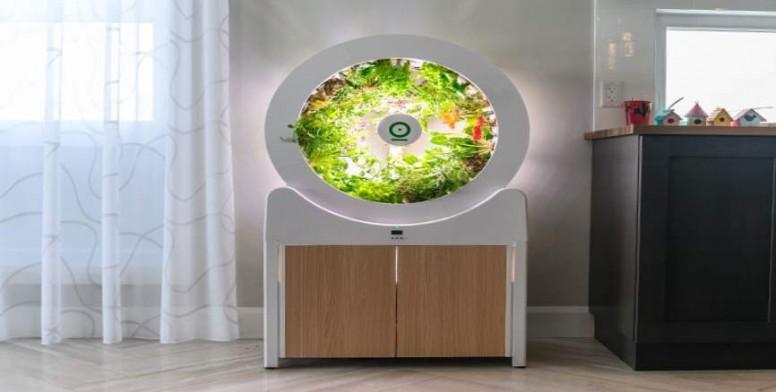 New to the Smart design is automatic watering from tanks housed in the base, with those tanks holding roughly 10 days of water and a warning system notifying userswhen reserves are running low. Low energy LED lighting at the heart of the device should make for relatively inexpensive indoor gardening throughout theyear. This latest model is also reported to be slimmer – at 53 x 29 x 15 inches (134.6 x 73.65 x 38.1 cm) – and easier to use than the original. And the wholeshebang draws only 120 W of power. Indoor gardening with the OGarden Smart starts with seed cups supplied by the company which is placed in the nursery cupboard and the start button pushed. If the list of available plants is not to your liking you can get a bag of virgin earth and seed your favorites.
-: Advantages & Features:-
By producing your vegetables, fruits, and herbs directly at home, you know the quality of the air, the water and environment they grow in. Have peace of mind knowing that all of your fresh produce is grown in a 100% organic environment. Our seedpods are made with organic soil and feed your plants with organic fertilizer, so you only get the best for your plants and for your body. And of course, harvesting your produce only moments before eating it almost guarantees a better tasting product. Have peace of mind knowing that all of your fresh produce is grown in a 100% organic environment.
The beauty of OGarden (aside from the way it looks) is how it's incredibly simple to use. Whether you're an expert gardener or new to your green thumb, OGarden is the perfect system to grow beautiful produce. Gardening has never been easier. The next step to a Healthier World Eating healthy, fresh, and delicious foods will make an incredible difference in our lives. Growing our own food makes us mindful of what we're putting in our bodies and connects us closer with our planet and with each other.
Intelligent Design Features
Built with 99.4% fully recyclable materials, the OGarden system reduces your family carbon footprint by not contributing to the "whole mass production chain of vegetables." With very little upkeep or maintenance, the OGarden fits discreetly on any free wall in your home measuring 90 cm wide, 152 cm high, and 42 cm deep. Capable of producing vegetables all year round, the OGarden yields good2-4 vegetables a day from plants that measure anywhere between 5-8 inches. The average growing time per vegetable: 30 to 40 days.
So how does the OGarden work? With the most (but not all) of the magic happening in OGarden's revolving wheel, the first step of the process is planting seeds in the provided cabinet space – watering your plants once or twice per week. After germination takes place (approximately three weeks), simply put your plants in the wheel with the substrate. According to OGarden's website, the certified organic substrate is composed of potting soil, coconut fiber, and my corrhiza. The final step is harvesting your plants when they're good and ready (approx.30 days) and composting the roots – making the circle of life complete. The end result: super clean organic vegetables.
Durable Organic Growing System
Equipped with a 124W fluorescent light and 20 separate tubes (holding four plants per tube), the OGarden's revolutionary gardening system provides the perfect amount of light for optimal growth. The wheel's motion, according to the company, makes the roots of each plant super durable throughout the growing process.OGarden's "almost-automatic" home garden lets you grow the following veggies: Bunching Onion Parade, Chinese Cabbage, Dark Purple Onion, Cherril BrusselsWinter, Curley Parsley, Garden Chives, Garden Sorrel, Genovese Basil, GermanThyme, Greek Oregano, and much more.
Affordable and Eco-Friendly
So why would Does anyone consider buying OGarden? For one, this is a money saving home gardening system. With the ability to produce close two to four vegetables per day, that comes out to only $0.30 per plant. You won't be able to find clean organic vegetables anywhere for that bargain price. Secondly, five minutes a day of maintenance translates into year-around crops right from the comfort of your own home. The convenience factor is top-notch. Finally, this is a sure-fire way to reduce your family's reliance on mass-produced groceries – for the betterment of our planet.
Check out the OGarden Smart indoor gardening system here
This is the most painless, yet affordable way to grow clean organic vegetables in your home. The OGarden pays for itself by replacing grocery bought veggies with organic vegetables free from pesticides, pollutants, and preservatives. With an easy Ikea-like assembly process and minimal maintenance (5 minutes a day), the OGarden will certainly pay for itself especially since the unit should last a good 10 years. The OGarden Smart easily upgrades your home and your grocery basket and you'll be amazed at how much different produce you're capable of growing simultaneously with this eye-catching piece of technology.
Copyright Disclaimer: The data and imagery provided in this article belong to them, original creators!
Be the first to be informed: Follow us
RecommendedThreads:
Big Thanks to
Thanks to Our Beloved S Mod @Furqaan Saikh And Our Mods @Patitapaban & @Harisankarg For Continuous Inspiration And Guidance And Supervision.
Thanks for Reading
So, what do you think about this OGarden Smart indoor gardening system? Please share your thought in the comment section below
Rate