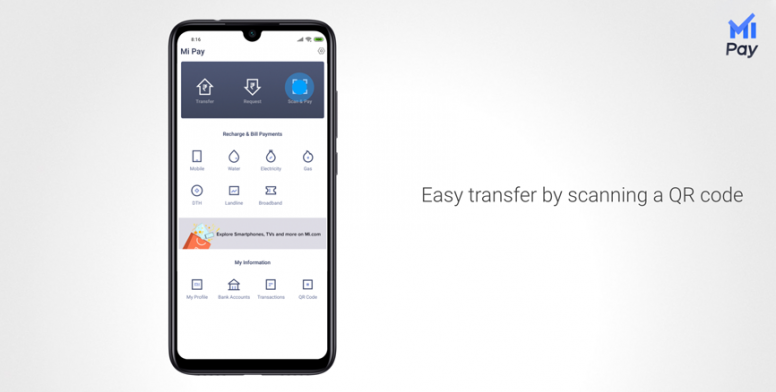 Hi Mi Fans,
Xiaomi has recently introduced '
The easy way to pay - Mi Pay
', the revolutionary digital payments app which is powered by NPCI's
BHIM UPI
that aims at enabling easy, convenient and secure payments at your fingertips. Now go cashless anywhere you want and your phone is the only resource you need to take care of your financial needs. Mi Pay is here to change the way you handle money, forever!
Scan & Pay
, as the name suggests, is a QR based solution offered by Mi Pay that can be used across apps, kiosks, merchants and all other payment destinations across India. It is a newest mode of payment where people can share money with anyone by scanning a simple QR code and the money will reach directly to the recipient's bank account. Mi Pay can read almost all types of P2M (Person to Merchant) QR codes, including
Bharat QR
. It is so far one of the most easiest, convenient and secure way of transactions.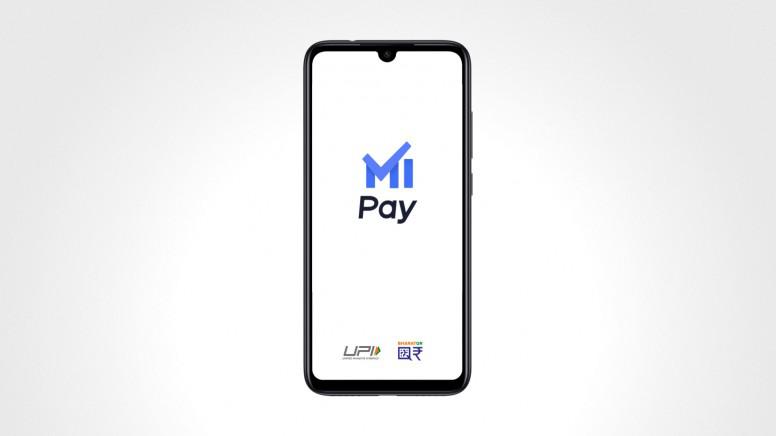 How to use Scan & Pay?
Open Mi Pay app and tap on Scan & Pay option
Point the camera to the recipient's QR code until your device responds (lit the torch if you're in a dark area and your device can't recognize the code properly)
Other than camera, you are also able to choose images contain QR codes from the Gallery
Now Enter the amount you want to send, select the desired bank account and click on 'Next'
Enter your UPI PIN and press the checkmark button to proceed
Payment done!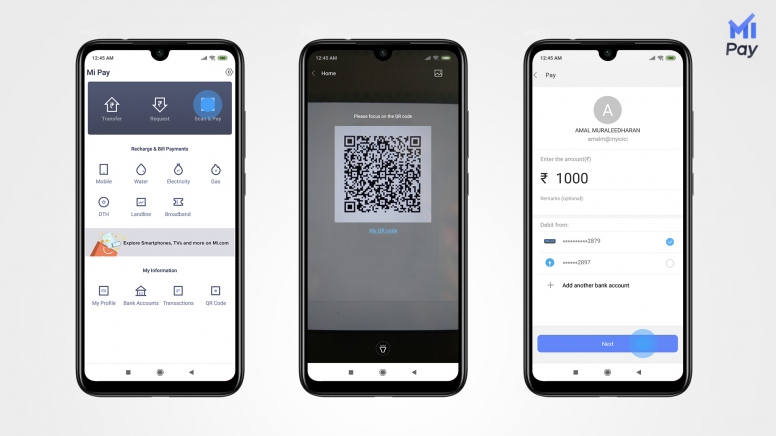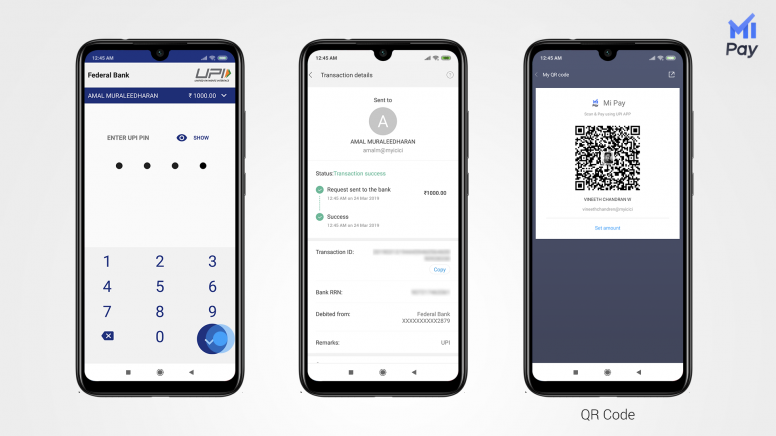 How to generate and share your own QR code?
Open Mi Pay app and tap on Scan & Pay option
Click on My QR Code to see your QR code
Click on the share button at top right corner to share the code with the sender

Alternatively,
Open Mi Pay app and select QR Code option
Or view it by navigating to My Profile--tap on the QR code button at top right corner

You can also set a specific amount you want to recieve by using Set amount option right below the QR code. It's that easy!




Deep integration in MIUI

Mi Pay's Scan and Pay function has been deeply integrated within MIUI, so that MIUI users can access them right from the Camera and Scanner apps at their convenience. With this integration, you can instantly access Scan & Pay anywhere from your device, even from the lockscreen!


Note: QR Codes can be successfully scanned via MIUI Camera app only if your device is having the Camera app version 2.0 or above.

Where am I able to use Scan & Pay?
The primary aim of Mi Pay Scan & Pay function is to transfer funds between two individuals at a safe enviornment in the quickest way possible. You can use it to share money between your friends, family, relatives, neighbours, colleagues, clients, etc. In addition to that, you can also utilize it to pay at a huge variety of payment destinations such as Shops, Businesses, Merchant Outlets, Malls, Movie Theatres, Fuel Bunks, Toll Plazas, etc. The possibilities are endless!

Download link
Mi Pay will be rolling out soon to all MIUI users and on Mi Apps!



That's not the end. Mi pay allows you to pay using a handful of other ways as well. Check out our full guide here.



Excited to experience the future of payments?
Rate