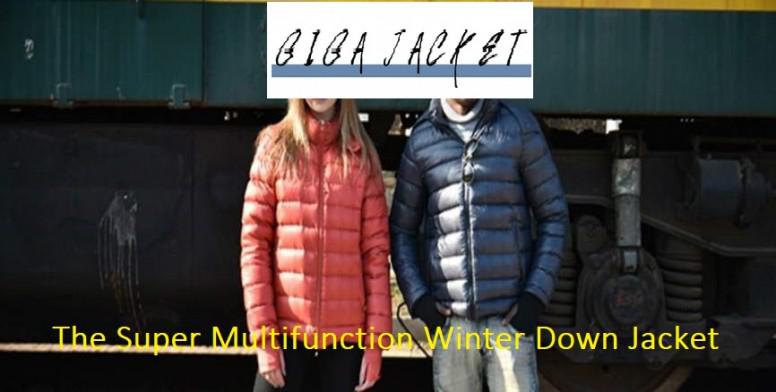 Hello Mi Fans!
The GIGA Jacket is a jacket designed to provide ample storage and a comfortable outerwear option. The jacket comes with multiple pockets for phones, tablets, and pens, which built a built-in mask, scarf, and windproof wrist cuffs for colder weather. GIGA can also be transformed into a cushion for longer traveling or convert it into a bag with ease. GIGA is made with 90% white duck down with fine denim printing to ensure durability and comfort. So, Let's Talk about The GIGA, Super Multifunction Winter Down Jacket now.
Features:
16 IN 1 FEATURE FOR ALL YOUR NEEDS: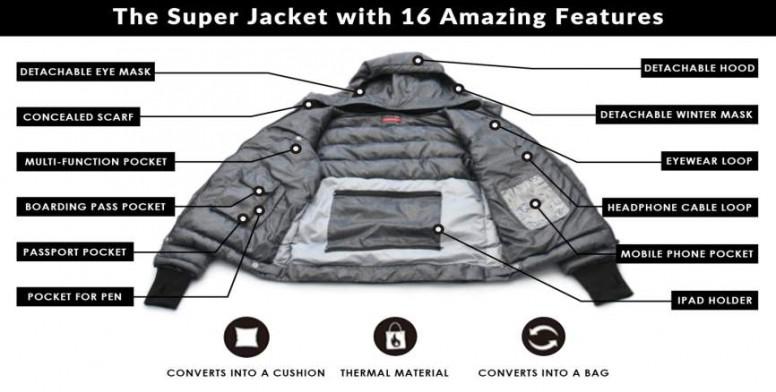 This 16 in 1 multi-pockets travel jacket comes with 6 practical hidden pockets, which includes Eye/face mask, hood, scarf, see-through pocket, pillow, And Other like is Boarding pass Pocket, Passport Pocket, Pocket for Pen, Headphone Cable Loop, Mobile Phone Pocket and a iPad thermal bag to cover all your needs in the trip.
The phone carrying pouch allows you to interact with the screen through a clear cover. The GIGA Jacket is travel-friendly with a passport sized pocket and another pocket designed for boarding passes.
BUILT-IN WARM GLOVES: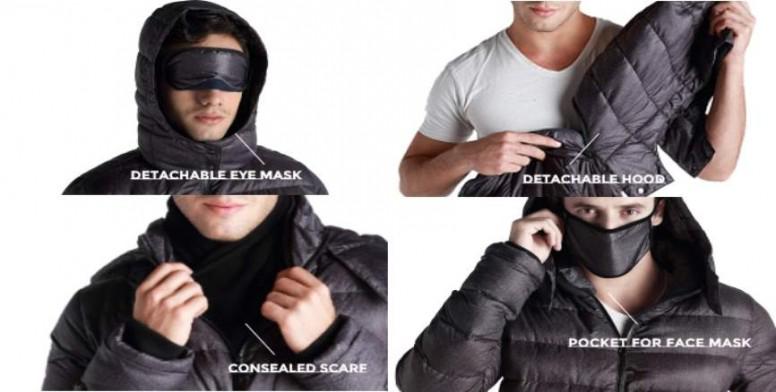 If you don't like to put your hands into the hand warming pockets, the hidden fingerless gloves can let your fingers do the work and keep you warm at the same time. Use what you need. The facemask and windproof hood are removable, with the GIGA Jacket's scarf a pull away.
WATER-RESISTANT MATERIAL:
This GIGA jacket is made of water resistant material, which can protect your jacket from being soaked by raindrops and water drops. [Note: not waterproof].The outside eyewear loop gives you easy access to your glasses and the headphone cable loop puts an end to tangled cords.
PREMIUM QUALITY:
This GIGA jacket is 90% white duck down and 10% white duck feather and it has filling power 600, providing exceptional warmth to weight ratio.
CARY OUT LIKE A BAG:
This GIGA jacket is fit and carries out like a bag. It folds every corner and also you can use as a pillow.
DESIGN:
The GIGA jacket is design inspiration comes from various sections of society. It incorporates their background of electronics & software and the needs of traveling light. Create a unique smart traveling jacket and allow you to go on a trip at any time without any hassle.
Check out The GIGA jacket here
The GIGA Jacket is all in one, stylish jacket. The stylish exterior conceals a techie's dream jacket, packed with 16 features ranging from an iPad pouch to a clear phone pocket. We have the design and functioning prototypes, now we need your help to make the GIGA Jacket a reality. Custom pockets and denim-style printing make the GIGA Jacket a combination of fashion and function. When it's not convenient to wear, it's convenient to carry. The jacket flips inside out to become a bag which can also be used as a pillow. Our phone carrying pouch allows you to interact with the screen through a clear cover.
Copyright Disclaimer: The data and imagery provided in this article belong to their original creators!
Be the first to be informed: Follow us
Recommended Threads:
Big Thanks to
Thanks to Our Beloved SMod @Furqaan Saikh And Our Mods @Patitapaban & @Harisankarg For Continuous Inspiration And Guidance and Supervision.
Thanks for Reading
So, what do you think about this GIGA Super Multifunction Winter Down Jacket? Please share your thoughts in the comment section below
Rate