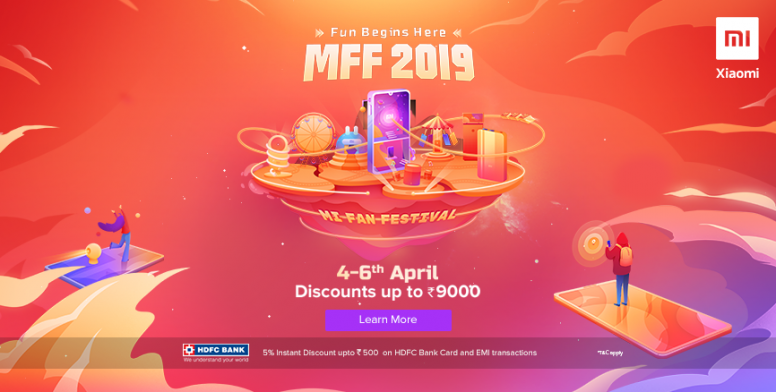 Mi Fans
Get ready for the biggest festival of the year - Mi Fan Festival! MFF 2019 is where all the fun begins, check out the below exclusive offers and fun activities specially designed for you - our beloved Mi Fans!





MFF 2019 - Fun Begins Here




Are you the biggest fan ever?
Join us for Q&A quiz to win Redmi Note 7 Pro - https://in.c.mi.com/thread-1812530-1-0.html

Exclusive Offers on products - 4th to 6th April

Product name

Redmi 6 (3GB+32GB)

8,999

6,999

2,000

Redmi Y2 (3GB+32GB)

10,499

7,999

2,500

Redmi Y2 (4GB+64GB)

13,499

9,999

3,500

Redmi 6 Pro (3GB+32GB)

11,499

7,999

3,500

Redmi 6 Pro (4GB+64GB)

13,499

9,999

3,500

Redmi Note 5 Pro (4GB+64GB)

15,999

10,999

5,000

Redmi Note 5 Pro (6GB+64GB)

17,999

11,999

6,000

Redmi Note 6 Pro (4GB+64GB)

15,999

10,999

5,000

POCO F1 (6GB+128GB)

24,999

20,999

4,000

Ecosystem

Mi Earphones Black

999

599

400

Mi Earphones Silver

999

599

400

Mi Band - HRX Edition

1,799

999

800

Mi Compact Bluetooth Speaker 2

899

699

200

Mi Pocket Speaker 2 Black

1,499

1,299

200

Mi Bluetooth Speaker 2 White

2,699

1,599

1,100

Mi Body Composition Scale

2,799

1,499

1,300

Mi Air Purifier 2S

12,999

8,499

4,500

New USB Cable 120cm

299

149

150

2-in-1 USB Cable 100cm

399

199

200

New USB Charger

499

299

200

USB Quick Charger

599

399

200

Mi TVs

Mi LED TV 4 PRO 138.8 cm (55)

54,999

45,999

9,000

Partner offers
5% discount up to ₹500 on HDFC Bank Card & EMI transactions, for a min. transaction of ₹5998, check out the T&C here



₹1 Flash Sale

Timeline - 02:00 PM (IST), 4th April to 6th April




Stand a chance to get:

Day 1 - 4th April
Redmi Note 7 Pro
Mi Soundbar

Day 2 - 5th April
Home Security Camera Basic 1080p White
POCO F1 (6GB+64GB)

Day 3 - 6th April
Mi Sports Bluetooth Earphones
Mi LED TV 4A PRO

Mystery Box - A box of infinite possibilities
Timeline - 04:00 PM (IST) ], 4th April to 6th April
Pay ₹99 & get assured gifts up to ₹2447, buy on the page -
Click here
Fun & Furious - Exiting Racing Game
Play the exciting racing game specially designed for you, Mi Fans & stand a chance to win Redmi Note 7
TikTok Challenge
Participate and win Redmi Note 7 F-codes & Mi Coupons,
What else?
20000 lucky orders during MFF 2019 will be eligible to get the surprise free goodies from us.
Check out exclusive partner offers under Mi VIP Club - Reward Mi Program - Click here


Check out the full terms & conditions here

Check out the winners here - https://in.c.mi.com/thread-1817454-1-0.html




MFF 2019

Fun Begins Here!




Rate